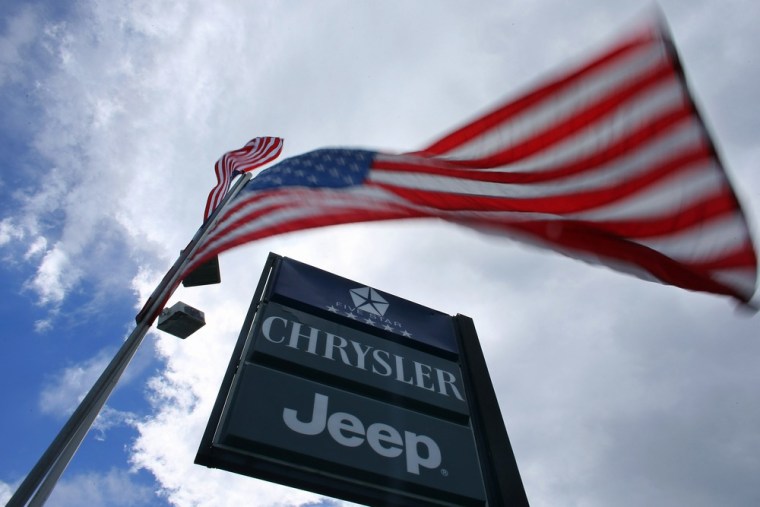 Detroit's Big Three automakers on Tuesday reported their strongest monthly sales since the industry went into a slump, thanks to brisk business in pick-up trucks.
June's strong performance by the U.S. carmakers defied some skeptics worried about a slowing of the economy. But Reid Bigland, Chrysler Group LLC's U.S. sales chief said, "I think the fundamentals for continued growth in the new vehicle sales industry remain intact."

Chrysler Group, majority-owned by Italy's Fiat, reported an overall 8 percent increase from June 2012 as the company posted its best June sales figure since 2007 and extended its streak of year-over-year sales gains to 39-consecutive months.
The Chrysler, Jeep, Dodge, Ram Truck and Fiat brands each posted sales gains in June compared with the same month a year ago. The Ram Truck brand's 23 percent increase was the largest sales gain of any Chrysler brand. Meanwhile, Fiat brand sales were up 1 percent in June compared with a year ago. It was the brand's best June sales since the Fiat 500 was launched in 2011 and its 16th-consecutive month of year-over-year sales gains.
Ford Motor Company's U.S. sales grew 13 percent compared with a year ago, marking Ford's best June sales results since 2006.
Ford small cars – including Fiesta, Focus and C-MAX – gained 39 percent over last year, marking the marking the maker's best June performance in that growing segment in 13 years. But Ford – like rival Chrysler – also appeared to be benefiting from a recovery in the housing market which has been driving solid demand for full-size pickups. The Ford F-Series posted its 23rd consecutive monthly sales increase.
"In June, we continued to see strong demand across the entire lineup," said Ken Czubay, Ford vice president, U.S. Marketing, Sales and Service. "We're particularly encouraged by strong retail share gains, especially in coastal markets, where the combination of great design and fuel economy is resonating with customers – including many buying a Ford for the first time."
General Motors reported its best sales for any month since 2008, June coming in 4 percent above last year's tally. But demand surged 8 percent on the truck side, which included pickups, vans and SUVs. All four GM brands posted higher retail sales, with Chevrolet, GMC and Cadillac increasing by double-digits.
"Our Chevrolet, Buick-GMC and Cadillac dealers reported strong retail deliveries across the board in June and for the first six months of the year," noted Kurt McNeil, vice president, U.S. Sales Operations. "We have good momentum heading into the second half of 2013: the economic outlook is solid and our launch vehicles are performing well in the marketplace."
GM estimated that the industry's seasonally adjusted annual selling rate, or SAAR, for light vehicles came to 15.8 million for June. If that proves accurate when the rest of the industry weighs in it would be the highest level since November 2007. It also would be well above the 15.5 million estimate that many industry planners are now holding to for all of 2013.
Meanwhile, Nissan U.S. sales were up 12.9 percent to 104,124, a new June record – though sales by the luxury Infiniti brand declined by 12 percent
Hyundai gained 2 percent for the month, which U.S. CEO John Krafcik tweeted was an all-time record for the Korean carmaker. The maker also set a record for the first half of the year. Sales were led by demand for the compact Elantra, up 26 percent. Hyundai officials have cautioned that they are pushing the limits of production capacity, both in the U.S. and South Korea, which could limit further gains as the American automotive market continues to recover.
The big surprise for June was delivered by Volkswagen, which reported a 3.2 percent decrease in sales. While VW's sales pace was anticipated to moderate this year, the company has achieved significant, double-digit growth over the past few years by expanding its line-up, pushing high-mileage diesels and by adding a new U.S. plant in Tennessee.
The June jump in car sales actually tells only part of the story. The average transaction price (ATP) consumers paid for new cars increased in June – a figure that includes both incentives and options – climbed by 2 percent compared to year-ago numbers, at $31,125 for the industry overall, according to an estimate by TrueCar.com. Transaction prices were up half a percent from May of this year.
"Consumer confidence is continuing to fuel demand for new vehicles and consumers' preference for high-contented vehicles is sending prices higher," said Jesse Toprak, senior analyst for TrueCar.

More business news: