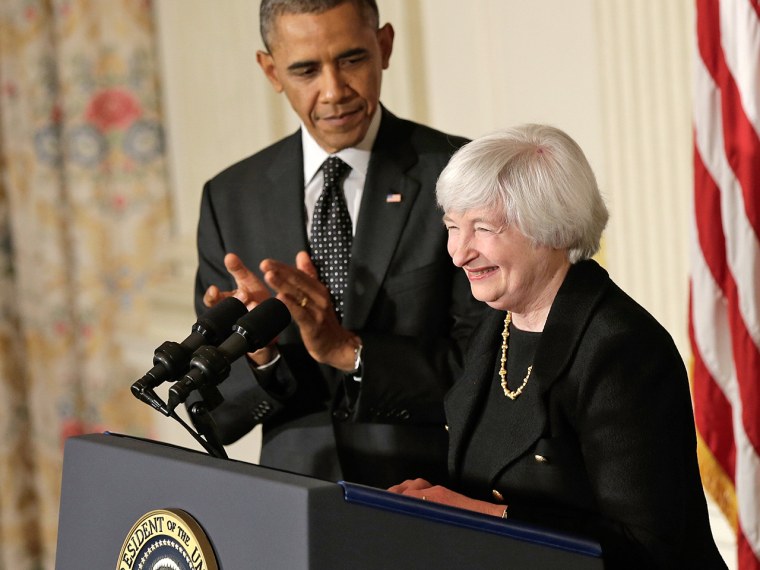 President Barack Obama nominated Federal Reserve Vice Chair Janet Yellen on Wednesday to run the world's most influential central bank and urged the Senate to confirm her without delay.
Yellen, an advocate for aggressive action to stimulate U.S. economic growth through low interest rates and large-scale bond purchases, would replace Fed Chairman Ben Bernanke, whose second term ends Jan. 31.
The nomination will put Yellen, 67, on course to be the first woman to lead the 100-year-old institution and the first to head a central bank in any Group of Seven industrial nation.
"Janet is exceptionally well qualified for this role," Obama said at a White House ceremony, with a beaming Yellen standing by his side. "She doesn't have a crystal ball, but what she does have is a keen understanding about how markets and the economy work, not just in theory but also in the real world. And she calls it like she sees it."
If confirmed by the U.S. Senate, which is expected to endorse her despite opposition from some Republicans, Yellen would provide continuity with policies under Bernanke. She would likely move cautiously in reining in monetary stimulus put in place to shore up the world's largest economy.
Yellen, who spoke briefly after Obama, said she would promote maximum employment, stable prices, and a sound financial system.
She said there was more to do to ensure people who were out of work can find jobs.
"While we have made progress, we have farther to go. The mandate of the Federal Reserve is to serve all the American people, and too many Americans still can't find a job and worry how they'll pay their bills and provide for their families," Yellen said.
"The Federal Reserve can help if it does its job effectively."
Expectations that the Fed might start to taper its stimulus program have been a concern for financial markets since May. The central bank shocked investors in September by maintaining its cash injections of $85 billion a month in full.

Obama also used his address to celebrate Bernanke's work as chairman.
"He has truly been a stabilizing force, not just for our country but for the entire world," the president said.
Yellen was appointed Fed vice chair in October 2010. She was president and CEO of the Federal Reserve Bank of San Francisco from 2004 to 2010 and also served as chair of the Council of Economic Advisors from 1997 to 1999. Prior to joining the Fed, Yellen spent much of her career as a professor at the University of California at Berkeley, where she had been teaching since 1980.
She emerged as the leading candidate after Lawrence Summers, a former Treasury secretary whom Obama was thought to favor, withdrew from consideration last month in the face of rising opposition. 
Yellen's nomination coincides with a political stalemate in Washington that has partially closed the U.S. government and threatened a U.S. default if lawmakers fail to raise the country's $16.7 trillion debt ceiling by an Oct. 17 deadline.