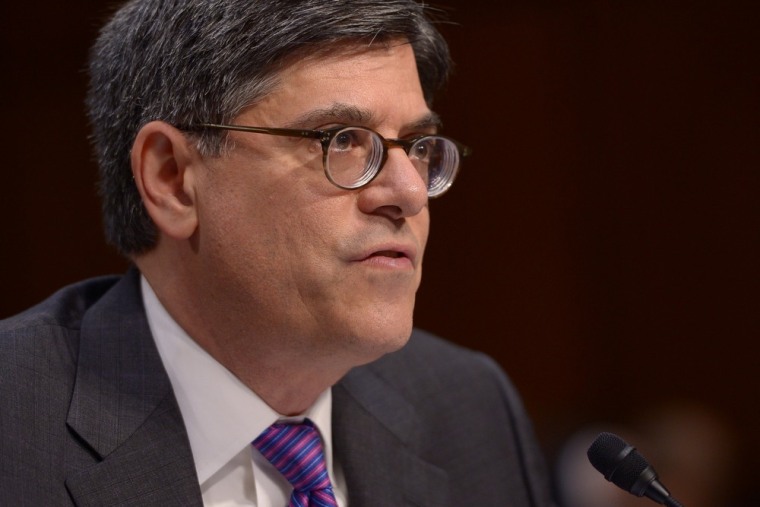 Picking and choosing which bills to pay would be dangerous and "irresponsible," Treasury Secretary Jack Lew said on Thursday, warning Congress that a failure to raise the debt ceiling in a timely fashion would imperil the global economy.
Taking specific aim at an idea to 'prioritize' certain debts over others, Lew told senators that the idea would force the world's largest country into making unpalatable choices, branding it a mark of irresponsibility.
"How can the United States choose to send Social Security checks to seniors or pay benefits to our veterans? How can the U.S. choose whether to provide children with food assistance or meet our obligations to Medicare providers?" Lew said in prepared remarks.
"We now face a manufactured political crisis that is beginning to deliver an unnecessary blow to our economy,'' he added.
The world's largest economy is embroiled in a standoff over spending and debt that has shuttered swaths of the government for ten consecutive days. With non-essential parts of the government shut, the U.S. is teetering on the brink of its first-ever default on making its debt payments, which could occur as soon as Oct. 17.
Lew said uncertainty over the possibility of default was already weighing on financial markets.
He warned lawmakers that after Oct. 17 the government might miss payments on pensions and health care for the elderly, as well as salaries for the nation's soldiers.
Lew said it was "impossible to predict with accuracy" exactly when the United States would run out of borrowing capacity.
"With the debt limit, if you look for the last minute and you make a mistake, you've done serious damage to the U.S. economy, the world economy ... It's reckless," he said at a Senate hearing. 
Reuters contributed to this report.