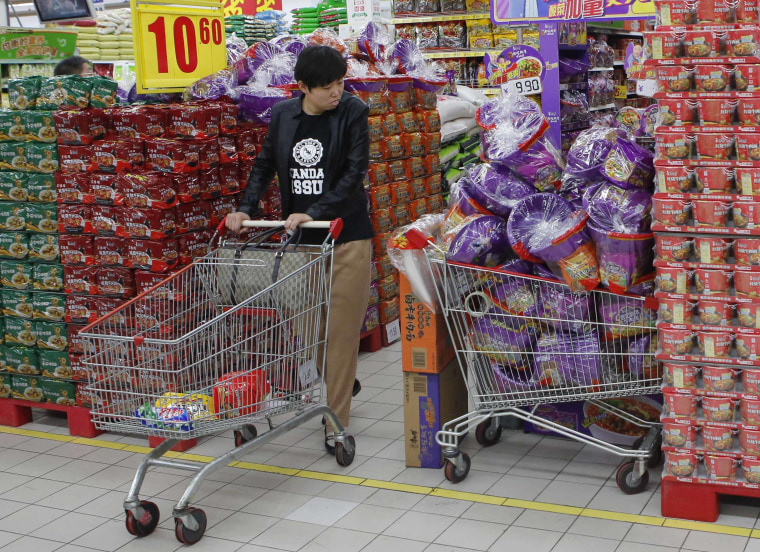 HONG KONG — It started with a sausage. A three-inch, complimentary ham sausage, to be precise. 

The price war for China's $8.8 billion instant noodle market sparked last year by Uni-President China Holdings Ltd's porcine giveaways soon escalated into free drinks, extra seasonings and other gifts as incumbent heavyweight Tingyi Holdings Corp., owner of the Master Kong brand, sought to defend its patch. 
While Chinese consumers who slurp their way through 44 billion packets of noodles each year were delighted, shareholders were left underwhelmed. 
Taiwan-based Uni-President, well-known in China for its pickled cabbage flavored noodles, has now called a truce in the bruising battle that had depressed its margins, bringing the free sausage promotion to an end. 
"It seems to be quite an emotionally charged, rather than a rational, competition," said Torsten Stocker, a Hong Kong-based partner at consulting firm AT Kearney. 
Tingyi, which has a market value of $14.8 billion, accounts for 44.1 percent of sales volume in China's noodle market, while noodle revenues made up 36.75 percent of its total revenue in the first half, compared with 30.9 percent for Uni-President. 
The giveaway campaign did help the smaller Uni-President increase its share of the instant noodle market in China, which climbed 1.8 percentage points to 16.9 percent in the first half of this year compared with the same period in 2012. 
But operating margins for Uni-President's instant noodle segment fell to negative 1.6 percent in the first half of 2013, from 5 percent in the same period last year, according to company data and Reuters' calculations, as the extra marketing costs of the "noodle war" weighed. 
Tingyi, a partner of PepsiCo Inc. in China, also saw some erosion to its operating margins, which slipped to 10.9 percent in the first half of 2013 from 11.8 percent for the same period in 2012. 
PICKLED CABBAGE FIGHT 
Whilst Uni-President is pulling back for now, analyst Nice Wang at Yuanta Securities in Shanghai said the price battle may not be over, because Tingyi could still respond aggressively. 
"I think there is a possibility of continued competition because Uni-President will stop its free sausage promotion in the fourth quarter, so we can still wait and see what Tingyi will do in the fourth quarter," said Wang. 
Tingyi Chief Financial Officer Frank Lin told Reuters by email that statements from its rival over recent months had left it unsure whether the price battle would continue. 
"I think not only the investors but also our management team are really confused with the message," he said. 
Uni-President did not respond to repeated telephone and email requests for comment. 
Among the most competitive products is pickled cabbage and beef noodles, with Uni-President's Lao Tan variety accounting for around 55 percent of the market for pickled vegetable flavors in China. 
Tingyi has said it will not stop its price war until its share of pickled cabbage noodles exceeds that of Uni-President, according to Greg Gong, an analyst at CIMB in Shanghai. 
Shares in both companies have fallen as the noodle war dragged on, although valuations remain rich. 
QUALITY CONTROLS 

The price war also comes at a time when Chinese consumers are demanding better quality after a flood of food safety scandals, an issue Uni-President alluded to in its last earnings statement when it said quality control remained a priority. 
Indeed, Chinese shoppers are more inclined to use the price of food to judge its safety, meaning more expensive products often give consumers greater security. 
"So a price war is really going to sacrifice your trust among people who are buying more high-end brands," said James Roy, senior analyst at China Market Research Group in Shanghai. 
Gong at CIMB in Shanghai said that while Tingyi has higher exposure and larger distribution channels in mainland China, particularly in the north of the country, he believes Uni-President has better quality products. 
That could make it a prime candidate to follow a more premium track rather than competing for market share alone. 
"You don't necessarily need to be number one, but a strong number two, and if you can actually be a bit more premium then I think that's actually good enough," said Stocker at AT Kearney. 
—Additional reporting by Donny Kwok and Clement Tan.