When AT&T tweeted an image of a smartphone being held up against a darkened New York skyline, capturing an image of floodlights beaming where the World Trade Center towers once stood, social media users responded with disbelief.
On Slate, a commenter summed up the overall sentiment: "I think the offense lies in the difference between a tribute and an ad. This is an ad pretending to be a tribute, trying to capitalize off of the emotions surrounding 9/11 for profit."
The Dallas-based communications giant has since tweeted an apology for the ad: "We apologize to anyone who felt our post was in poor taste. The image was solely meant to pay respect to those affected by the 9/11 tragedy."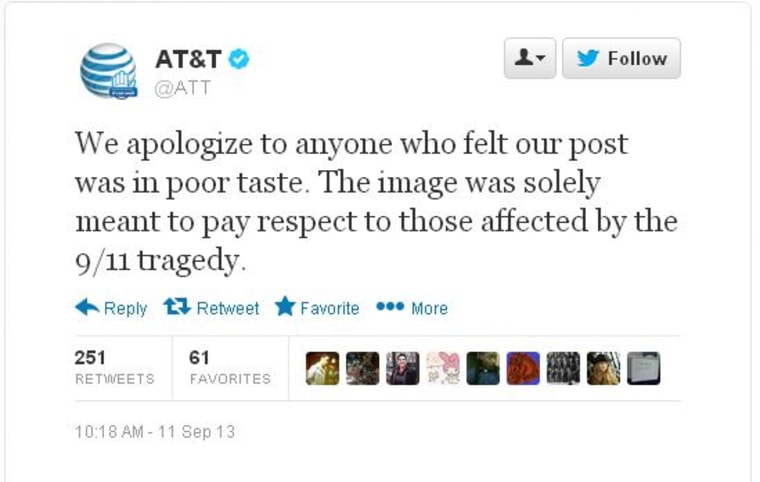 Commenters on Twitter replied that the apology didn't sound genuine, but one person noted that branding was minimal, and that the smartphone used in the image doesn't have any markings. 
Dan McConnell, a veteran public relations consultant and senior instructor at the University of Washington, said he found the AT&T tweet too commercial.
"It's not that it was so offensive, but it took a very commercial turn on a day of remembrance when we're not thinking about selling products, we're thinking about the state of our world," McConnell said. "In that respect it was inappropriate."
He said companies that succeed on days of remembrance "do so in a very institutional or philanthropic manner."
"They're basically thank-you ads that say we respect the people who have defended our country around the world," McConnell said. "If you sign that with your company's name, people will feel good about it. But if you inscribe it on the screen of your brand new Galaxy mobile phone, people wonder, 'Why did you have to show me that?'"
Update: AT&T CEO Randall Stephenson apologized for the tweet on Wednesday, saying the post "fell woefully short of honoring the lives lost on that tragic day." 
"I consider that date a solemn occasion each year, a time when I reach out to those I was with on that awful day, share a moment of reflection for the lives lost and express my love of country," Stephenson wrote. "It is a day that should never be forgotten and never, ever commercialized."