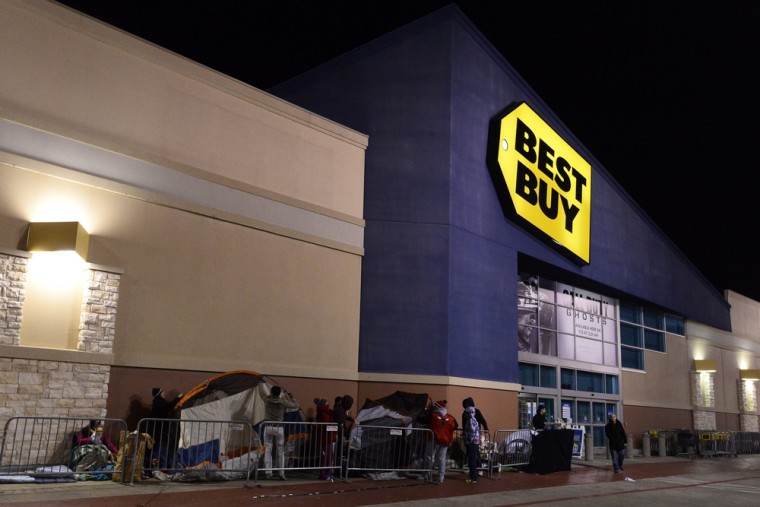 The traditions of Thanksgiving Day: The turkeys go in the oven, the fixins are assembled, places are set and families gather to celebrate a cherished holiday.
But one other turkey day tradition — getting ready for the mad dash of Black Friday and the biggest shopping weekend of the year — may be dwindling.
Whether Americans drop their forks and head for the mall or just sit back in a food stupor and watch football matters this year more than most for the nation's stores.
Because Thanksgiving falls on Nov. 28, the latest possible date, there are six fewer shopping days this holiday season than last.
A Consumer Reports poll this week found that 56 percent of Americans had no plans to shop at all this weekend. The most common reason — named by 70 percent of respondents — was a desire to avoid the crowds. In other words, Black Friday, with its mobs of crazed shoppers waiting to pile through the doors at 5 a.m., may be a victim of its own popularity.
Consumer Reports found that the significance of Black Friday "as the linchpin of the shopping season has diminished in recent years."
A poll released Thursday by the University of Connecticut's Roper Center for Public Opinion and Research was even more pessimistic, from stores' point of view. The national survey of 1,189 randomly selected people reached by phone said the most popular activity on Black Friday is watching football (20 percent), then relaxing or napping (15 percent), with shopping (14 percent) bringing up the rear. 
And an American Express survey found that, for the first time, more shoppers plan to buy their gifts online this year, perhaps on so-called Cyber Monday, than on Black Friday.

"Once shoppers experience the online marketplace, they appear to like it," said the Roper Center's executive director, Paul Herrnson.
Retailers have plenty to worry about already, including stagnant wages for most Americans, uncertainty over Obamacare and frustration with gridlock in Washington. To entice shoppers, many of them started offering Black Friday deals before Black Friday itself, and some top retailers are opening their doors even earlier this year — as early as 6 a.m. on Thanksgiving Day.
Macy's, ending a 155-year tradition, said it would open its stores on Thursday. Not to be outdone, Kohl's and J.C. Penney followed suit.
A backfire?
The strategy could backfire. A slew of Americans have started "Save Thanksgiving" petitions. One, on Change.org, had garnered more than 110,000 signers as of Thursday morning. A manager of a Pizza Hut in Elkhart, Ind., said he was fired for refusing to open his restaurant on Thanksgiving Day.

"This was clearly an unfortunate situation, and we are very upset by what has transpired in Elkhart, Indiana," said Pizza Hut, which reinstated him on Thanksgiving Day after an online backlash.

While U.S. home prices and stock market gains have many upper-income shoppers feeling more confident, data from ConsumerEdge Research's tracking study indicates that there may have been a sharp pullback in consumer spending so far this month.
Low-income shoppers, who often face dismal work prospects and struggle to make ends meet, have been hard hit this year by a reduction in government food stamp benefits.
High earners are better off, but they are concerned about rising healthcare costs and the prospect of yet another U.S. government debt fight on Capitol Hill early next year. They also worry that home and stock prices may be topping out and that the job market may not see further gains.
"They're not rushing out on huge shopping sprees," said ConsumerEdge analyst Peter Reidhead. "We'd be surprised if a strong upswing in December can offset the weak November results and the shorter shopping cycle."
Is Black Friday dead?
All of which leads to the inevitable question: Is Black Friday dead, or at least dying?
There are signs at least that its growth has slowed.
A Gallup poll this year found that 53 percent of Americans are very or somewhat likely to do their shopping online, the highest share since Gallup started asking the question in 1998.
Sales over Black Friday weekend are expected to come in at $36.7 billion, a rise of only 1.7 percent from last year, according to the market research company IBISWorld. The year before, the increase was 9.8 percent.
"Black Friday has reached unplanned obsolescence, and [on] Black Saturday and Sunday the stores get more and more deserted," Burt P. Flickinger, managing director at the retail consulting firm SRG, told TODAY recently. "By moving sales to Thursday, Black Friday loses its retail relevance."
Americans are savvy shoppers. They know that Black Friday deals aren't always what they seem, and that better deals can be had by either waiting or by going online. 
Experts say that if you do plan to venture forth on Thursday or Friday, it's best to have a strategy and to know exactly what you're looking for.
"If you have your heart set on a specific item, it might be worth it," retail and fashion analyst Hitha Prabhakar told TODAY on Thursday.
One bright spot for retailers is that with smaller crowds comes a lower likelihood of the kind of Black Friday chaos they have seen in the past, including the trampling death of a Wal-Mart employee five years ago in New York. 
Initial sales results for Black Friday, and what some have dubbed Gray Thursday, are expected to start rolling out on Sunday. Until then, retailers can only keep their fingers crossed that Americans, at least for the sport of it, made the earlier openings and the longer hours over the holiday worth it.
Reuters contributed to this report.
No deal: Some states ban Thanksgiving shopping