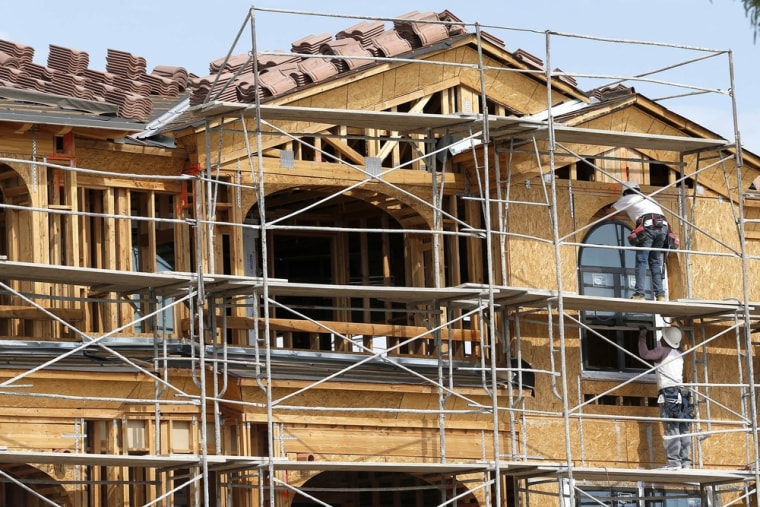 Applications for government mortgage products dropped to a six-year low last week, as negotiations to end the U.S. government's partial shutdown and avert a debt default rocked back and forth between progress and deadlock.

The budget showdown, which has shuttered the government for 16 days so far and could lead to a U.S. default if not resolved soon, also helped undermine home builder confidence, according to a monthly index from the National Association of Home Builders.  
While total mortgage applications inched higher by 0.3 percent week-to-week, the increase was driven entirely by a 3 percent rise in refinances, according to a weekly survey by the Mortgage Bankers Association. Mortgage applications to purchase a home dropped a wider 5 percent.

While the Federal Housing Administration (FHA), the government's insurer of low downpayment loans, is still largely operational, another program from the U.S. Department of Agriculture is out of commission entirely due to the shutdown. Most FHA lenders can still process loans through an automated system, but loans that need more complicated approval have been delayed; the same is true of the Veterans Administration program.
"The government shutdown had a notable impact on the mortgage market last week. Purchase applications for government programs dropped by more than 7 percent over the week to their lowest level since December 2007, and the government share of purchase applications dropped to its lowest level in almost three years," said Mike Fratantoni, MBA's vice president of research and economics. "FHA lenders with delegated authority have been able to continue, but those that rely on the regional homeownership centers have not. Additionally, HUD staff at headquarters are generally furloughed and not able to answer questions."

The slip in confidence among the nation's homebuilders was more than expected. It dropped 2 points from an already downwardly revised September reading. The survey was conducted from Oct. 1 to 11, coinciding with the first 11 days of the partial government shutdown. 
"A spike in mortgage interest rates along with the paralysis in Washington that led to the government shutdown and uncertainty regarding the nation's debt limit have caused builders and consumers to take pause," said NAHB Chief Economist David Crowe. "However, interest rates remain near historic lows and we don't expect the level of rates to have a major impact on sales and starts going forward." 
Each of the three index components—current sales, sales expectations in the next six months and buyer traffic—dropped 2 points. Buyer traffic, however, is the only one still mired in the negative, at 44. Fifty is the line between positive and negative. Overall sentiment now stands at 55.
Home sales have been slowing since the mid-summer, as mortgage rates surged higher and then fell back slightly. Mortgage applications to purchase a home are now down over one percent from a year ago, while refinance applications are down 58 percent from a year ago.
Realtors and home builders have been reporting a slowing in buyer interest in just the past few weeks.
"After a really strong September, we too are experiencing a dramatic drop in foot traffic. We had a huge event this weekend at a community in Upper Marlboro, Md., along with Ryan Homes and NVHomes, and it was a real dud. I would estimate that our traffic is down by 50 percent in October," said Stephan Paul of Maryland-based Mid-Atlantic Builders.

The average contract interest rate for 30-year fixed-rate mortgages with conforming loan balances ($417,000 or less) increased to 4.46 percent from 4.42 percent last week, for 80 percent loan-to-value ratio (LTV) loans.
—By CNBC's Diana Olick. Follow her on Twitter @Diana_Olick.