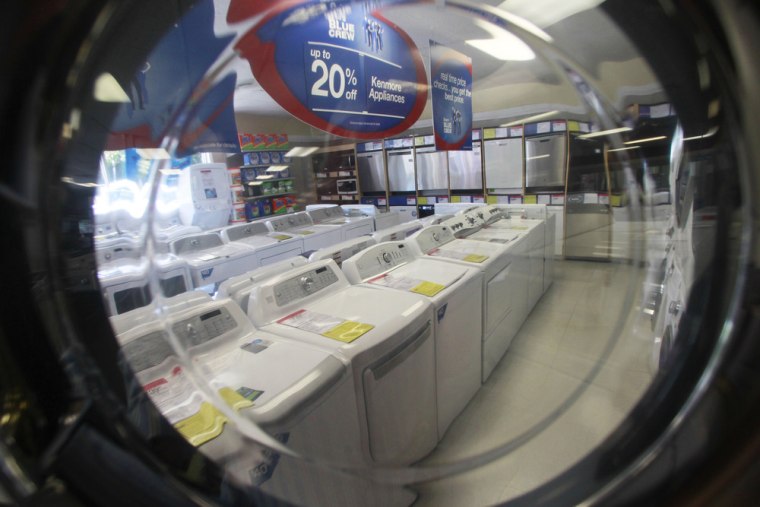 Orders for a wide range of U.S.-made capital goods plummeted in September and consumer sentiment weakened sharply in October, signs that a budget battle in Washington has held back the economy. 
New orders of non-military capital goods other than aircraft, an indicator of business spending plans, fell 1.1 percent last month, the Commerce Department said on Friday. 
That could be a sign businesses were shutting their wallets as the fiscal debate was heating up in Washington. 
A surge in volatile aircraft orders helped push overall orders of long-lasting factory goods to rise a more-than-expected 3.7 percent during the month. 
But orders for durable goods, which include everything from toasters to tanks, fell 0.1 percent when factoring out transportation equipment. 
The data suggests businesses may have scaled back investment plans as a political impasse in Washington threatened to lead the government to miss payments on its obligations, although firms also could be trimming these plans over more general doubts regarding the economy's strength. 
"We are looking at a situation where businesses were preparing for the chaos in Washington which actually happened," said Joel Naroff, president of Naroff Economics Advisors in Holland, Pennsylvania. 
The government impasse was eventually resolved in October, though not before a partial government shutdown left hundreds of thousands of people out of work for weeks and also delayed the release of a slew of economic data. 
While the economy was already struggling before the government shutdown, economists estimate the shutdown will shave as much as 0.6 percentage point off annualized fourth-quarter gross domestic product through reduced government output and damage to both consumer and business confidence. 
And even before the impasse, the pace of hiring by U.S. employers had slowed sharply in September. 
Worries over the economic fallout helped push U.S. consumer sentiment in October to its lowest level since the end of last year, according to the Thomson Reuters/University of Michigan's final reading of consumer sentiment for the month. 
The survey's index for consumer sentiment fell to 73.2 in October from 77.5 in September. It was the lowest final reading since December 2012. 
"This could cast a dark cloud over the year-end holiday season in terms of consumer spending," said Jennifer Lee, an economist at BMO Capital Markets in Toronto. 
Separately, U.S. wholesale inventories rose more than expected in August, the Commerce Department said. 
The federal government shut down for 16 days in the first half of October as Congressional Republicans sought to undermine President Barack Obama's signature health care law as a condition of funding the government. 
The government also came close to breaching its borrowing limit, which compounded the crisis and could have pushed the country closer to a historic debt default. 
Friday's data bodes poorly for the outlook for GDP in the third quarter as well. Shipments of non-military capital goods other than aircraft fell 0.2 percent in September. 
These so-called "core" shipments, which the government uses directly for calculating total economic growth, have now fallen in two of three months in the third quarter. 
"Most businesses are continuing to sit on their hands rather than aggressively invest and expand," said Stephen Stanley, an economist at Pierpont Securities in Stamford, Connecticut. 
The data led Paul Ashworth, an economist at Capital Economics in Toronto, to lower his forecast for third-quarter economic growth to a 1.8 percent rate from a 2 percent rate. 
Friday's durable goods report was part of the catch-up effort in publishing a backlog of economic data due to the shutdown, and the data included revised readings for durable goods orders in August. 
Investors on Wall Street appeared to take little direction from the data. U.S. stock indexes opened higher on the back of strong results from companies such as Amazon and Microsoft.