The weak jobs recovery has hit men and women in different — but nevertheless harsh — ways, and that's leaving many couples struggling to get by despite the fact that the economy has been adding jobs at a trickle for years now.
"We learned to be very frugal," said Mark Jockel, who is currently unemployed and whose wife, Kristine, took a substantial pay cut when she got a new job after a stint of unemployment.
For women, the good news is that, according to the latest payrolls data from the Bureau of Labor Statistics, the number of jobs held by women is now higher than when the Great Recession officially began nearly six years ago, in December of 2007.
But the bad news is that while some women have certainly scored good jobs, others are struggling with positions that are low-paid, part-time or temporary, and perhaps lacking benefits. Economists say that's partly because the sectors that have seen some of the strongest jobs gains amid the tepid economic recovery, such as leisure and hospitality, tend not to pay that well.

"It's the low-wage industries that are disproportionately growing right now," said Heidi Shierholz, an economist with the liberal-leaning Economic Policy Institute.
Men can't even claim that victory: The number of jobs held by men is still substantially lower than when the nation went into recession nearly six years ago, according to the latest data on U.S. payrolls.
That's partly because men lost so many more jobs than women, leaving them with much more ground to make up. And experts say it's partly because job growth in male-dominated fields like manufacturing and construction has remained quite weak.
"Some of the industries that got hit early on … haven't quite grown yet," said Jeffrey Hayes, study director with the Institute for Women's Policy Research, which has been tracking the trend.
Even more worrisome, Shierholz said, is that the number of jobs held by both men and women should be much higher than in December of 2007 for the labor market to be considered healthy. According to her calculations, about 8.2 million more Americans would be on U.S. payrolls — 4.5 million men and 3.7 million women — if the Great Recession hadn't happened.

"The number of people who need jobs is growing all the time, so getting back to the December 2007 level … is different from getting back to the number of jobs you need to meet the job needs," Shierholz said.
The situation is leaving even many highly qualified men and women in worse shape than before the recession began, even though the economy has technically been in recovery since June 2009.
'Radio silence'
Take the case of Debbie and Mark Schofield, who live in Raleigh, N.C.

Mark, who is now 62, was president of a marketing communications firm until early 2009, when he said business suffered so much that he felt he had no choice but to cut a number of positions -- including his own.
In the years since, Mark has started a consulting business and sent out thousands of resumes. But aside from a short stint of work in early 2012, he hasn't been able to find a full-time job.
"It's mostly been radio silence," he said.
His wife Debbie, who is 60, worked in nonprofits for years but had been taking time off when her husband lost his job. She was grateful to land a job in 2009, working for her local pharmacy, but the $12-an-hour pay was about half what she has made in the past.
She's since had her pay increased to $19 an hour, but the job has no benefits. Debbie is a cancer survivor who needs consistent medical care, and that means the couple is currently paying more than $27,000 a year in health-insurance premiums and deductibles. It also adds to the pressure for one of them to find a job that offers health insurance.
Debbie said the difficulties with the federal health-care exchange have made it hard to assess if it is worth it to move to another health-care plan under the Affordable Care Act, although the couple is hoping to find a more cost-effective insurance.
The couple is fortunate to have savings from when times were better, but they have started to worry about what their long-term financial picture will look like as they approach traditional retirement age. The couple is hoping the housing market will soon be strong enough that they can sell their house and downsize, freeing up more cash.
Meanwhile, Mark said he's starting to see signs that the job market is improving, and that is giving him hope.
"I've gotten more responses," he said. "Now, some have been rejections – but it tells me that they're reading my stuff."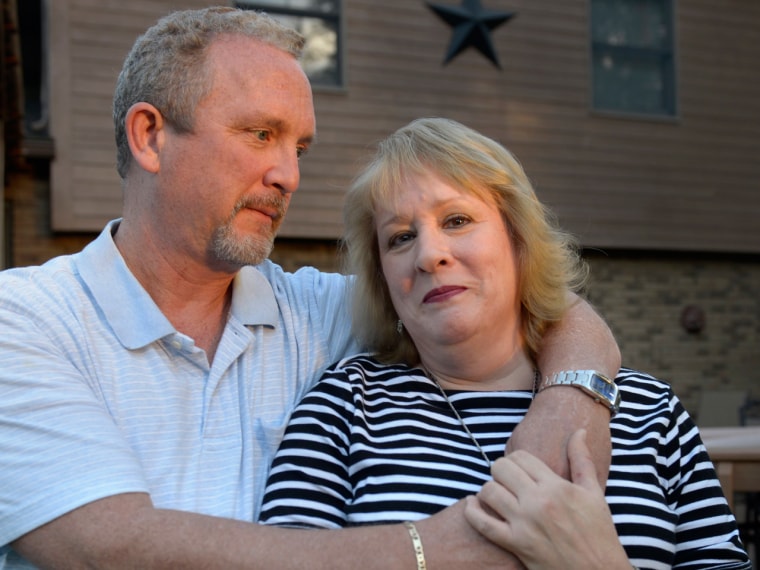 Feeling 'stuck'
For Mark Jockel, 55, the employment struggles started in 2005, when he was laid off from his six-figure salary job doing training and education for a medical device company and had trouble finding something new.

When his unemployment ran out, the Monaca, Pa., resident went back to school to become a business education teacher. He found work as a substitute teacher but took a significant pay cut in the process.
In 2012, he was working as a business teacher when he found out funding for education was being cut substantially and his position would likely be eliminated, so he decided to try to get back into the medical device business. He got a job, but it only lasted 14 months, and he's been unemployed since May.
"I feel like I'm stuck," he said.
Meanwhile, Jockel's wife, Kristine, lost her job as a human resources assistant in August of 2011, and wasn't able to land another permanent job for an entire year. Her current administrative assistant job pays $5 less per hour than she was making previously.
With Mark's unemployment, they are currently bringing home less than a third of what they once earned together.
"It affects everything," Kristine said.
The couple has cut back on things like phone service and cable, and they have started shopping at the cheapest discount grocers they can find. When Kristine had to attend a wedding recently, she borrowed a top from a co-worker instead of buying one.

They have health insurance but still think twice about going to the doctor. Kristine, 60, said she doesn't have enough money to replace a tooth that is missing and doesn't want to take on debt for it.
"Did I ever think that I'd be the type of person to be missing a tooth? No," she said.
Meanwhile, the couple has started to seriously fret about retirement, since they haven't been able to save as much as they'd like.
"We don't have a long term plan, which greatly upsets me," she said.
Allison Linn is a reporter at CNBC. Follow her on Twitter @allisondlinn or send her an e-mail.