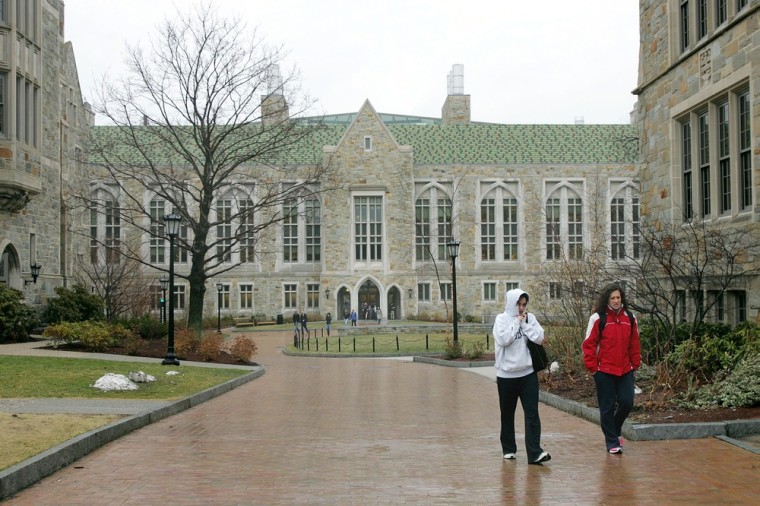 A new study finds parents are footing a smaller portion of the college tuition bill as families become more cost-conscious. The burden is shifting to the student, who now has to depend on money from other sources to pay for rising college costs – and many are also finding "free money" to pay for a large chunk of the tab.
According to a new report released Tuesday by Sallie Mae, scholarships and grants have trumped parental contributions as the number one source of paying for college for the first time in four years.
Scholarships and grants paid for about 30 percent of college costs in the 2012-2013 academic year, up from 25 percent in 2008-2009, the Sallie Mae study found. Meanwhile, contributions from parental income and savings dropped from 36 percent four years ago to 27 percent today. Student borrowing has risen four percent in that time and now covers for 18 percent of college costs.
(Read more: Student loan rates at 9% That's a better deal?)
"Student borrowing has leveled off in the past few years, but parent income and savings has come down considerably," says Sarah Ducich, senior vice president for public policy at Sallie Mae. Parents are "just as willing to stretch to pay for college," she says, "but they don't have the money they had pre-recession."
Meanwhile, as parental contributions have declined, "college and universities are stepping up," Ducich says. That may also be another factor that has changed who pays for education costs. "The majority of students getting scholarships are getting them from universities and colleges," she says.
Eric Charity got a free ride from Penn State University and he didn't hesitate to take it - even though the school was not his first choice. Charity had dreamed of following in the footsteps of his older brother and cousins, who graduated from Princeton University. But he changed his mind after being offered a full academic scholarship to Penn State.
"When it was my time, my parents really needed some help financially for me to attend school," he says. If he had gone to Princeton or the University of Virginia, his other top choice, Charity says he "would have been in severe debt." With the university scholarship as well as private scholarship from a local non-profit, Charity paid for tuition, room and board, fees and other expenses (including a new computer and school supplies) for four years with scholarships. He graduated from Penn State in 2010 and earlier this year got his law degree from William and Mary, which he chose in large part due to cost.
(Read more: Most expensive colleges, any way you slice it)
Students and their families are increasingly following Charity's path. "We've seen parents bring their spending down. They're eliminating schools more frequently as they go through the (college selection) process, so that by the end about two-thirds of families have eliminated a school due to cost," Ducich says, referring to Sallie Mae's new report on "How America Pays for College."
As incoming students and their families see recent graduates facing a tough job market, they are also more reticent to spend or borrow great sums of money for college, financial advisors say. "If your college educated kids make less money, then you spend less money on their degree," says Ivory Johnson, founder of Delancey Wealth Management. "If you hear stories about degreed friends who are burdened by student loans, then you borrow less money."
Using that lens, more families are choosing colleges and universities based on cost. It's an encouraging trend, Ducich says. "Making the choice that's affordable not just for the first year but the fourth year as well is so important."
(Read more: Watch all education spending, not just college)
Tips for finding free money for college
Sallie Mae, the nation's largest private student loan provider, offers these tips to help students find more scholarships:
Start searching for scholarships as early as possible. You can begin as early as ninth or tenth grade, as scholarships for younger students sometimes have less competition. The key is to start early and renew efforts year after year to take advantage of additional opportunities.

Sign up for a free online scholarship search service.Sallie Mae's free database lists more than 3 million scholarships worth over $16 billion.

Expand your search. Not all scholarships will be found online: check with local clubs, religious organizations, employers and your guidance counselor. Local scholarships tend to be less competitive. Also, corporations often award scholarships to their customers or children of employees.

Don't be intimidated by the competition. Scholarship judges look for other qualities such as leadership and volunteerism, and many don't ask for GPA or standardized test scores. Make sure to showcase commitment and depth with involvement in campus clubs or organizations.

Don't overlook unusual opportunities. Some organizations offer scholarships to highlight interesting career opportunities, hobbies or products. In fact, there are scholarships such as the Scholar Athlete Milk Mustache of the Year Award and the Stuck at Prom Duck Brand Duck Tape Scholarship Contest.

Search year round. There are many scholarships available all year long, and scholarships due in the winter can have less competition. Treat scholarship searching and applying like a part-time job, as many opportunities come up throughout the year.

Watch out for scholarship scams. Scholarship searches should be simple and free to use.

Follow Sharon on Twitter @sharon_epperson
More business news: