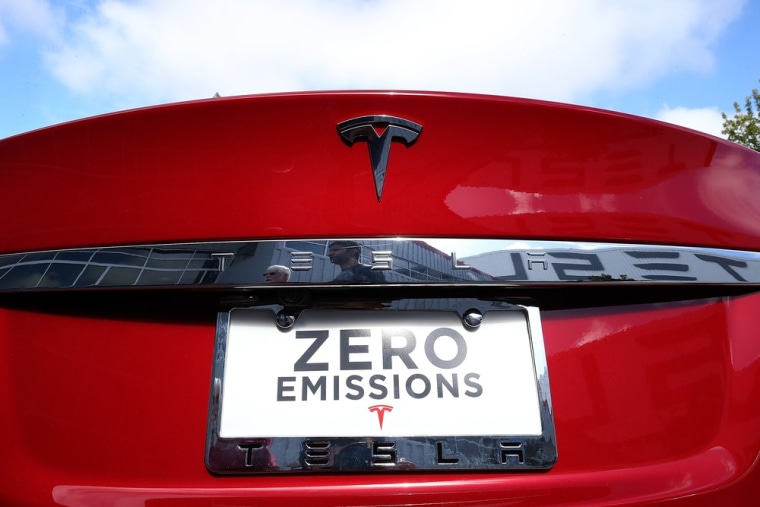 After more than a year of being sold in the United States, a portrait of the type of person buying the Tesla Model S has emerged.
"It is skewing a little younger than the typical $100,000 car buyer," said James Riswick with Edmunds.com 
CNBC commissioned Edmunds.com to analyze vehicle registrations and online search data from June 2012 through June 2013 for the Model S, other high-end luxury sedans and other electric cars.
The data was broken down by age groups, income levels, and gender.
The conclusion: Compared to other luxury sedans, Tesla sells the Model S to a much higher percentage of men and those buyers are, on average, younger and wealthier than those purchasing competing models.
(Read more: Consumer reports: Tesla Model S among best ever reviewed)
Model S vs. high-end luxury sedans
From the start, Tesla CEO Elon Musk has positioned the Model S to compete with pricier luxury sedans. The first Model S vehicles built were the highest priced with the greatest battery life and range.

Tesla galleries were established in upscale retail centers near some of the most affluent communities in the United States. When the company established its lease residual value guarantee, the benchmark was set above competing luxury brands.
So, after being sold for a year, how does the Model S stack up against other high-end luxury sedans like the BMW 5 series, the Mercedes E-Class, S-Class and Porsche Panamera?
(Read more: Look what the ladies are driving: Porsche!)
Compared with those models, the buyer profile of the Model S is most similar to the Porsche Panamera, which starts at just over $78,000.
"It [Model S] is actually lining up very similar to a Porsche Panamera which is also something a younger affluent buyer might like because it is not as comfort oriented it is more sporty," said Riswick.
An electric car unlike others
The Model S is often compared to the General Motors' Chevy Volt and Nissan LEAF because they are the three best-selling all-electric, or extended-range electric cars.

They all may be battery powered, but the type of buyer they attract is totally different.
(Read more: Why you can't bet against Tesla)
"If you can afford a $100,000 dollar car why would you buy the Chevy Volt? It is a nice car, but why wouldn't you buy the Tesla Model S? If you have the money, you are going to buy the Tesla model S," said Riswick.
What car are Tesla owners abandoning?
As Tesla ramps up Model S production and sales grow, the one question many are trying to determine is what car the newest Tesla customers are giving up to drive the Model S.

(Read more: Investors plug back in after Tesla earnings surprise)
Are they getting rid of their BMW, Mercedes, or some other luxury car? Or is it more likely the Model S is simply another car in the garage?
Tesla noted Model S buyers are coming from a wide spectrum. Most analysts agree.
With more than 13,000 Model S cars on the road in North America, there are plenty of anecdotal reports of people driving a Tesla after previously driving a whole host of vehicles including practically every luxury brand.
As more are sold over the next couple of years, we'll watch to see what models and brands luxury buyers are abandoning to become Tesla owners.
(Read more: Weird but true: Tesla today resembles Amazon yesterday)
More business news: