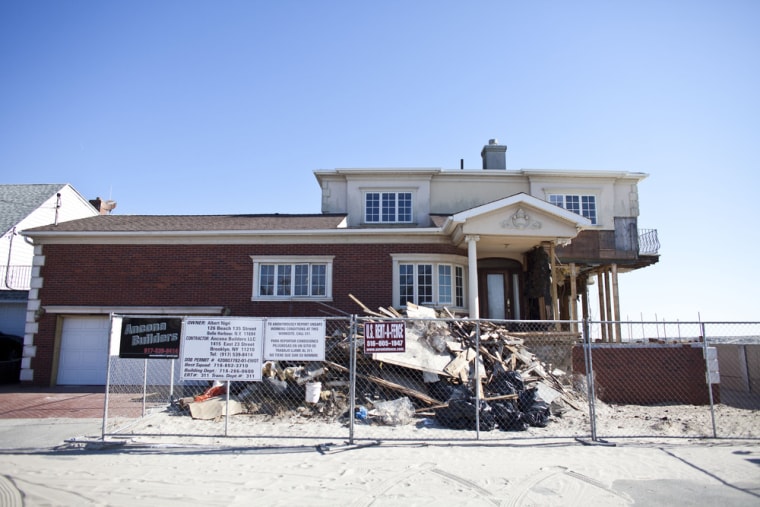 One year after Superstorm Sandy, the smell hasn't gone away. Hundreds — possibly thousands — of structures sit in limbo, musty with the stench of mold growing behind padlocked doors.
"People are still in limbo," said Tom Peter, the owner of Insurance Restoration Specialists in New Jersey. "There are a lot of houses that haven't been touched."
In New York City alone, 433 buildings remain red-tagged as unsafe to enter a year after Sandy blew ashore on Oct. 29, 2012, while 1,013 others are yellow-tagged with some restrictions, according to the Buildings Department.
Jeffrey Gross, vice president of operations at Maxons Restorations in New York, said the numbers may be even higher because some people continue to live in their homes if the mold is growing out of sight, such as in basements or behind walls. And that mold can contribute to health problems.
He estimated there are a couple of hundred New York City apartment buildings in need of cleanup, and 2,000 to 3,000 single-family homes with mold and other hurricane contamination problems. "Staten Island and Rockaway are probably some of the areas that are furthest behind on the road to recovery," Gross said.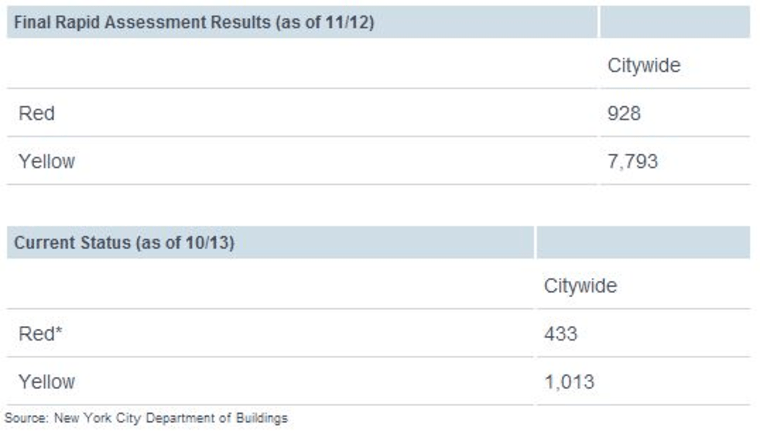 Probably hundreds of homeowners are in the same situation in New Jersey, Peter estimated, based on the work he's seen in the field. "They're waiting for permits. They're waiting for money. They're waiting for decisions — from agencies, or family members," he said.
People without insurance may be facing bills from $5,000 to $30,000 for a big mold removal, which involves scrubbing the mold clean at the source and then letting it completely dry with a powerful HEPA vacuum. The big problem, many of the experts said, is that a lot of people cleaned even behind the walls but failed to let it completely dry. The mold returned.

"People started smelling things last summer," Peter said.

"The biggest surprise was when I opened up some walls six months after the storm and found some walls still wet," Peter said.
'There's usually a lot more in the walls'
In New York City, 1,684 single-family homes have received free post-Sandy mold removal through a public-private program administered by the Local Initiatives Support Corp. In all, 776 properties in Queens, 622 in Brooklyn, 283 in Staten Island and three in the Bronx have been remediated. Manhattan hasn't had any qualifying properties since there aren't many single-family homes in qualifying income ranges in its flood areas, said Nick Charles, director of communications for LISC New York.
And although the number of people seeking mold remediation is winding down, it's possible there will be another surge once homeowners in insurance limbo finally get the OK to rebuild. "Once the contractor shows up and sees mold, (the homeowner) will have to come back to us," because no contractor will want to work where mold is in the air, Charles said.

Mold doesn't go away on its own.
"Whatever you see on the outside, there's usually a lot more in the walls," said Patricia Harman, director of standards and communications for the Restoration Industry Association trade group. "Because there was so much damage, and people were not allowed to get into their residence or business for so long, there was a lot of damage."
She agreed that drying out a building as quickly as possible is key, and it was a big lesson learned after Katrina.
Katrina, for all its devastation, ensured that things weren't worse during Sandy, she said. "There were a lot of lessons that the rest of the industry learned, FEMA learned, local government learned, in terms of mobilizing, getting supplies in advance, gas and electric in there, getting things up and running as quick as possible."
Hurricane health risks

The mold can pose a health threat as well.
"There are still people out there a year out that are suffering from the health effects of Sandy," said Dr. Neil Schachter, medical director of the respiratory care department at Mount Sinai Hospital in New York.
While the mold and the stress of the disaster can create new health problems for some people, it can also make other conditions worse in people already dealing with issues ranging from asthma and allergies to rheumatic and immune diseases, he said. "The people I've seen, it's been pretty striking," Schachter said, noting he's seen dozens of patients with Sandy-related problems.
Researchers including Bill Sothern, a doctoral candidate at the Graduate Center City University of New York and the School of Public Health, have begun looking at ways to quantify a hurricane's health impacts.
"We wish we knew just how big an impact this is having. We have anecdotal complaints: 'We cleaned our house, but we're having respiratory problems,'" said Sothern, who also is a certified industrial hygienist and founder of the East Harlem-based mold removal firm Microecologies.

"I don't think anyone knows the health status. What we do know [is] there are substantial remaining environmental conditions, namely mold, that give us serious cause for concern," he said.
The one bit of good news is that neighbors probably don't need to worry about their own health if there is a mold problem next door, Sothern said. "We haven't seen any evidence that it's anything more than a nuisance," he said.
— By CNBC's Amy Langfield. Follow her on Twitter at @AmyLangfield.
Related stories:
The 10 most expensive hurricanes in US history