The brands Kanye West targets in his recent spate of angry word salads usually suffer silently. But the subject of his most recent ire, Amazon-owned online shoe seller Zappos, decided to fight back with a cheeky rejoinder.
West called out the shoe company in a recent podcast with author Bret Easton Ellis in which he recalled a meeting with Zappos CEO Tony Hsieh in Las Vegas. 

"I got into this giant argument with the head of Zappos that he's trying to tell me what I need to focus on. Meanwhile, he sells all this (expletive) product to everybody, his whole thing is based off of selling (expletive) product," said West.
Zappos replied by launching a new product on its site, a toilet, with plunger and toilet paper, for $100,000.
"Yes, it's true that we sell (expletive) product," said Hsieh in a statement linking to the page.
"This is the throne, everyone has been watching. Whether you're #1 or #2, your clique will show no mercy, even in Paris," read the Zappos product page, references to Kanye West's lyrics and fashion industry feuds. "The perfect gift for the man who has everything," the page continued, linking to an E-online article spotlighting West's remarks about Zappos.
Zappos didn't respond to a request for an interview with Hsieh.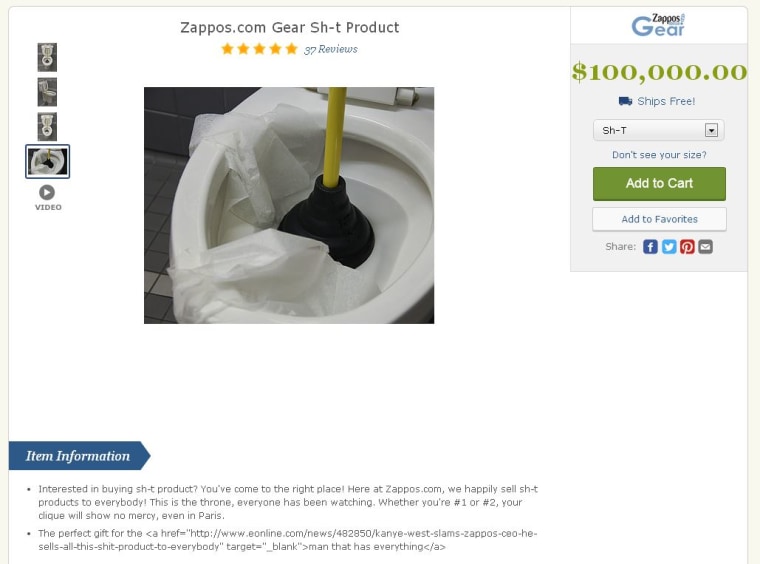 West has recently drawn attention for his new proclivity for delivering heated stream-of-consciousness monologues during performances and interviews. The "motivational speeches," as he terms them, critique fashion, pop culture, and brands, even ones he has collaborated with or spoken to about sponsorship deals, taking his fondness for feuds to new levels.
During a radio interview, West took aim at Louis Vuitton after co-branding a pair of sneakers with them that cost over $1,000, saying that the shoes exemplified the problem with luxury. On-stage at the Barclay's center, he slammed French clothier Givenchy for not letting him into its parties in Paris. On the subject of Justin Timberlake and Jay-Z writing a track together, he said, "I got love for Hov, but I aint ******* with that Suit & Tie."
While brands usually keep mum after being the targeted by West's tirades, Zappos earned kudos from marketers and consumers for their rebuttal.
"Sometimes your brand should speak up, it can do wonders: @zappos 1, @kanyewest 0," tweeted the Mock design agency of Atlanta, Ga.
"You've just won the internet," wrote Zappos customer Ernest H.
After a 10-year run in the music business that has landed him six consecutive number one Billboard album debuts, sponsorship deals, awards, and wealth, the person and brand of Kanye West has voiced frustrations with corporate interference as he's tried to enter other lines of business.
"I want to do product, I am a product person. Not just clothing but water bottle design, architecture," he said in a September interview with BBC's Zane Lowe. "There's no one else around this space that looks like me and if they are they're quite as ****. We're seriously in a civil rights moment."
West also expressed in the interview a growing self-awareness with the price of fame and the pitfalls of becoming a media product.
"My Truman Show boat has hit the painting," he said.