UPDATE ON 4/27/23: One week after being arrested for the 2003 murder of Megan McDonald, 42-year-old Edward Holley has been released from custody in an unrelated case after Orange County District Attorney David Hoovler said protocol wasn't followed in the McDonald case. The D.A. added that his office will prioritize the investigation and the prosecution, which a special prosecutor will oversee. Holley has denied the allegations of his involvement in Megan's homicide, saying, "I'm definitely not guilty." 
==========================================================
Last month marked the 20 year anniversary of the murder of 20-year-old SUNY Orange student Megan McDonald. 
Now, officials have made an arrest in the case.  
New York State Police announced on Thursday, April 20, that a 42-year-old man named Edward Holley has been arrested for second-degree murder in connection to Megan's death in March 2003. 
Megan's body was found on a narrow dirt path on March 15, 2003, in Wallkill, New York. The cause of death was blunt force trauma. 
Dateline featured Megan's story in its 'Cold Case Spotlight' series in 2022 and again last month on the 20th anniversary. "Since last year's media push, with the assistance of Dateline NBC and several -- several other allies in the media," Lieutenant Brad Natalizio told Dateline in March, "not one day has gone by where we have not worked on this case."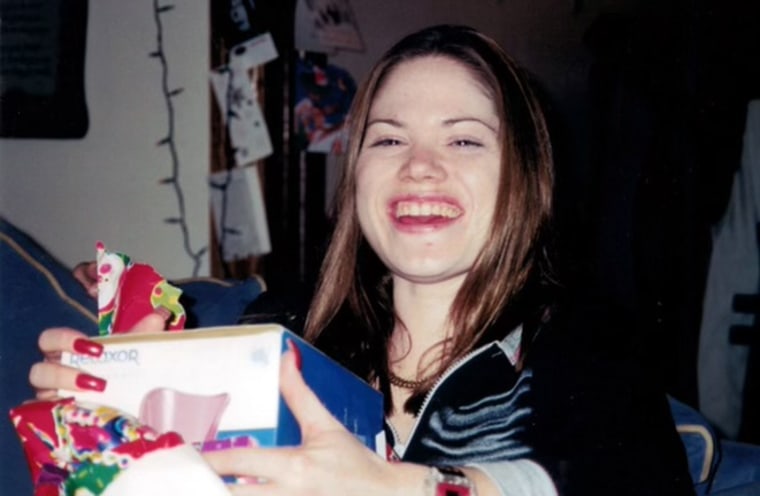 At the time, the lieutenant promised to see Megan's case through. "For now, we have a job to do," he said. "And we're not going to stop until that-- that job is done."  
Today, Lt. Natalizio may be one step closer to fulfilling that promise.
According to the felony complaint filed Thursday by Investigator Michael Corletta of the New York State Police, a thorough review of the evidence in the case resulted in "Edward Holley being identified as the suspect in the murder of Megan McDonald." He states that Holley had a "clear motive." 
In the felony complaint, it is noted that there was hostility between Holley and Megan, as Holley allegedly owed Megan a substantial amount of money. The complaint also states that in May of 2002, a couple of months before her murder, Megan began receiving money from her deceased father's NYPD pension and that she was "known to be fiscally responsible."  However, according to the complaint, on March 10, 2003, her bank account was overdrawn by nearly $1,000 -- something it had never been before.
In Holley's police interviews, he admitted that he owed Megan money, but claimed it was "only $300." He stated that this was to pay her back for a car that Megan helped him purchase. In 2022, New York State Police detectives told Dateline that they were asking anybody with information to come forward about a car a witness had seen closely following Megan's car the night of the murder. The witness had described it as  a "dark-colored hatchback-style vehicle" and "either a Honda Civic hatchback or just a hatchback style vehicle." 
In the complaint, Investigator Corletta explains that the investigation revealed that "during the timeframe of the murder, Holley operated a 1990 Honda Civic hatchback, color purple, which was registered to his mother."
Another witness told authorities in May of 2022 that Megan told him before her murder that Holley actually owed $3,000 and that "he was not paying her back." 
According to the complaint, another motive became clear to investigators. Megan and Holley had been involved romantically but "she attempted to end their relationship several days before the murder." She also began seeing a man who has been identified as "suspect #2" in the complaint. Suspect #2 has not been named publicly and the complaint states that he died in 2010. 
Over the years, Holley did state in police interviews that he had an argument with Megan several days before the homicide, but the complaint states that his reasoning for the argument "changes in all his State Police interviews." Holley also claimed to both police and a witness that the day they had the argument was the last time he saw Megan. 
However, authorities say that both witness statements and "cell phone tower records of the victim's cell phone establish that the victim and Holley were in the same general area on the night of the murder." 
The complaint also notes that in January of 2023, the New York State Police began receiving assistance from a private company called CyberCheck. This company was able to place the cellular devices of Megan McDonald, Edward Holley and Suspect #2 all together "at key locations on the night of the homicide." 
In the complaint, Investigator Corletta wrote that "the blunt force trauma that the victim sustained was a result of an 'expressive homicide.'" He goes on to explain that an expressive homicide is an intimate personal relationship between the victim and offender. 
According to the complaint, in 2021, the New York State Police received a computer analysis of the DNA evidence which revealed that Megan and Holley's DNA are associated in a "inclusionary manner" with swabs from Megan's cell phone. They believe Holley went through Megan's phone and saw she had called her ex-boyfriend. They believe this caused Holley to go into a rage. 
In 2022, investigators told Dateline that there are more than 700 pieces of evidence in the case. "Every item in the case -- every item we can think of -- has been looked at," Investigator Corletta said at the time.
Then Investigator Corletta stated in the complaint that in March of 2023, they received additional information that "revealed that DNA obtained from the rear driver's seat of McDonald's vehicle and Edward Holley's DNA are associated in an inclusionary manner."  
Investigator Corletta ended the felony complaint by stating that "Edward Holley provided numerous contradictory stories and alibis, and each was disproved by several witnesses." He also wrote that "based on my review of the records associated with this case, numerous interviews, and my experience as a law enforcement professional, there is probable cause that on March 14th, 2003, Edward V. Holley did intend to cause the death of another person, Megan McDonald, and he did in fact cause the death of such person." 
In an email to Dateline earlier today, Lt. Natalizio said, "This has been an unbelievable team effort amongst many law enforcement agencies, the Orange County community, our partners in the media, and Megan's family. We never gave up and we are all on Megan's team." 
The lieutenant said Holley was arraigned in the City of Middletown Court and remanded to the Orange County Jail without bail. It is unclear if Holley has an attorney at this time.
Anyone with additional information regarding Megan's case should contact the New York State Police Department Troop F investigators at 845-344-5300. There is also a confidential tip line at 845-344-5370. You can also submit a tip by emailing crimetip@troopers.ny.gov.