Veronica Pate only spent eight birthdays with her daughter, Shy'Kemmia.
"The ground opened up and my baby disappeared," Veronica told Dateline. "Nobody saw nothing."
25 years ago, on September 4, 1998, Shy'Kemmia Pate vanished.
Shy'Kemmia grew up in Unadilla, Georgia. "We had a school, church, the park area, but nothing important," Veronica told Dateline. "It was a small community. It wasn't like Atlanta, Georgia. It wasn't even like Macon, Georgia — nothing like that. It's just a small town."
That small town included a school that Shy'Kemmia loved. "She loved school. Every teacher she had -- she loved them, and they loved her," Veronica said. "She was a sweet little girl. She always wanted to be a pediatrician."
According to Veronica, Shy'Kemmia had several medical conditions. "She wanted to take care of kids that were sick like her," she said. "She had a chronic asthma disease and a kidney disease, and she always had to be back and forth from the hospital. She spent more time in the hospital than she really did at home."
But when Shy'Kemmia was at home, she was surrounded by her three older siblings who loved her dearly, according to her mother. "We're very close," Veronica said of their family.
On September 4, 1998, Veronica was at training for work while three of her children were at school.
It was a Friday, and they were excited about the big high school football game that night. "[My son] and my middle daughter -- they stayed after school, but my older daughter came home," Veronica recalled. She told Dateline that her eldest daughter, LaSwanda, came home to pick Shy'Kemmia up for the game.
"They had got these matching jerseys. [Shy'Kemmia's] was the Atlanta Braves neon green one," Veronica said. "LaSwanda got [Shy'Kemmia] dressed first and then she went to go get dressed. While she was getting dressed, Shy'Kemmia went outside to play."
Veronica told Dateline that it was normal for Shy'Kemmia to play in the neighborhood freely. "Where we lived at, everybody knows everybody," she said. "So it wasn't nothing for her to go outside and play like that."
But when LaSwanda went to go get her younger sister to head to the game, Shy'Kemmia was nowhere to be found. "She couldn't find her, so she called me and told me I need to go home," Veronica recalled.
Veronica said she immediately called the Dooly County Sheriff's Office. "They came in [my house] and they searched," Veronica recalled. "They were checking everybody's house. And every lead they came up with -- nothing came from it."
Veronica told Dateline that she believes someone who knew Shy'Kemmia took her. "I felt in my heart that whoever had my baby, she knew him," she said. "She had to know him because she wouldn't have just went with nobody that she didn't know."
The search for Shy'Kemmia was on.
The Dooly County Sheriff's Office is investigating her disappearance. Dateline spoke with the lead investigator on Shy'Kemmia's case, Randy Lamberth. He told Dateline that Shy'Kemmia was last seen on September 4, 1998, on West Street and Crumpler Avenue. "We searched a 10-mile radius of that location and houses all through the area in there for three to four blocks," he said. "We've done ground searches, arial searches — we had people walking, we had a canine on the ground. I mean, there was a lot of cooperation."
But investigator Lamberth said they had no luck finding Shy'Kemmia. "She was there at one minute, the next minute she's gone," he said. "We've turned just about every stone over two and three times in the area. Every time we get a lead, we're checking that out."
"Nothing has actually been determined as foul play," Lamberth told Dateline. "But when someone comes up missing, as in the nature that Shy did,… you've always got to suspect there's a possibility."
Lamberth said that despite the lack of leads, he's still hopeful Shy'Kemmia's case will be solved. "There's always hope," he said.
Veronica has hope, too. She told Dateline that she believes her daughter may still be out there somewhere. In fact, just last year, she got a call. "A girl contacted me from Missouri saying that she was my daughter," Veronica said. Veronica said she received a Facebook request from the woman and the two spoke on the phone in June 2022. "I said, 'Hello,' she said, 'Hello.' It was like a pain just flew out of my heart. All the weight from my whole chest, like, it got extra light," she remembered.
Their brief conversation continued. "She said, 'Well, I just want you to know if we never see each other again, I ain't dead,'" Veronica told Dateline. "And that's all she said to me."
Veronica told Dateline that she called the Georgia Bureau of Investigation, which is working alongside the Dooly County Sheriff's Office, to tell them about the call with the woman from Facebook. "She talked to the GBI. He asked a question, she gave him an answer," she said. "She said she was in Missouri. She did give him an address and everything."
According to Veronica, the GBI then sent the woman a swab test to see if she was Shy'Kemmia. "They said that she was not my child," Veronica said.
Investigator Lambert confirmed the interaction with the woman. "That did not pan out. There were some issues with her that I cannot get into," he said. "I think a lot of what she was saying was probably picked up from the news."
Veronica told Dateline she's still not ruling out the woman. She said the woman also Facetimed her daughter and recalled some memories with her that she believes only Shy'Kemmia would know. "She showed her the scar by her eye. [Shy'Kemmia] got hit with a bat when she was 3 or younger," she said. The woman had the same scar. "The questions she answered are not on the internet."
Veronica said the woman also revealed that she was not living in good conditions in Missouri, but never asked for anything — something Veronica sees as a good sign. "She never asked me for anything," she said.
Veronica said that no one in the family has spoken to the woman since last summer but said she's still hoping to get a blood test done. "You'll get a better reader with a blood test," she said.
Whether the woman is her daughter or not, Veronica told Dateline that she will never stop pushing for answers.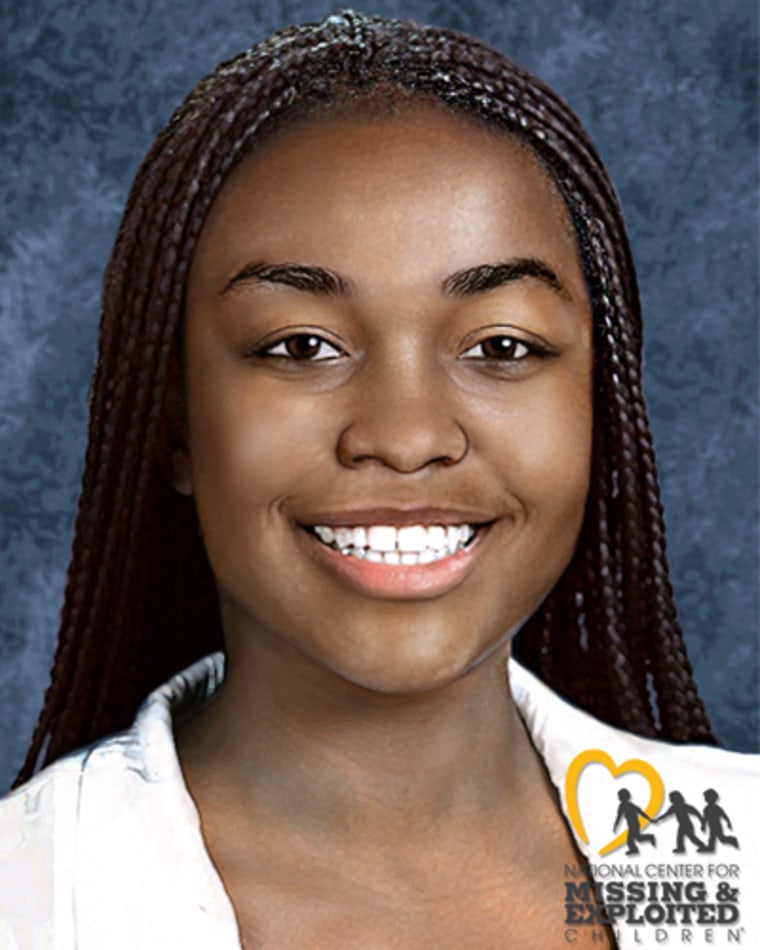 She'll also never stop celebrating her daughter's birthday — no matter where she is. "We celebrate her birthday on the 29th of October," she said. "Sometimes we just get together. We do something together. We pray about it."
Shy'Kemmia would be 34 years old today. She was last seen wearing a neon green Atlanta Braves jersey with red lettering, Levi's jeans, and a leg brace. She suffers from several medical conditions including asthma.
Anyone with information about Shy'Kemmia's disappearance is asked to call the Dooly County Sheriff's Office at 229-645-0920.