Thirteen days ago, Selena Shelley Faye Not Afraid, a Native American teenager, vanished from a rest area outside of Billings, Montana. And for 13 days, her family, friends, members of various tribes and the general public, sometimes up to 50 people at a time, have camped out at the same rest area in an effort to find clues in the teen's disappearance -- and to make a statement about not giving up.
"We're not going to be just a file in the cabinet," Selena's aunt, Cheryl Horn, told Dateline, just as she was leaving the rest area after camping out for 13 days. "We're going to find our girl. And when Selena is found, there are hundreds of more girls behind her waiting to be found."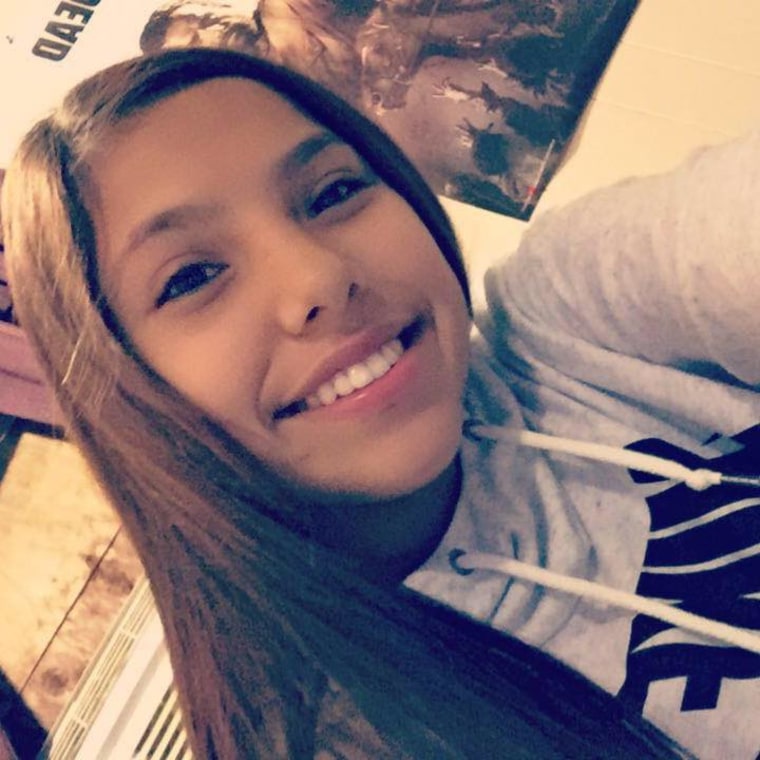 Selena, 16, who lives with her mother on the Crow reservation near Billings, was last seen on New Year's Day at the eastbound Interstate 90 rest area between Billings and Hardin, Montana. Family members told Dateline she was meeting another friend from the reservation when they last spoke to her.
According to Big Horn County Sheriff's officials, Selena was among six people driving from Billings to Hardin when their car broke down. It eventually started again and four people left Selena and her friend at the rest stop. The driver of the vehicle called a relative to pick up the two girls. When the relative arrived, the friend was still there. She said Selena had walked off into a nearby field. Family members were worried because they said this wasn't like her and she was insufficiently dressed for low temperatures that had dipped below freezing.
"She wouldn't have just left like that," Cheryl told Dateline. "We knew something was wrong."
The search for Selena began that night and for days, groups covered miles on foot, horseback and all-terrain vehicles.
"We're not going to give up searching," Big Horn County Sheriff Lawrence Big Hair told reporters at an earlier press conference. He added that the disappearance is "beginning to look suspicious."
On Wednesday, January 8, the Federal Bureau of Investigation (FBI) issued a "BOLO" alert, asking people to "be on the lookout" for Selena.
Cheryl told Dateline a new executive order called "Operation Lady Justice," signed by President Trump, is the reason they were able to leave the rest area Monday.
In November 2019, the Crow tribe's chairman met with Trump in Washington D.C. when he signed an executive order establishing a task force to better investigate missing and murdered Indigenous women.
"Thank goodness for that bill," Cheryl said. "We're not done by any means, but this is a huge relief for our family. We have the FBI looking for our girl."
The BOLO alert states that Selena's direction of travel is unknown, though she may be in Montana's Big Horn, Yellowstone, Rosebud or Treasure Counties.
Selena is just one of many Native American women and girls who have been reported missing in the United States and in Montana. In 2019, the Associated Press reported that there were "nearly 300 cases of missing Native American women and girls reported to law enforcement agencies in Montana last year."
"A large percentage of these missing girls are indigenous," Cheryl said. "But this is not just an indigenous problem, this is a human problem. And right now, I have a voice. You have a voice. Those who are missing do not have a voice and we need to be that voice for them."
According to Selena's Facebook page, she shared a photo highlighting the missing and murdered indigenous women issue in 2018 when her own sister, Tristen Gray, was killed. It was one of many tragedies that her family has been through. Selena also lost her twin sister and brother in tragic circumstances.
"We see their faces on missing posters all the time on social media," Cheryl said. "But if we keep scrolling, we're not giving them a voice. We're staying silent."
Cheryl told Dateline that Selena's disappearance is taking a toll on Selena's mother, Jackie Big Hair. She said Selena's mom "won't leave her car, she won't go home, she won't sleep in that RV even, because she wants to be able to look and that's the worst thing for a family to do."
Cheryl, who lives on the Fort Belknap reservation in a different part of Montana, said Monday they are going back to Billings to continue the search on the ground as well as through social media, including using the hashtag #HopeForSal. Cheryl said "Sal" is one of many nicknames for the teen.
"We follow up on every tip and lead that comes to our inbox and phone. Every clue. Every tip," Cheryl said. "And we still can use people on the ground. Everyone on the reservation and neighboring areas have been so wonderful about searching their own backyards, the farmland near them, wells, empty silos. The area is so vast that we need everyone's eyes peeled."
Cheryl describes her niece as resilient and strong and said she believes Selena is alive and wants to be found.
"We're just encouraging everybody, 'Don't give up, because we're going to find our girl,'" Cheryl said. "But when we do, remember, there's more than Selena missing. There's a lot of people here, they're somewhere. And they all want to be found. All of them."
Big Horn County Undersheriff Eric Winburn told Dateline they are still searching for Selena and there were no new updates that he could comment on.
"This is still an active missing persons case. The update will be when we find her," Windburn said. "We're constantly following leads and we encourage anyone who knows something to call our tip line."
Selena is 5 feet, 9 inches tall, 133 lbs with black hair and brown eyes. She has a scar near her mouth and a tattoo of a cross on right her middle finger. She was last seen wearing a black coat, grey sweater, blue jeans, and grey ankle boots.
If you have any information about Selena's whereabouts, contact the Big Horn County Sheriff's Office at (406) 665-9780 or the tip line at (406) 665-9800.