Melissa Carson was just nine years old when her mother, 32-year-old Phyliss O'Brien Carson, a wife and mother of four, disappeared in October of 1970 from the small, close-knit town of French Camp, California. About a month later, Phyliss's decomposed body was found, but the question of what happened to her that night -- and who killed her -- has haunted Melissa for decades.
"One day my mother was here and the next she was gone," Melissa told Dateline. "It's been nearly 50 years, but to me, it was like it happened yesterday."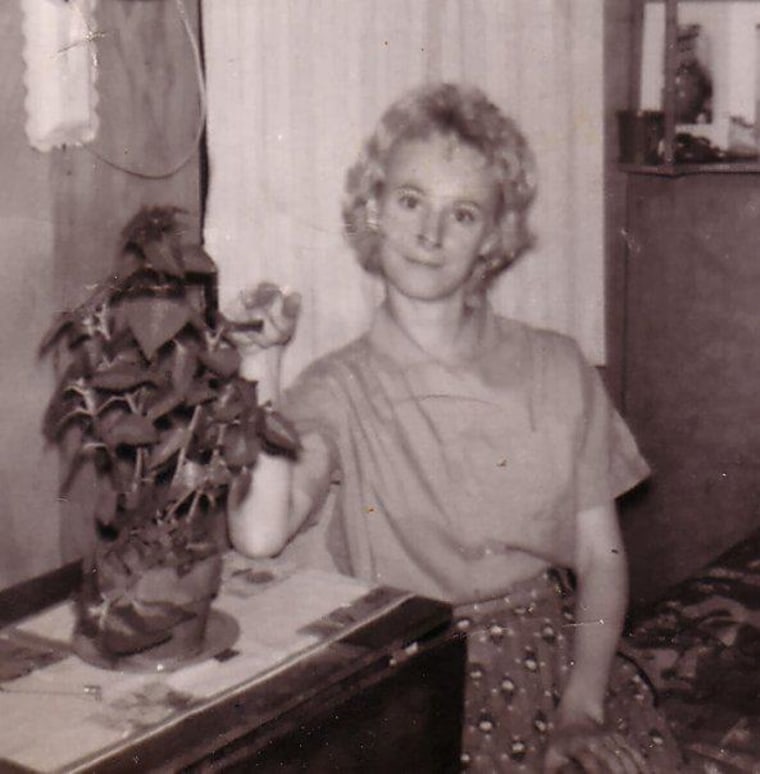 Melissa's mother, Phyliss, was from Newfoundland, Canada. In the 1950s, that's where she met her husband, a United States citizen who was stationed at the Air Force base there. They fell in love and together they moved to a farm outside of French Camp, California, where they raised three of their own children, as well as Phyliss's older daughter.
Melissa told Dateline she remembers her mother as being a small, petite woman, but strong in other ways, like raising four children and working on their farm while her husband worked as a truck driver, traveling all over the country. She said she also has fond memories of going shopping with her mother to Woolworths and JC Penny.
On October 27, 1970, everything changed for the Carson family.
Melissa recalls that her mother went out that night to a popular local bar, Francis Truck Stop, with Melissa's aunt and uncle. Melissa, who was nine years old at the time, was left at home with her older half-sister, her younger brother and sister, and their babysitter. She said it was believed her father was at work that night.
Melissa's mother left the bar later that night, telling her sister-in-law that a friend would take her home. She called home to check on the children and told the babysitter the same thing.
But Phyliss never made it home.
"Who was that friend? We don't know," Melissa said. "That's the big question. French Camp was a small town and everybody knew everybody. We always believed it was someone she knew. But it could have been someone passing through the area. But someone had to have seen something that night."
Nearly a month later, on November 22, 1970, pheasant hunters made a gruesome discovery. According to the San Joaquin Sheriff's Office at the time, Phyliss's partially-clothed, decomposed body was crumpled down an embankment, in a gully off the side of Yettner Road. The rural area was about five miles from her family's home.
Detectives at the time said Phyliss's body had been exposed to the elements some time and that there was no forensic evidence left to be investigated. Because her body was so badly decomposed, a cause of death could not be determined.
Melissa said it was her aunt who came into her bedroom and broke the news to her.
"She said, 'Mommy is not coming home. She went to Heaven,'" Melissa told Dateline. "That's all I was told. For years, I thought my mother, well, just died, you know? She was gone. She died and went to Heaven and that was the end of that. I tried many times to ask my father and he would brush it off and say we were not going to speak of it."
It would be years before Melissa discovered that her mother had not just died -- but had been brutally murdered. She was 18 years old when she began her own journey to discover the truth of what happened to her mother that night.
Melissa found herself in the coroner's office at the Stockton County courthouse. She asked the deputy for her mother's file. At this time, 10 years after her mother's death, she still had no idea what had happened.
As she read the coroner's report, Melissa said she felt her heart fall into her stomach. The truth at last: her mother had been murdered.
"I threw the report back at the officer. I was in shock," Melissa said. "I was in shock that my mother had been murdered. And I was in shock to read the gruesome details. That's when I discovered the difference between what it meant to be dead, and what it meant to be murdered."
According to the report, it's believed Phyliss was raped and then killed. The capri pants she was wearing were rolled down, inside out. Her body, still clothed in a shirt and bra, was in a position that officials said suggests she had been thrown from a vehicle. Robbery was ruled out as a motive when her wallet and jewelry were found at the scene.
Melissa's father, who died of Leukemia in 1992, was ruled out as a suspect, according to the San Joaquin Sheriff's Office at the time. Melissa said that even on his death bed, her father would not talk about her mother's murder and urged her to stop looking.
There have been many theories over the years, including speculation that Phyliss might have been a victim of the Zodiac Killer or the Golden State Killer, but detectives could not confirm this and no suspects have been named in Phyliss's case.
Melissa's journey to find the truth was only just beginning.
About a decade ago, she traveled to Newfoundland to visit her mother's relatives.
"As soon as I saw them, I saw my mother's face," Melissa said. "And I knew I had to do this. For all of us."
She launched a Facebook group "Cold Case of Phyliss O'Brien Carson," that is dedicated to cracking the case. It now has more than 1,000 members.
Melissa has also done some detective work on her own, going door-to-door in French Camp, hiring a private investigator and reaching out to people who were known to be at the bar that night.
When then-Governor Arnold Schwarzenegger began offering rewards for tips on cold cases, Melissa started a campaign to submit her mother's case to the program. It worked. In 2016, California Gov. Jerry Brown approved a $50,000 reward for tips leading to the arrest and conviction of Phyliss's killer.
Melissa said she is beyond grateful for the reward and it has been a validation of her efforts, but said she remains frustrated by the lack of movement on her mother's case.
"It's been almost 50 years now," Melissa said. "How much longer will this take? My father died without knowing what happened to her. Her mother died in the 1990s without having justice for her daughter. I don't want to be the next one to die without getting justice for her. It needs to be solved now."
In February 2020, San Joaquin County Sheriff Pat Withrow announced the launch of a new cold case unit.
"If my child, my dad, my wife, my daughter were missing, I would hope that I would have detectives that would not rest until they found my missing or deceased loved one and got me some closure," Sheriff Withrow said.
Detectives with the unit are assigned to work on more than 200 cold case homicides, as well as more than 150 missing persons and sexual assault cases.
"We may not solve... and we surely won't solve everything. We won't find everyone but it will not be for a lack of trying," Sheriff Withrow said.
Along with the new unit, Withrow secured a grant for a two-year pilot program to bring rapid DNA testing to the county that all law enforcement agencies will share to build their own local DNA databases.
San Joaquin Sheriff's Department Public Information Officer Sandra Mendez told Dateline there is not an exact time frame for delving deeper into the case, but "they will be looking at all of the cold cases with a fresh set of eyes. They will see if new technology can be applied in hopes of solving these crimes. All of our cases are very important and we are working very hard to bring them to a resolution."
Melissa hopes the new cold case unit and advancements in DNA technology will be the tools needed to solve her mother's case.
And if anyone is determined, it's Melissa. The 59-year-old single mother, who now lives in Manteca, California, continues to fight for justice while working a government job and caring for her daughter, who has cerebral palsy.
"It's been a long 50 years, and it's time we had answers," Melissa said. "I'm never going to give up looking for my mother's killer. Even my nephew has now taken an interest in the case. We're going to get the truth one day."
Anyone with information about Phyliss's case is asked to call the San Joaquin Sheriff's Office Cold Case Unit at (209) 468-5087.