Attorneys for Denise Huskins and her boyfriend, Aaron Quinn filed a claim against the City of Vallejo Thursday for alleged "false and unfair accusations" that Denise and Aaron perpetuated a hoax concerning Huskin's kidnapping earlier this year.
The claim asserts that Vallejo city officials and its police department, "waged a vicious and shocking attack on two victims of a terrifying home invasion, kidnapping and rape."
The claim could lead to a lawsuit if it is rejected by the city.
Quinn reported to police on March 23 that kidnappers broke into the couple's home while they slept, drugged them, abducted Huskins and demanded money. Huskins turned up safe two days later in her hometown of Huntington Beach hours before the ransom was due. After Huskins reappeared, Vallejo Police said at a news conference that the kidnapping was a hoax.
But in July, Matthew Muller, a Harvard-trained disbarred lawyer, was charged in the abduction after being arrested in an attempted robbery in a nearby San Francisco Bay Area city. Muller's attorney has said he plans to plead not guilty.
Ex-Marine Matthew Muller to Plead Not Guilty to Denise Huskins Kidnap Allegations: Lawyer
The 26-page document was filed by the San Francisco law firm Kerr & Wagstaffe, which represents the couple. At a press conference held this afternoon, Jim Wagstaffe, along with two associates, Kevin Klune and Kenneth Nabity, announced their primary claims against the Vallejo Police Department.
"The [Vallejo] police took the all too common approach of blaming the victims," Wagstaffe said at the press conference. Denise and Aaron's personal and professional lives have been "turned upside down" since the incident and their reputations "destroyed," according to the team.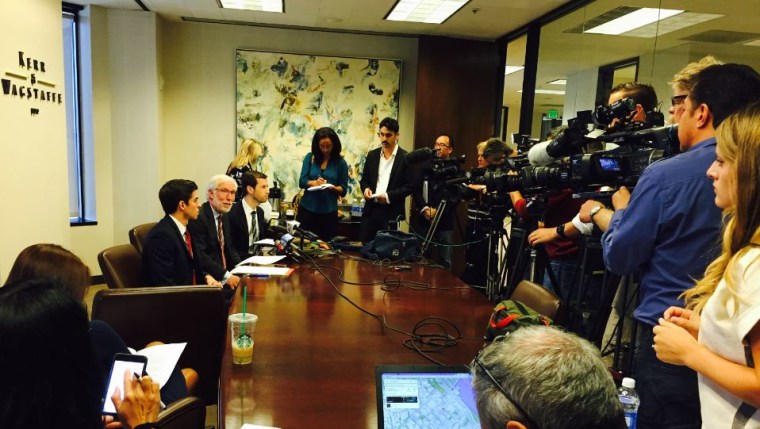 The claim lists four respondents including the City of Vallejo, as well as three officers with the Vallejo PD: Detective Matthew Mustard, Lt. Kenny Park and Officer Garcia, whose first name was not known. The claim also asserts that Vallejo police were negligent in their handling of some of the evidence, including losing a sexual assault medical test that could prove that the woman who was kidnapped had been raped.
"Vallejo PD has always treated Denise's claims that she was sexually assaulted as false, which is like rubbing salt in the wound," said Klune.
The attorneys did not have much to say regarding the pending federal case against Matthew Muller.
"Our focus is not Mr. Muller, but compensation for the victims," said Wagstaffe. "We're hopeful the City of Vallejo will respond positively to our claim and will make a fair offer of compensation."
The City of Vallejo will have six months to respond.