Maribeth Quinn was the "favorite aunt" among her nieces and nephews. She battled hard for the coveted title and won hands down, her youngest brother Brian Quinn told Dateline.
Brian was the youngest of four children and at 11 years younger than Maribeth, he said he was more like Maribeth's baby than her brother.
"She took me everywhere she went," Brian told Dateline. "I grew up idolizing her. She was the most amazing person."
Maribeth and Brian grew up with two other brothers in the Washington, D.C. area. Maribeth was an active teenager, Brian said. In high school, she played varsity basketball and softball. She made straight A's. She was social and had many friends.
While at college, Maribeth came home from Virginia Tech on the weekends. She stayed close to Brian and always let him tag along when her college friends came to visit and they gave their own guided tours of the District.
The siblings eventually moved to different areas of the East Coast. Two of the brothers remained in Virginia, while Brian moved to North Carolina. Maribeth made her way to Columbus, Ohio, where she got her Masters at Ohio State University and became IT Director at Nationwide Children's Hospital.
But she remained close to her brothers and once they had children of their own, she quickly claimed the title of favorite aunt.
Maribeth often traveled from her home in Ohio to spend holidays with Brian and his family, as well as summers at the beach with them in the Carolinas. Christmas 2015 would be the last time they spent as a family. Two months later, Maribeth was murdered.
"I have three young daughters and they loved their Aunt Maribeth so much," Brian said. "One of the hardest things I ever had to do was tell those little girls they would never get to see her again."
On February 12, 2016, Maribeth was found stabbed to death at her apartment on Carmichael Street in Westerville, Ohio. It was 3 p.m. on a Friday.
The 53-year-old had worked the day before her death on Thursday, February 11. When she failed to show up the next day, her co-workers became concerned and later told police this was "out of character" for Maribeth.
They notified her emergency contact who went to her apartment to check on her. Maribeth had been stabbed to death.
Detectives with the Columbus Police Department told Dateline they believed the attack happened on Thursday after she finished her shift at the hospital. They said they did not find any evidence of a burglary and believe Maribeth was targeted by someone she knew.
Her brother, Brian, was notified, and right away he gathered the family and they drove to Columbus.
"I got the call that Friday night," Brian told Dateline. "It's something you never expect to hear. That your sister has been murdered? No. It wasn't right. And I just couldn't fathom someone not liking her to the point that they would kill her."
Brian said it was clear how loved his sister was by the outpouring of support and kindness by the community in the days and weeks and months following her murder.
"She touched a lot of people," Brian said. "She was loved by so many. That's why it never made any sense why someone would do this to her."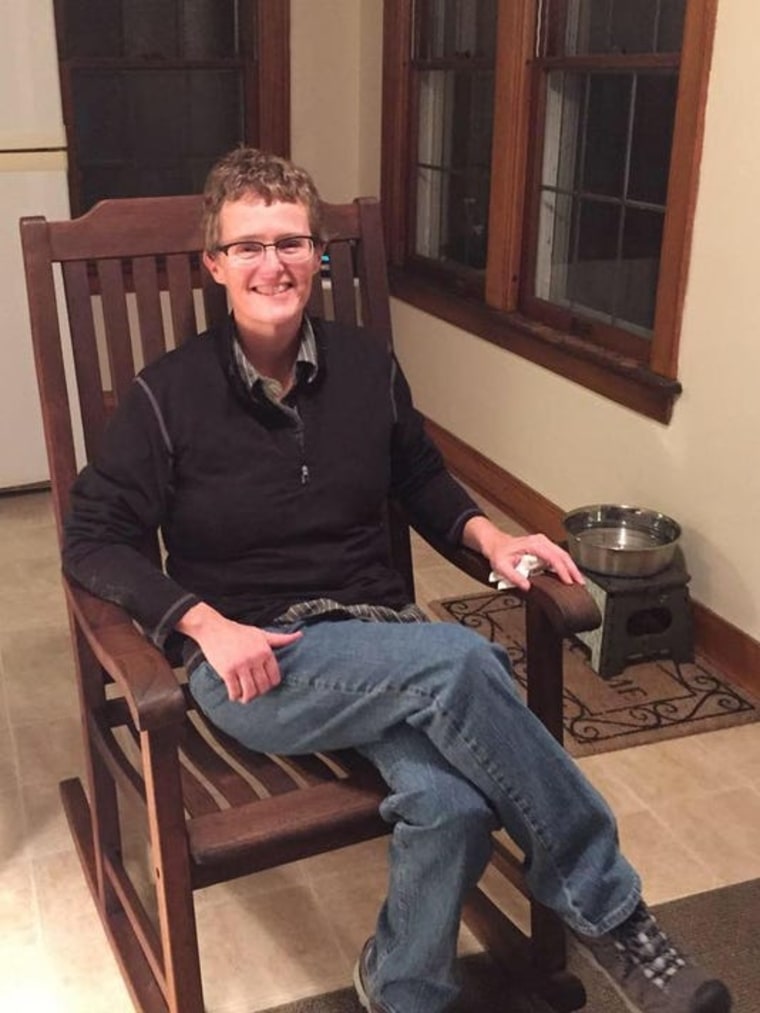 One of Maribeth's friends, Michelle Petruskevich, told Dateline she remembers Maribeth for her outgoing personality and for her smile.
"It was the most mesmerizing, infectious smile," Michelle told Dateline. "And that's how I remember her today."
Michelle and Maribeth met when Michelle worked as a manager at the credit union for employees of the hospital. As she handled Maribeth's financial matters over the course of eight years, they also became close friends.
"We went through a lot together," Michelle said. "My mom had a stroke in 2015 and Maribeth was a wonderful sounding board when I needed it. You know, a shoulder to cry on. Very supportive."
Michelle told Dateline she helped refinance the mortgage on the house Maribeth had shared with her partner of 20 years. The relationship had ended just months prior, Michelle said, and Maribeth moved into the apartment on Carmichael Street.
"I sent her an email Friday, I remember," Michelle said. "She never responded. But that wasn't out of the ordinary. When I woke up Saturday morning, I found out why. She had been killed."
Michelle said she found out about the murder on the news early Saturday morning.
"I turned on the news and they said her name: Maribeth Quinn. Murdered. I was in shock. I busted out in tears. I couldn't believe it."
As a well-respected person in the community where she lived and worked, Maribeth's murder puzzled detectives.
Detective Bill Gillette and Detective Dana Croom took over the case about a year ago.
"We are actively investigating this case," Detective Bill Gillette told Dateline. "And we're hopeful to find closure for the family soon."
Detective Gillette told Dateline there is a person of interest in the case, but he would not release any additional details of the investigation.
"We welcome any piece of information that could be the missing piece to this puzzle," Det. Gillette said. "Someone out there knows something and we hope they will come forward to help put this case to rest."
Maribeth's brother, Brian, agrees with authorities that his sister's murder was a direct attack by someone she knew.
"I just hope her killer will tell someone one day. I think they will," Brian said. "And I hope someone hears about my sister -- even if they don't know her -- and I hope they come forward with that piece of the puzzle that helps police connect the dots to find her killer. We need that justice for our sister."
If you have any information about Maribeth's case, call Detective Bill Gillette or Detective Dana Croom at (614) 645-4036.