When Christine Poole turns on the radio, she thinks of her sister, Jenny.
"We used to stay up all night listening to music," Christine told Dateline. "A song would come on the radio and we'd start laughing and making up words - it was just hysterically funny to us. We had a whole song about the song 'Feel Like Making Love,' we'd sing 'Feel Like Baking Cookies' and we would just laugh and have fun."
It all now seems like a distant memory.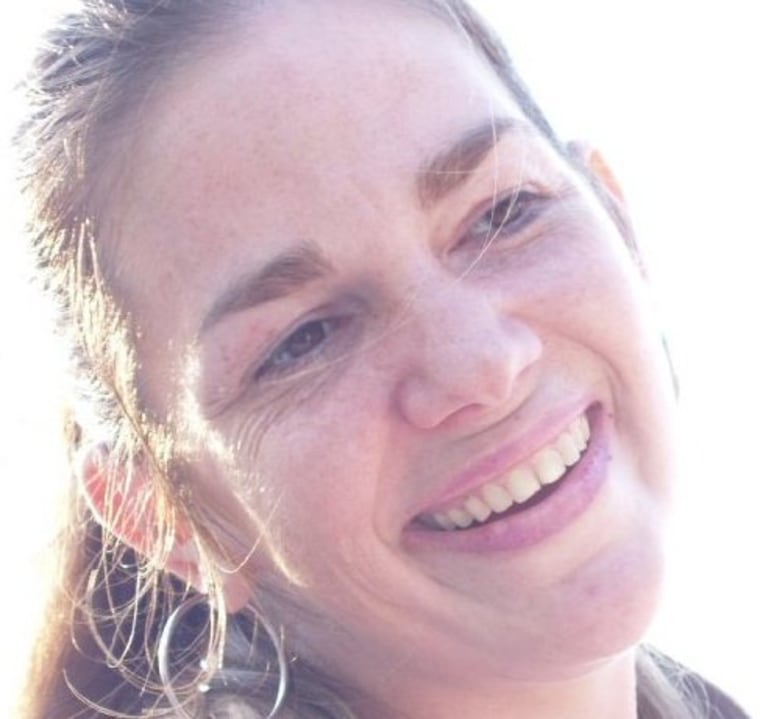 It was 10 years ago today that Christine spoke to her sister for the last time. Jenny called her needing help. She said a picture had fallen off the wall in her Bay Shore, New York home, hitting her on the face. She was supposed to go to the DMV that day, but with two black eyes and impaired vision, Jenny asked her sister to reschedule her appointment.
"Is that really what happened to Jenny? Possibly," Christine told Dateline. "There was a picture above her bed that could have fallen. I didn't question it. I just knew I needed to help her."
Jennifer Poole, who went by Jenny, was born May 26, 1971, at South Side Hospital in Bay Shore, New York. She was the middle child of three siblings with Christine being the oldest. The sisters also had a younger brother.
Their family spent time in both New York and Florida. Growing up, the sisters were close and spent their days fishing off the dock, going to concerts and staying up late listening to music together. Even when the sisters were apart, there were times they'd hear a song on the radio and call each other to reminisce or plan on the next concert.
"She had a big blue truck, which I still have, that she painted purple, but she still named it 'Blue,'" Christine said. "It had a full, retractable roof, so we'd take it off and we'd get stuck in the rain, laugh and have a good time… and it's very sad to see it sitting here because it does bring back a lot of good memories we had together."
But Jenny suffered from Bipolar disorder and drug addiction. Christine said they would be out having a good time and something would trigger Jenny.
"One minute she would be fine and the next would be chaotic," Christine said. "But it didn't matter if my sister was doing drugs or if she was having an episode with her illness, she never ever once missed our mother's birthday. Sometimes it was really bad. But sometimes we had her back and things were good again."
Christine said when Jenny was doing well, she spent her time gardening in her yard, going to concerts and had been studying to be a medical biller.
But in the days and weeks before Jenny's disappearance, Christine said that it appeared her sister was not doing well.
On April 28, Jenny showed up at Christine's house in Central Islip, New York. Christine lived there with her then-boyfriend, Neil, and her mother.
She told Dateline she had just arrived home from work when a noise made her look at the security cameras that were positioned outside her house. She spotted Jenny driving up in a yellow Hummer SUV.
Christine said her boyfriend went outside to talk to Jenny. There were two men in the vehicle with Jenny, but Christine didn't recognize them.
"Neil told me that she was happy at first, but then seemed agitated," Christine said. "She wanted to come in to see our mother. But we didn't need the aggravation, so Neil told her to come back another day. Was she using drugs at that time? Was she in danger? I guess we'll never know. She wound up leaving and that was it. It was the last time I saw her. On camera. The last time Neil saw her in person."
Christine told Dateline that a few days passed, and then Jenny's landlord showed up at her job working for the Town of Islip.
"He said he was concerned because he hadn't seen Jenny in a few weeks," Christine said. "We weren't too worried at first. It wasn't out of the norm for her to disappear for a few days sometimes."
But when Christine tried to call Jenny and got no response, she felt something was wrong. She called again and again. But Jenny never answered. Her phone was turned off.
On May 8, Christine went to Jenny's apartment on Mowbray Avenue in Bay Shore, about a 15-minute drive from Central Islip. She was shocked at what she saw.
"I couldn't believe what I was seeing," Christine said. "Jenny's apartment is always spotless. But that day, it was wrecked."
Christine told Dateline furniture had been shifted. Jenny's belongings had been rifled through. A piece of the carpet was missing. And there was a smell of bleach. But what shocked her the most was the blood.
"There was blood splattered on the wall," Christine said. "There was so much blood."
Jenny was nowhere to be found.
Suffolk County Police were called to the scene and Christine was left to give her mother the heartbreaking news.
"It was the day before Mother's Day," Christine said. "I come home and I have to tell my mother the day before Mother's Day that her daughter is missing. So you can imagine that's heartbreaking enough… I couldn't get the words out. I just started crying."
Suffolk County Police began the search for Jenny, which included dredging the canal behind Jenny's apartment. Some of Jenny's personal belongings, including her purse, wallet and cell phone, have never been found. Her bank account has never been accessed again.
In the summer of 2010, the case was moved from Missing Persons to Homicide. But months passed and Jenny still had not been found.
In December of that same year, human remains of several women were discovered along a stretch of Ocean Parkway on Long Island, a case which soon came to be known as the Gilgo Beach murders. Suffolk County Police had been searching for 24-year-old Shannan Gilbert, who vanished in May, when they found the bodies. Shannan's remains were not found until 2011.
Jenny's family wondered if she could be one of the women. Where Jenny lived in Bay Shore was approximately 10-15 miles from any of the sites on the span of beach where the bodies were found. But Jenny was not one of them.
Suffolk County Detective Ron Tavares, who eventually took over the case, told Dateline they investigated every possible lead, but came to the conclusion that "at this time, we see no connection to Gilgo."
Detective Tavares calls Jenny's disappearance "suspicious" and they have had a suspect in mind for a long time. He told Dateline multiple people have been questioned, including an ex-boyfriend, Jenny's landlord, and a friend of Jenny's, identified as Ernest Mateen.
All were "interviewed thoroughly" but Detective Tavares said that without enough evidence at this point, his "hands are tied."
Ernest Mateen Jr. was named as their number one suspect. But two years after Jenny disappeared, Mateen was killed during a domestic dispute with his wife.
Mateen, known as "Champ" to Jenny, was a former professional boxer from Brooklyn. He was married to R&B singer Kia Jeffries, who shot and killed him in 2012. It was later officially ruled self-defense and the case was closed.
"He was our number one suspect before he was killed...and he still is our number one suspect," Detective Tavares said. Tavares added that he believes there could have been other people involved
"Someone knows what happened and we're just trying to find that missing link," Tavares said. "This is still an open case and we're always open for new information that could lead us to the truth and closure for the family."
In the decade since Jenny's disappearance, Christine has continued her search for the truth by posting fliers, soliciting help from advocacy groups and law enforcement, and creating the Facebook page "Help Find My Sister Jennifer Poole" to generate tips.
In 2019, a friend of the family, Lin Harmon, who now lives in Florida, launched the podcast "Discarded," a true-crime show that covers unsolved cases.
"The goal of this podcast is to get exposure for Jenny's case," Lin said. "And to find the truth and to ultimately find Jenny so her family can have closure."
Lin, who has always been close friends with Christine, told Dateline she remembers Jenny being a bit of a wild child, but also kind and fun and charismatic.
Lin has a background in legal research, and spends her evenings poring over crime-scene photos, emails, tips from listeners, and interviewing the multitude of characters who were in and out of Jenny's life.
"I want it to have an impact," Lin said. "I want to tell the stories of those who have been forgotten. That includes Jenny. We won't let her be forgotten."
Jenny's sister, Christine, told Dateline that even though they may never find Jenny's body, she and her mother want some sort of answer to what happened to the woman they loved so much.
"Do I think we'll ever find out the truth? No, probably not," Christine said. "But I try to have some sort of hope. That's all we can do. And you know, even 10 years later, and for the rest of my life, every time I turn on the radio, I'll think of Jenny."
Anyone with information about Jennifer's disappearance is asked to call Suffolk County Crime Stoppers at 1-800-220-TIPS. Tips can also be submitted online through P3tips.com or by downloading the P3 app, which is available in the App store or through Google Play. All tips are kept confidential.