Erica Thompson has been missing for three months, and her family says all signs point to foul play.
"There's so much that doesn't add up," Erica's sister, Dana Kujawski, told Dateline. "She wouldn't have just left. Right now, all signs point to foul play. But we're trying to hold on to the hope we have left."
Dana said her 53-year-old sister had been living alone at her Brookfield, Illinois home, after having been in a two-year relationship.
She said the last time she heard from her Erica was by email on September 23.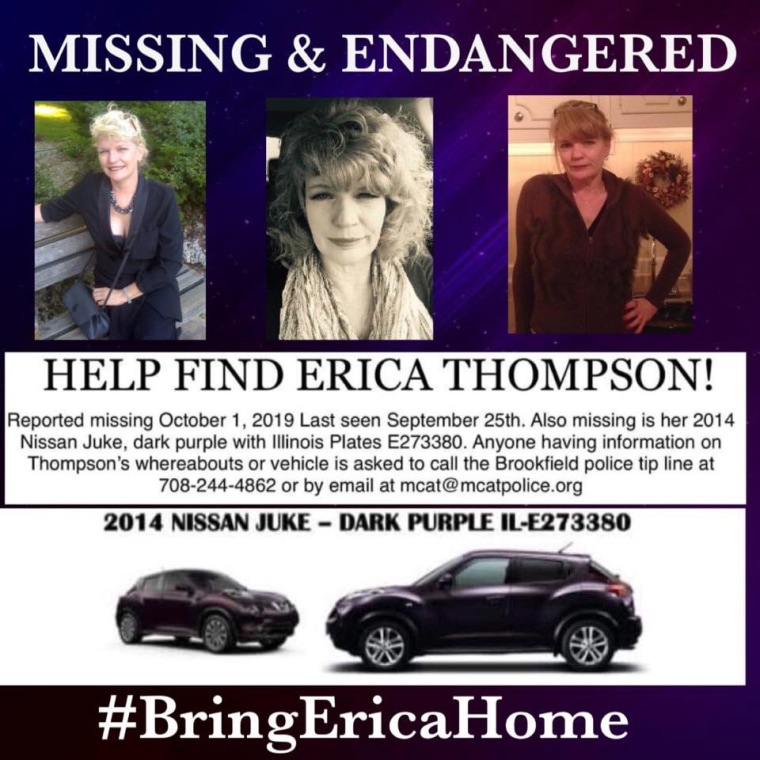 A few days later, Erica was nowhere to be found. When she did not show up for work that week, her family grew concerned.
Erica's only son, Michael Russo, told NBC Chicago in October that it was unlike his mother to not show up at work, or check in with her family. Erica was employed as a comptroller at Empire Hard Chrome Inc., in Chicago.
"Just a lot of things that don't add up and don't make sense," Michael said. "Not in her character."
On October 1, 2019, Michael went to check on his mother, and he found the back door of her home open with the air conditioning "running at full blast." He told NBC Chicago there were moldy dishes in the sink and cat vomit was everywhere.
"It was cause for concern because my sister would have never left a mess," Dana told Dateline. "She would have washed her dishes and taken care of her cats."
Family members reported Erica missing that day.
Erica's vehicle was also missing. It's a dark purple 2014 Nissan Juke with Illinois license plate #E27 3380. Her son added that while it appears purple in the sun, the SUV normally looks faded black or brown on the road.
According to a Brookfield Police news release, Erica was last seen on security video on September 25, 2019, driving the Nissan near Veterans Memorial Circle in Brookfield. She is considered by police to be an "endangered" missing person.
Investigators were able to ping Erica's phone and discovered that it had traveled through several nearby communities, and as far as Missouri, early on September 26, according to the news release.
In the news release, police said they knocked on every door in the area surrounding where Erica was last seen, checked video footage and utilized several police K-9s. Family and friends gathered at Veterans Memorial Circle and handed out missing person fliers.
Dana said the family is just trying to keep Erica's bills paid and care for her cats, but fear the worst has happened to her.
"Something happened to her. And someone knows something," Dana said. "We're still hoping that she just left to find herself… But that window of hope is getting smaller."
According to NBC Chicago, a local businessman contacted Brookfield Police in November and offered to put out a missing person's message about Erica on digital billboards throughout the Chicago area for free.
"It is unimaginable having your sister on a billboard, but anything we can do to help find her," Dana said.
The Brookfield Police Department said in a release, "We are committed to providing every resource available to locating Ms. Erica Thompson. We sincerely hope that she is okay and appreciate the help and support of the residents of Brookfield, the general public, and cooperatives like Crime Stoppers in aiding us in our efforts to solve this missing persons case."
Erica is described as 5'6", 130 pounds, with blue eyes and auburn hair that is sometimes dyed. She has tattoos of fairies on her hip and a small blue heart on her foot. Cook County Crime Stoppers is offering up to a $1,000 cash reward for information that results in locating Erica. Call the anonymous tip line at 1-800-535-STOP. Anyone with information about Erica Thompson's whereabouts is encouraged to contact Brookfield Police at 708-244-4862 or email mcat@mcatpolice.org.