Five months ago today, Susan Morrissey Ledyard's body was found in the Brandywine River, a calm body of water that snakes through her home city of Wilmington, Delaware. In November, after months of investigation, the beloved high school teacher's death was ruled a homicide.
What happened to Susan in the early hours of July 23, 2019 remains a mystery, but her family says they won't give up until they have answers.
"We need to find out what happened to our sister. Not finding out is not an option," Susan's sister, Missy Morrissey told Dateline. "We will find out."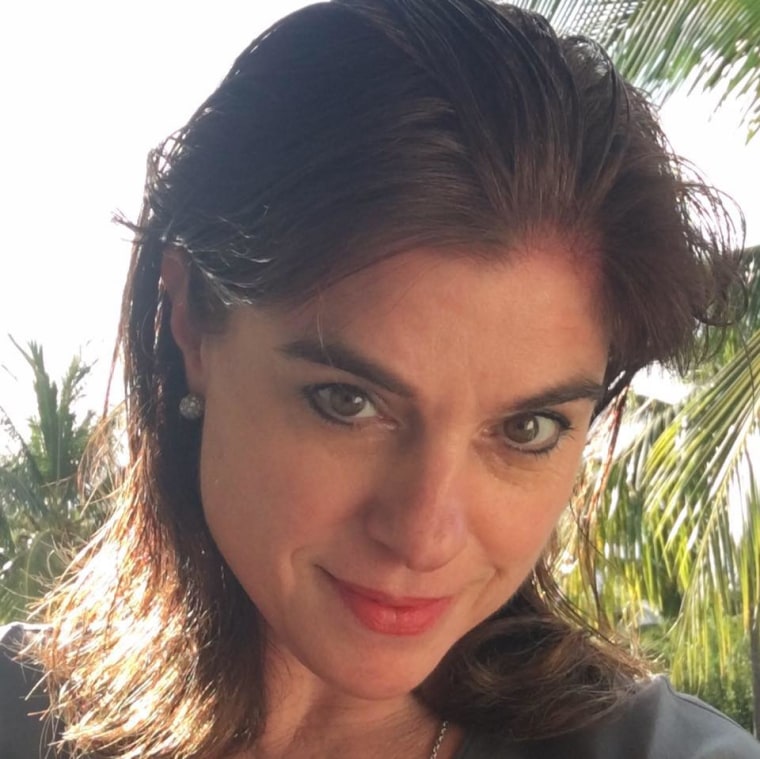 On November 14, 2019, the Delaware Division of Forensic Science classified Susan's death a homicide. Officials said the 50-year-old died as a result of blunt force trauma and drowning.
According to Detective Dan Grassi with the Delaware State Police, a construction worker, who has not been named, was at a job site near the Brandywine River when he spotted Susan's body around 7:30 a.m. on July 23. The body, which had not been identified at that point, was found in the river near the area of Northeast Boulevard in Wilmington. Authorities said she had visible injuries to her body, but they would not elaborate on the details of those injuries.
A little over an hour later, at 8:54 a.m., and three miles upstream from where the body was found, troopers responded to a call about a suspicious vehicle blocking the road at 1 Walkers Mill Road adjacent to the Rising Sun Lane Bridge that crosses the Brandywine River. It was a 2016 Honda Civic registered to Susan Ledyard.
Just a mile away from the bridge, Susan's husband Ben was awoken at their home on Riverview Avenue by banging at the door shortly after 9 a.m.
Delaware State Police were looking for Susan. They told him they found his wife's car.
"Panic started to set in," Ben told Dateline. "I didn't understand. I didn't understand why she wasn't in the bed next to me. Nothing made sense."
Ben and Susan had only been married for three years, but their families knew each other from when Susan, her sisters, Meg and Missy, and brother, John, attended school with Ben at Upland Country Day School in Chester County, Pennsylvania.
Ben and Susan reconnected seven years ago at a memorial service for a mutual friend at the Brandywine Brewing Co., in Kennett Square, Pennsylvania.
"We hit it off right away," Ben said. "We were inseparable. I knew I had found the love of my life."
Ben told Dateline that their short time together were the best years of his life. They traveled, went hiking and enjoyed attending concerts.
"I was a single dad when Susan came into my life," Ben told Dateline. Ben has two daughters from a previous marriage who are in their 20s. "And she just completed our amazing family. And Susan and I, well, we just had an incredible, loving relationship."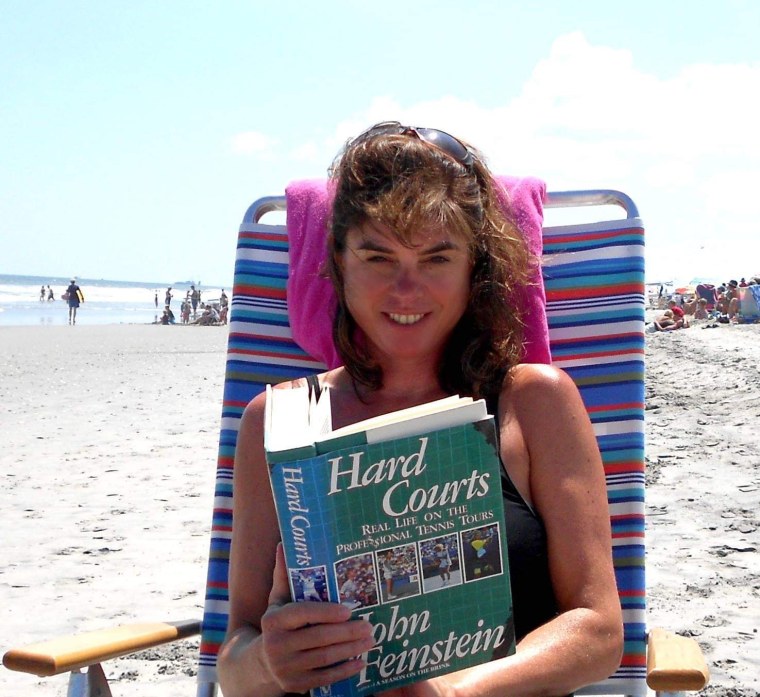 Susan graduated from Georgetown University and San Francisco State University where she received a Master's Degree in Education. She taught English for a year in the former Czechoslovakia, and later at Skyline High School in Oakland, California. After returning to the Delaware Valley, Susan began teaching Language Arts at Academy Park High School in Sharon Hill, Pennsylvania, where she taught for the last 13 years.
"She was one of those teachers who was interested in grammar as much as she was in literature," Susan's sister, Missy, said. "She loved the language. And she was scary-smart."
Missy told Dateline her sister related to her students no matter their background and encouraged them to reach their highest potential.
"Even students struggling with their writing or with motivation, she would find the magic in it because of her love for language," Missy said. "What she saw -- she saw the potential in them, and their interest in learning. She was fascinated by the use of language and the way her students used it."
Family members told Dateline Susan worked hard during the school year, but made sure that she enjoyed her summers.
They said it wasn't unusual for Susan to be up until the early hours of the morning texting friends on the West Coast and scrolling through social media. And that's exactly what they said she was doing the night she disappeared.
Susan's husband Ben told Dateline he had gone to see a movie with a friend around 8 p.m. on Monday, July 22, 2019. When he got home, he said Susan was on the back porch drinking wine and texting on her phone.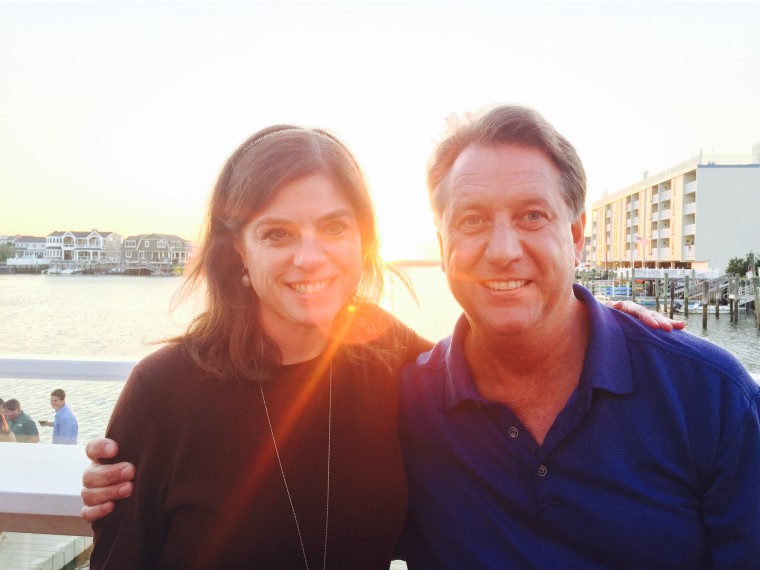 "We had tickets to the Rolling Stones the next night," Ben said. "So I told her we should take it easy, not stay up late that night, and then I went to bed. It was probably around 11 p.m. She told me she'd be in soon. I never saw her again after that."
Investigators with the Delaware State Police told Dateline they were able to collect video surveillance footage from several locations in the area where Susan's car was found, and, using that video and her cell phone records, they were able to create a partial timeline of her activities.
They were able to determine that Susan was active on her cell phone throughout the night, texting and calling friends up until 2:45 a.m. They added that there was nothing alarming about the texts sent or received by her phone.
"It wasn't unusual for Susan to be up late," Susan's sister, Missy told Dateline. "Especially during the summer. She was a teacher. So, summer meant she could stay up."
Missy and Susan, who are only 15 months apart in age, often stayed up late texting each other. Missy said their texts expanded after the 2016 election. Susan, who was a longtime activist, led trips to the Women's March in D.C. and to a DACA march in Philadelphia.
"We texted almost every day, if not every day," said Missy, who lives about 45 minutes away from Susan in Bryn Mawr, Pennsylvania. "She hated talking on the phone."
Missy told Dateline that a few years ago, she texted Susan on her birthday, telling Susan her gift was not calling her. And then she texted Susan a video of Bill Hader meeting Susan's favorite Dateline correspondent, Keith Morrison.
"There is no one, no one, who watched more Dateline than Susan," Missy said. "She was a huge Keith fan. I would text her and ask, 'Are you home? It's a 2-hour Dateline with Keith Morrison,' and she would already be watching."
"And as baffling as this is, as crazy, it's ironic that this would make a great Dateline," Missy added. "I wish Susan knew. It's all just so crazy."
On July 23, Missy's last text to Susan was around 12:29 a.m.
"That was it," Missy said. "That was my last communication with my sister."
Over the next several days and weeks, investigators put together a timeline to help figure out what Susan was doing in the moments leading up to her death.
Investigators confirmed that at 3:02 a.m., Susan's car pulled out of her driveway on Riverview Avenue and turned left onto northbound Pennsylvania Avenue. Approximately two minutes later, she parked on Walkers Mill Road and the headlights turned off. Based on the time elapsed, investigators say they believe the car was driven directly from her house to the location where the car was found.
That's when the timeline ends. Investigators say they have not been able to account for the 4-hour time span between 3 a.m. and 7 a.m., but said they believe Susan was active during that time, but it is not clear what she was doing.
"When police told us that she was active between 3 p.m. and 7 a.m., I was so overwhelmed," Missy said. "We can't even fully grasp what happened until we find out what happened in those four hours."
Early in the investigation, they said that based on the timeline and course of the river, investigators did not believe that Susan entered the Brandywine River where her car was parked. Detective Grassi said that between Rising Sun Lane and Northeast Boulevard, there are numerous obstructions in the river such as dams, bridge piers and areas of shallow water and exposed rocks, and that Susan would not have drifted far if she entered the river near the bridge.
Missy told Dateline she went down to the river where her sister's body was found and saw a man who had been working on the bridge construction.
"I asked him if he was here the day Susan was found. And he said, 'Yes, I'm the one who found her,'" Missy said. "He said if that tree hadn't lodged there and she hadn't been stuck there, her body could have floated out to Delaware Bay. We may have never found her. I think that would have been worse. To not find her body."
Missy said the man joined the community in hanging fliers and helping to figure out what happened to Susan.
"If anyone had to find my sister, he was the perfect person to do so. He was the most kind, gentle-hearted man," Missy said. "This is such a bad situation. A total nightmare, but it's good moments like that one that give you hope."
Investigators said they immediately ruled out suicide, based on interviews with family and friends and by reviewing Susan's activities in the days prior to her death.
Susan's sister, Meg Morrissey Heinicke, who lives in San Francisco, told Dateline that for months, she believed Susan's death had been an accident.
"I did not think it was suicide, but it was inconceivable to think that there was any foul play," Meg said. "At first it just seemed like a horrible accident. The thought that someone killed my sister just never even crossed my mind."
Meg told Dateline that just prior to Susan's disappearance, their families had just all spent several weeks at their beach house in Stone Harbor, New Jersey.
"Two and a half weeks we spent together. It was a family tradition, to be at the Stone Harbor house. We love it there," Meg said. "Then suddenly, our sister was gone. It was an even bigger shock because we had just seen her."
Over the next few weeks, as investigators released bits of information to the family, Meg said they began to wonder if there was more to Susan's death.
"But for every bit of information we got, we had 50 questions," Meg said. "Our mother was actually the first to question Susan's death -- to find it suspicious."
In November, when Susan's family was told the news that her death was ruled a homicide, Meg broke down.
"I remember where I was, what I was doing, every detail," Meg said. "It was like hearing she had died all over again. There are no words to describe the pain we all went through a second time."
The family asked themselves who would have wanted to do this to Susan.
"She was not someone who was into anything dangerous. She didn't have enemies. She had a tight circle of friends and a wide circle of acquaintances," Meg said. "She was just a high school teacher who liked to hang out with her family."
It is not known if Susan set out to meet someone in the early morning hours when she disappeared.
"I -- I just have no clue why she left the house that late," Susan's husband Ben said. "I was hoping she took Ambien and was just sleepwalking, or maybe she decided to get cigarettes. But then I was afraid she was going to meet someone, that she had been seeing someone. And that breaks my heart."
Ben told Dateline that it's been impossible for him to accept that his wife is gone.
"I've had a hard time losing the girl of my dreams," Ben said. "I expected to spend the rest of my life with her. And now I can't. Someone took that away from me."
A week after Susan's body was found, Ben lost his mother.
"I lost two of my girls. It's devastating," Ben said. "Now I just need to be strong for my daughters. But I'll always have a huge hole in my heart."
For months, the community has rallied behind Susan's family to find out what happened to the beloved teacher on July 23.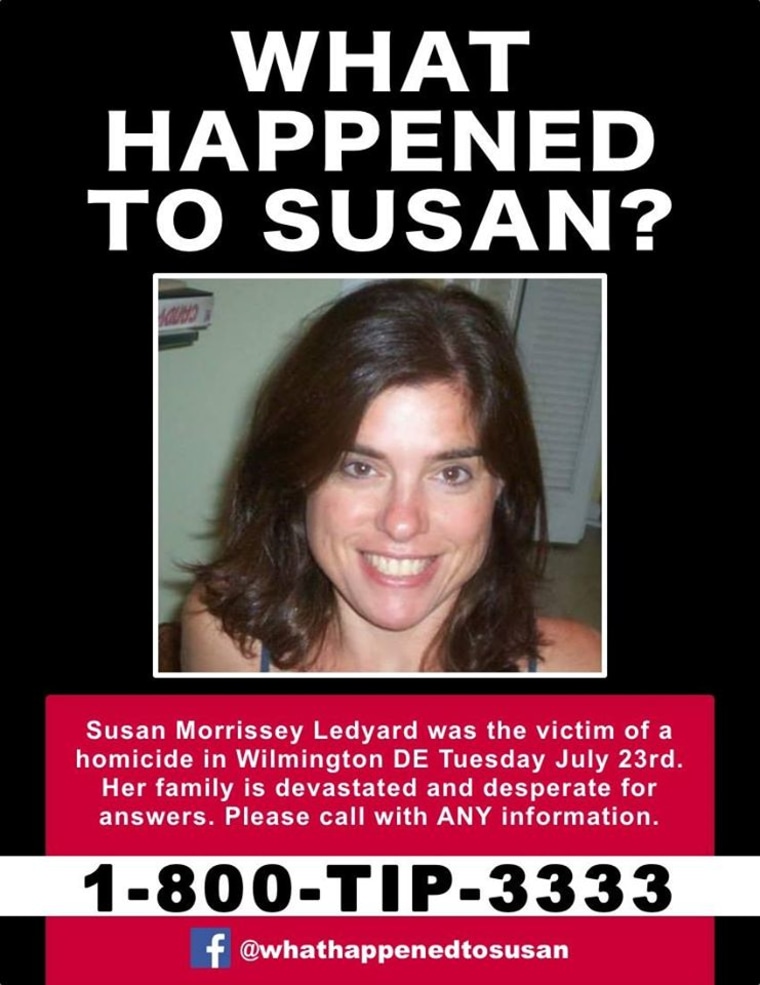 Fliers that ask "Did you see Susan" and "What happened to Susan" are plastered all over Wilmington and surrounding towns.
"I'm terribly, terribly afraid that they [police] have nothing and no one -- that the case will go cold," Meg told Dateline. "The one thing we can do as a family is to keep her story active, keep it out in the community."
Detective Grassi assured the family that Susan's case is still an active investigation and that they are doing everything they can to solve the case.
"We have treated it as a homicide since the beginning and the shift in designation doesn't change anything," Det. Grassi told Dateline. "We encourage anyone who knows something to come forward."
The sisters told Dateline that their biggest nightmare is that Susan's murder will become a cold case and they'll never get the closure they need or the justice Susan deserves.
"Someone out there knows something and we just hope they eventually come forward," Missy said. "We still have hope and we won't give up."
Detectives are asking that anyone who believes that they may have seen Susan during that four-hour time frame between 3 a.m. and 7 a.m. in the early hours of July 23, or who may have any information regarding this case, to please come forward.
Susan is described as a white female, 5'5", weighing 130 pounds, with shoulder-length brown hair. She was wearing a purple tank top the morning of her death.
Anyone with information about Susan Ledyard's case is asked to call Detective Dan Grassi of the Delaware State Police Homicide Unit at 302-365-8441 or Detective Amy Lloyd of the Troop 2 Major Crimes Unit at 302-365-8411.