"She was everyone's little angel,"Martha Gill Hamilton said of little sister, Elizabeth Ann Gill.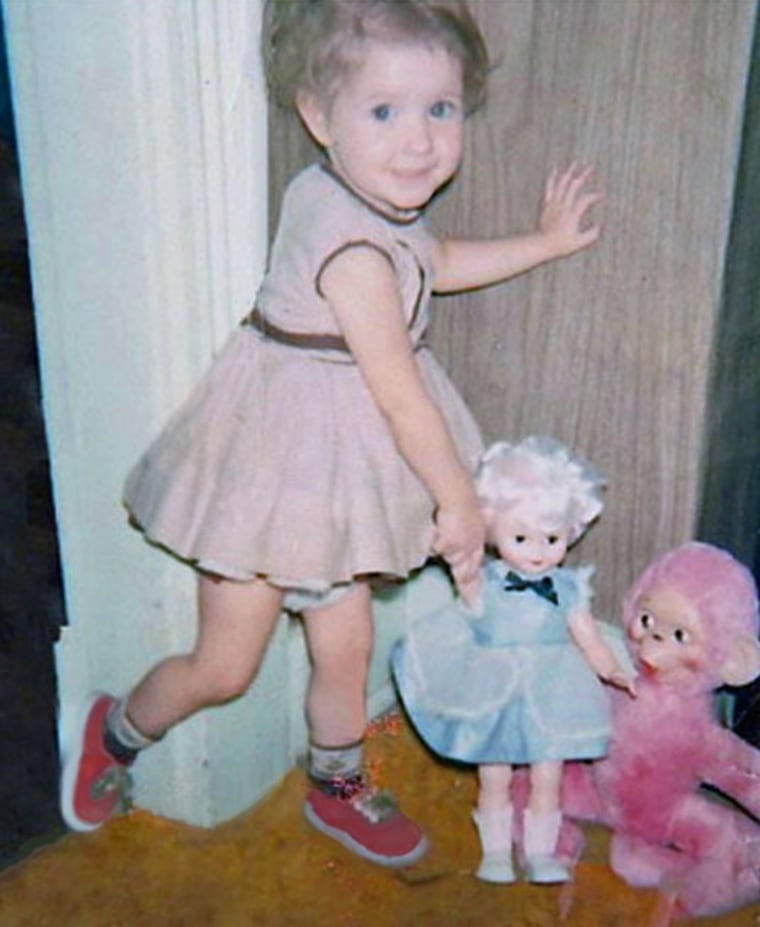 Elizabeth, known to family as Beth, was sweet-natured and trusting, according to Martha, who said that Beth was always doted on by strangers who called her "precious." Beth was the youngest of ten siblings and had been pampered and spoiled, but, Martha noted, "She was never one to throw a fit."
As with most two-year-olds, Beth trusted everyone, said Martha, who is 13 years older than Beth. She told Dateline that people would approach her little sister and she would readily follow them. Their father had grown up in the same neighborhood in Cape Girardeau, Missouri, and the Gill family trusted the people there.
"We always considered it a safe neighborhood. Everyone knew everyone," Martha said.
On Sunday, June 13, 1965, 15-year-old Martha was traveling from Chicago back home to Missouri with her mother and one of her other sisters. Martha's father was also out of town for work, Martha said. The remaining eight Gill children, including Beth, were at the family's Cape Girardeau home.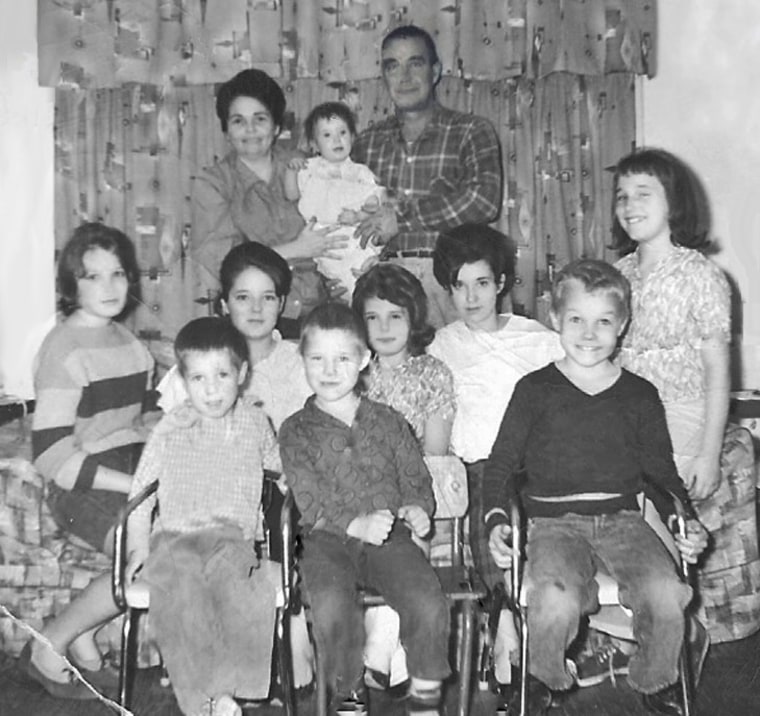 Martha would later learn that around four o'clock that afternoon, her siblings and other neighborhood children noticed that Beth was nowhere to be seen. The children would later say they had searched all outside and inside the house, yelling for Beth.
But they couldn't find her anywhere. According to Martha, one of the children called the police.
"We were driving into town and we saw all the police officers and thought, 'Wow, something is going on,'" Martha told Dateline. "We pulled into our driveway and saw a crowd around our house. When they said Bethie was missing, my mom passed out."
When Martha and her mother arrived, it had only been thirty minutes since the children had realized Beth was missing.
"So I thought, 'Thirty minutes? We're going to find her. We're going to find her,'" Martha said. Since she was the oldest sibling there, Martha said she took care of the younger kids and kept them out of the way so the police could work.
"The family was devastated. You can't imagine. Everyone was torn up," Martha said. "But we were blessed to have a large family in that we counseled each other."
According to Martha, the next morning, the police received a tip from a local auto dealer. A man called and said there had been a couple staying in the motel behind the Gill residence. The couple had been waiting for a part for their car to come in, according to the dealer. The dealer had told them the part wouldn't come in until Monday the 14th. According the Martha, the couple had told the auto dealer that was OK with them, as they would be staying in town for another week.
But when the car part arrived on Monday and the dealer called the motel to tell the couple, he learned they couple had checked out early and were gone. Martha said the dealer reported to police that the couple had checked out the day before, around the time Beth went missing.
Martha told Dateline police investigated the lead and discovered the couple had been using fake names and changing their license plates. They had been in Cape Girardeau for a while, selling purses by knocking on people's front doors. Martha told Dateline she and some of her family members did recall seeing a woman selling purses around the neighborhood before Beth's disappearance.
Martha continued to say she remembers a woman had twice tried to call Beth over to her car.
"One time, someone at the motel saw [a woman] talking to Bethie. The other time, my mom and brother saw the woman talking to Bethie in our front yard near her car. My mom called her back and told her to come inside," Martha told Dateline.
Though Martha said police tried multiple tactics, authorities were unable to track down the couple.
According to Martha, police traced the car back to the original dealer where the car was purchased -- a dealership in Lake Orion, Michigan. Martha said police also traced the purses back to the factory where they were manufactured, but there was no information on the people who bought them.
On Christmas day, 1966, Martha's father Harry Gill wrote a letter to President Lyndon Johnson asking that the FBI be brought in to the investigation to track down two transient couples from the motel, writing, "If these persons could be found, I feel certain our little girl will be found or at least we can learn what happened to her."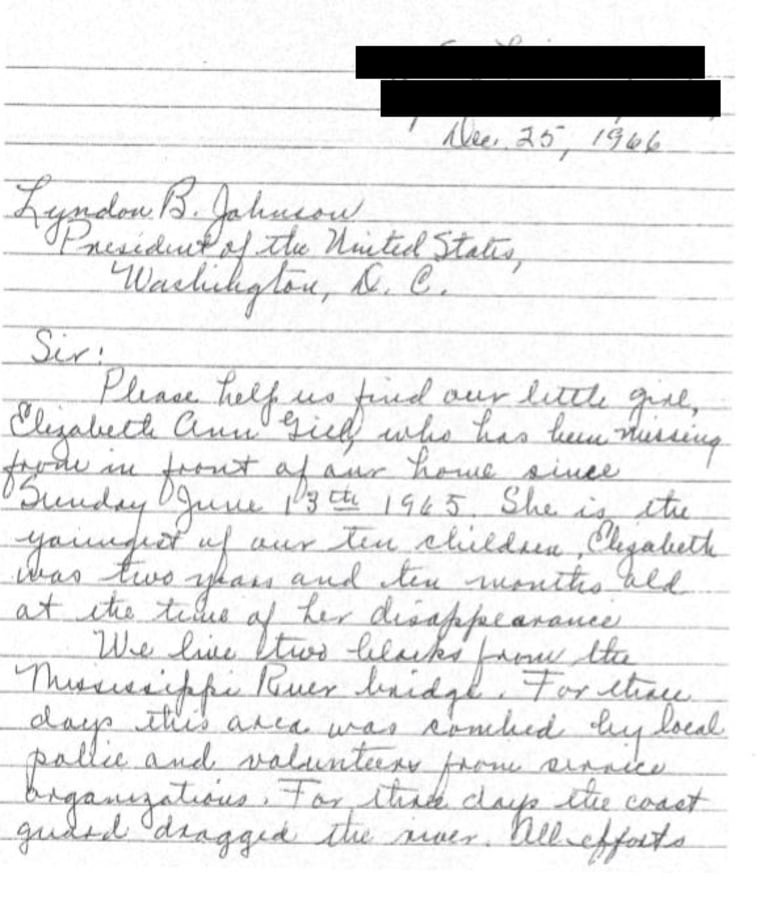 He closed the letter noting, "My three brothers and I all volunteered to serve our country in World War II. I served from Jan. 1941 to Dec. 1945. Now I am asking, thru you, that my country serve my families [sic] need."
A couple of weeks later, in January of 1967, FBI Director J. Edgar Hoover replied to the letter, which had been forwarded to the FBI from the White House. Hoover wrote that while the FBI had added Elizabeth as a missing person in their files in April of 1966, "I must advise you that the FBI is precluded from conducting active investigation concerning missing persons in the absence of evidence indicating a violation within our investigative jurisdiction."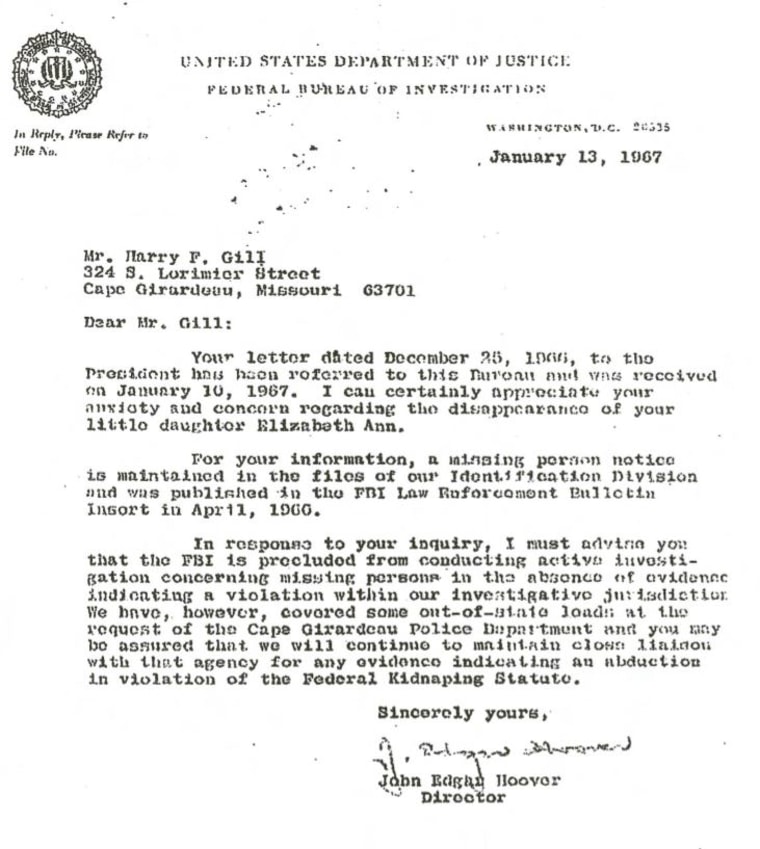 Hoover added that the FBI would keep in touch with the Cape Girardeau police should "any evidence indicating an abduction in violation of the Federal Kidnapping Statute" come to light.
Decades passed. Beth's sister Martha told Dateline that people still periodically called police with tips. According to Martha, several more people called in to say they had seen the woman from the motel talking to Beth, trying to coax the two-year-old to her car. Others reported a car driving erratically in the area at the time of Beth's disappearance, Martha told Dateline. Another person, according to Martha, said that she saw people meeting the motel couple's description buying clothes for a child crying for her mother.
Retired Cape Girardeau Police Department Detective Jimmy Smith told Dateline he was assigned Beth's case in 2003. Detective Smith told Dateline he first became aware of the case because someone called with a tip, but when he went to look for her files, he couldn't find any.
"I couldn't locate any case files at the police department. We had very little paperwork," Det. Smith said. "Then I found out that Elizabeth had living relatives in the area, so I contacted them."
Detective Smith told Dateline he worked with what he had; he spoke with the family and read the papers from the 1960s to try to piece the case together.
"One of the first things we did was collect DNA samples from the family with help from the National Center for Missing and Exploited Children and entered it into the database," he said. There were no cameras or physical evidence collected at the scene, he added, and there were few leads off of which to work. But about seven years after Det. Smith began working on the case, Beth's family got renewed hope when the FBI finally joined the team.
"Back around 2010, the FBI finally got involved and reclassified the case as a kidnapping," Det. Smith told Dateline. "It's been all these years and I can't say for certain that she's still living, but there is nothing telling me she's dead."
Martha told Dateline that for years, it was too painful for her parents to talk about Beth's disappearance, and both had now passed away without ever learning what happened to their daughter. Martha told Dateline that before their mother died, she had expressed hope that 21st century technology could help find her daughter.
Martha told Dateline that she and her siblings have submitted their DNA to the Ancestry and 23&Me sites.
"Even though we have not found answers about Beth, we had two women who contacted us thinking they could be Beth. They didn't end up being Beth, but those women found their families and answers," she said. "If enough attention is brought to the case, maybe someone will question their origins. It's more likely Beth would find us, than us finding Beth. You never know where that one coincidence would come in.
Martha said all of Beth's siblings "have a sorrow, and a place in our heart that will always feel empty."
"I'm still hopeful, of course," she added, "I'm not looking for jail or true justice, I'm just looking for answers and my sister."
According to Detective Smith, the case is currently at a standstill as there is no new information to go on in the investigation.
"I've been retired three years and I was the only one actively working on the case," Det. Smith told Dateline.
As for the couple the original investigation focused on, Det. Smith said he is "convinced they're responsible. It was the best lead back then and it continues to be the best lead to this day."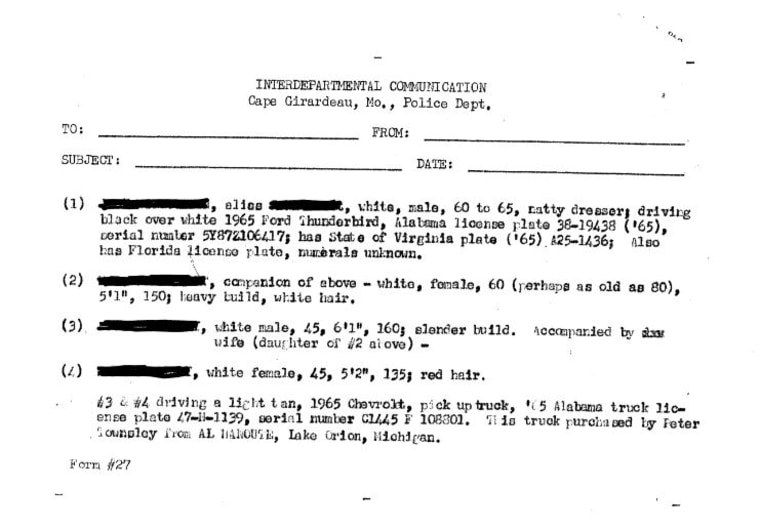 In a portion of the original police report, which Beth's father included in his letter to President Johnson, two couples seen at the motel behind the Gill house are noted. A white male aged 60-65, described as a "natty dresser." His companion was a white female with white hair, over 60 years old, 5'1", 150 lbs. The second couple was a white female, believed to be the daughter of the other woman, 5'2" with red hair, and her husband, also white, 6'1", with a slender build. While all those noted would probably no longer be living, the FBI has interviewed people who might be acquaintances or relatives of those in the report.
In the years since Beth disappeared, her sister Martha has devoted time to volunteering with Team Hope at the National Center for Missing and Exploited Children to offer support for other families of the missing.
"I have very strong faith and I almost feel like this has been a calling for me. Part of healing is helping others," Martha told Dateline.
Elizabeth Ann Gill would be 56 years old today. At the time of her disappearance, Elizabeth was 2'6" and weighed about 22 lbs. with brown hair and blue eyes. If you have any information on the circumstances surrounding Elizabeth's disappearance or where she might be today, please call the Cape Girardeau Police Department at 573-335-6621.