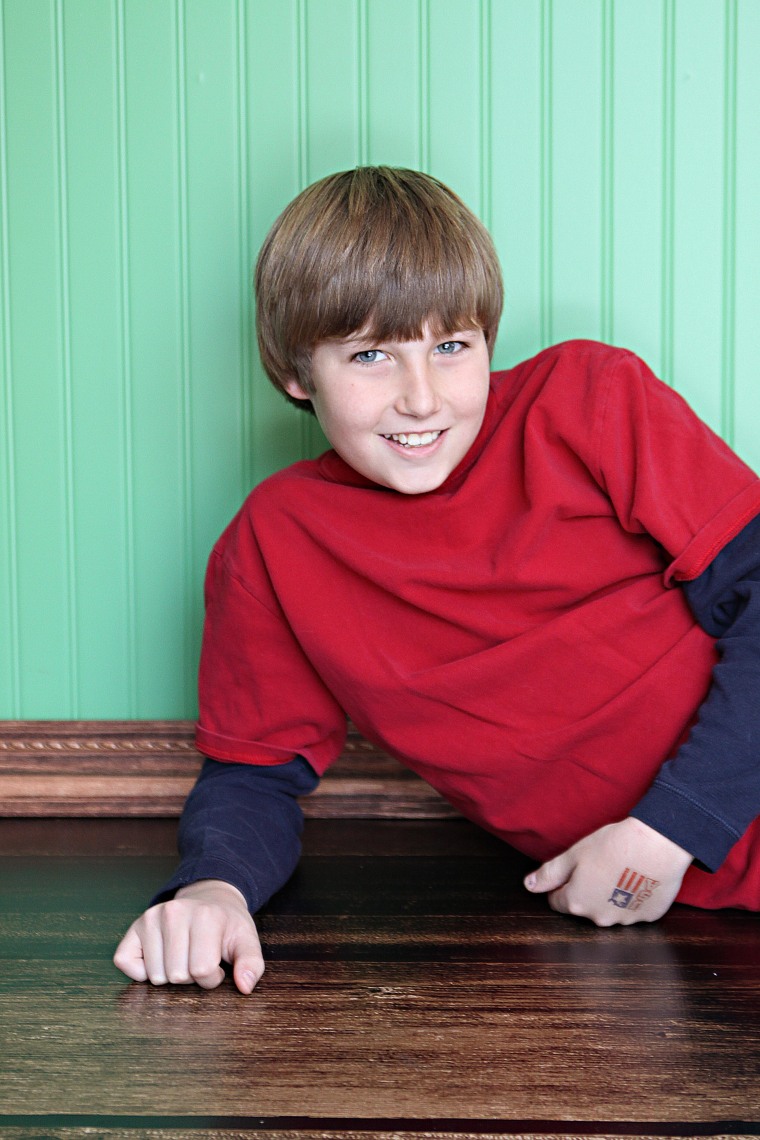 It was almost Halloween, a rainy late Monday afternoon in Potsdam, NY, when a security camera high atop a high school recorded a video that still makes the hair on your neck stand-up. A silent picture of a kid on a skateboard moves into the frame from lower right, sails past for about 16-seconds and exits frame left.
The boy in the security video was 12-year-old Garrett Phillips. He had minutes left to live. When he arrived back home to the second-floor apartment he shared with his mother and younger brother , someone would strangle and suffocate the life out of the boy. But no one would see his killer leap out of the back window.
We've been covering the case for over a year. Though the crime happened almost five years ago, the whodunit of it all has consumed this quiet area. We were fascinated by the legal intricacies, the nuances of the case, and picturesque Potsdam, a river town so far upstate New York the closest big city is in Canada.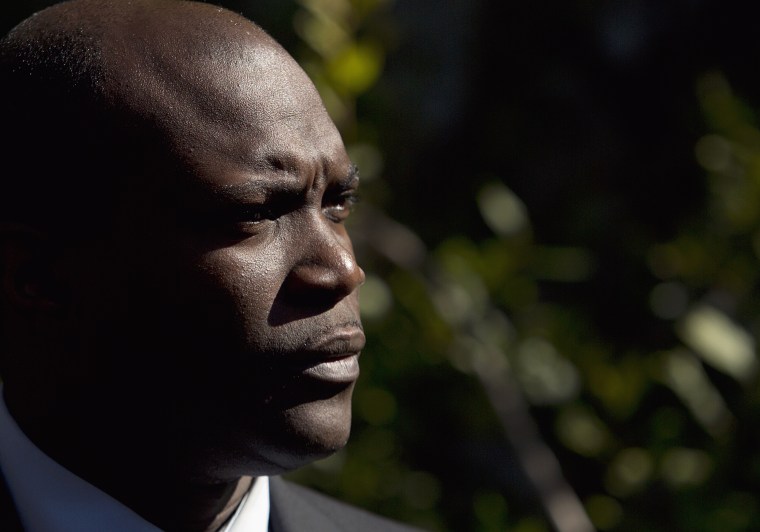 It's an unlikely setting for what reporter Jesse McKinley of the New York Times would tell us turned out to be a story about "love triangles" and "fated love." But in a county that's population is more than 90% white, the killing of a child -- a crime that screamed out for justice -- became an investigation that boiled with questions of racial fairness. When the former live-in boyfriend of the mother, a black Jamaican-born soccer coach, became an almost immediate suspect in the murder, a cry went out from his camp that he was being railroaded. That there'd been a rush to judgment.
The accused was Nick Hillary, 37 years old at the time of the boy's death. When we met Hillary before his trial, we talked about his early years growing up in a large family in Jamaica. About his hitch in the U.S. Army. And we talked of his passion: Soccer. His brilliant field leadership at St. Lawrence, next door to Potsdam, had made him a college All-American. His admiring teammates in their undefeated season called him, "The General." He'd parlayed his experience into a job as the head coach of the men's soccer team at Clarkson.
Years ago, Nick patronized a bar on Potsdam's main drag where the bartender was a single mother. Her name is Tandy Cyrus. They struck up an easy conversation that, in short order, became a live-in relationship with a blended family. She was raising two boys, he had three kids from a past relationship.
Watch: Dateline Preview: The Accused
But their approaches to parenting seemed very different. As Tandy would tell us, Nick was rigid -- a man with a plan for every day. Tandy's 12-year-old, Garrett, bristled at his mom's new boyfriend, said Tandy. She added Nick warned her, "If I didn't get Garrett under control or get him on a more strict schedule, then when he got older I wasn't gonna be able to control him. He was just all about control."
Nick said he was shocked and surprised to hear the allegations of bad blood between him and the young boy. He denied any "butt-head" moment with Garrett, or spats over homework or chores.
After about a year together, Tandy moved out with her sons.
Fast forward to October 24, 2011. A security camera recorded Garrett skating home from an afternoon of basketball with his school pals just before 5 p.m. Soon afterwards, a neighbor in Garrett's apartment building heard strange noises and called 911. When police arrived and got into the apartment, they found Garrett unresponsive on the floor in a bedroom. He died at the hospital that night. Police soon said it was a homicide.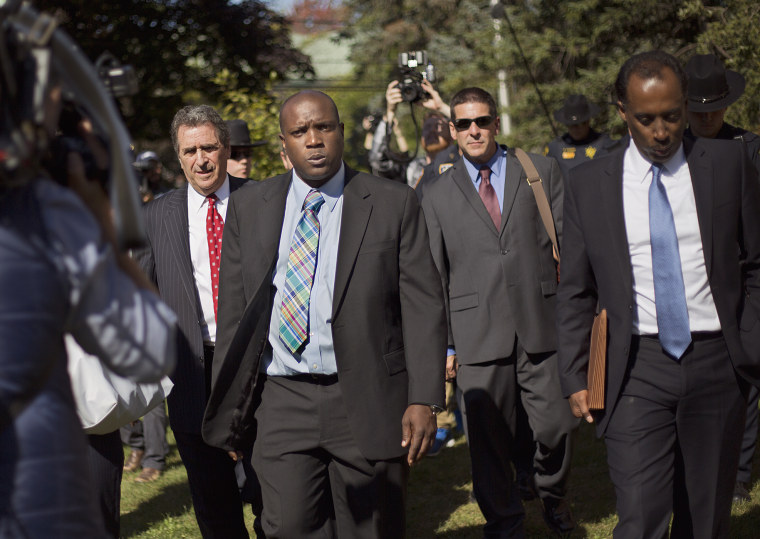 In the wake of the shocking murder of the boy -- in the very early hours of the investigation -- Tandy and her family believed that Nick Hillary was the likely killer. He was, they said, the only person in town with a grudge against Garrett, blaming him, the family argued, for the break-up of his relationship with Tandy.
The cops checked out the alibis of the significant men in Tandy's life, including a sheriff's deputy, but they seemed to always have their sights on Hillary.
Here was the thing about the investigation though: crime scene techs could come up with no forensic clues -- no fingerprints, no DNA, no tissue and no hair linking Nick to what was theorized to be a violent hands-on struggle in a small space.
The police had a theory about the motivation, a story about obsessive love gone wrong. But where was the evidence to put before a jury? One DA declined to pursue an indictment and was eventually voted out of office. The new DA made the case her central mission and finally got a grand Jury to indict Nick Hillary.
The murder trial began in the county seat, Canton, New York this month. Hillary has adamantly denied the charge, saying from day one he was innocent. Nick said he had nothing against the boy or his mother and that his alibi witnesses, his daughter and an assistant coach, would place him elsewhere at the time of the murder.
And yet, in that security video of Garrett on his skateboard, wasn't that Nick driving his Honda CRV though the high school parking lot just after Garrett skated by? The prosecutor would thunder that the camera had in fact recorded Nick out "hunting" for the boy just minutes before his death.
In an unusual case, there was another twist. Nick Hillary's defense had elected to waive a jury trial and argue directly to the judge. He would be both judge and jury in what's called a bench trial.
It was a dramatic tableau in an ornate courtroom. Filling the benches behind, were foursquare supporters of Hillary across the aisle from Tandy's extended family.
The judge took it all in and after about a week of both sides summing up their arguments, he came back with a verdict.
He found Nick Hillary not guilty. The prosecution, he ruled, had not made its circumstantial case "beyond a reasonable doubt." In the gallery, Tandy slumped and cried.
Related: Nick Hillary Found Not Guilty in Murder of 12-Year-Old Garrett Phillips
Hillary, after years in the bulls-eye of public opinion, also broke down in tears, a free man once more.
The district attorney, Mary Rain, teared up at a post-verdict press conference, and said Tandy told her, "I know you guys tried."
But Nick's attorney Earl Ward, speaking to a group of press outside the courthouse, reiterated what the defense team maintained all along: "Nick Hillary is an innocent man."
Nick spent that afternoon surrounded by a group of family, supporters and former soccer teammates. The first afternoon, of many, spent rebuilding his life. "For five years my family and I have been livin' underneath this cloud," said Nick. "And the focus right now is to start puttin' this in the rearview mirror."
The mystery of what happened to Garrett Phillips continues. The lawn signs of a grinning 12-year-old boy demanding Justice for Garrett remain scattered around the town.