While Eric Glisson languished in New York's Sing Sing prison for a murder he didn't commit, the years ticked by and the world moved on: Cell phones emerged and became ubiquitous, his baby girl grew up, and the authorities didn't seem very interested in reexamining a case they considered closed.
But Inmate 97A7088 wasn't about to give up. And with the unlikely help of a nun who believed his story and a corporate lawyer who took the case, Glisson found the real killers on his own—and exposed a miscarriage of justice that freed not only him, but others unjustly convicted as well.
"You're not gonna convict me for something that I didn't do and just expect me to accept it. I'm gonna fight to the end," Glisson told Dateline correspondent Josh Mankiewicz in a report that airs Friday. "I'm a fighter."
Dateline's report, 'A Bronx Tale,' airs Friday June 6 at 9 p.m. ET.
Glisson and five others were sentenced to 25 years to life in connection with the 1995 murder of a livery cab driver in the Bronx, based solely on the testimony of one unreliable witness. All six were freed by last year after serving nearly two decades behind bars.
The story of how Glisson went from a bleak future of bars and concrete to fresh air and freedom is one of perseverance, the dogged pursuit of justice and an answered prayer that came in the form of a surprise jail visitor.
Glisson recalls: "He said, 'I – I'm sorry. I know you're innocent. Listen, I know the guys who committed this crime.'"
Dateline producer Dan Slepian found Glisson in 2012, a week after that visitor delivered the shocking news, while doing a story on another unjustly imprisoned inmate at Sing Sing.
Glisson's nightmare began on Jan. 19, 1995, when a livery cab driver, Baithe Diop, was found shot dead in the Bronx by murderers who stole his cell phone and cash.
Weeks after the murder, a woman named Miriam Tavares told police she saw the crime from her bathroom window, knew who the shooters were and heard what they said. One of the names she gave police was Glisson's.
Based on that testimony Glisson was arrested, later convicted and sentenced to 25 years to life.
"I didn't believe that I would be convicted of a crime that I didn't do," Glisson told Dateline. "It's like your heart just — just melts. It just dissolves. You actually think that, you know, they read the wrong verdict. That this can't be true."
In all, four men and a woman would be convicted and sentenced to life in prison for Diop's murder. A sixth was charged but acquitted in the cab driver murder, but sentenced in another killing that police believed was related to that crime.
By 2006, Glisson was feeling hopeless. He'd been in prison for 11 years and had exhausted all his appeals. Then he met Sister Joanna Chan, a Catholic nun who volunteers at Sing Sing and is known to inmates as "Grandma."
"I told her, "Grandma, I just lost my last appeal. I don't know what I'm gonna do," Glisson said.
"I always say, "Eric, let's keep the faith. You know that there're many sisters praying for you,'" Chan recalled.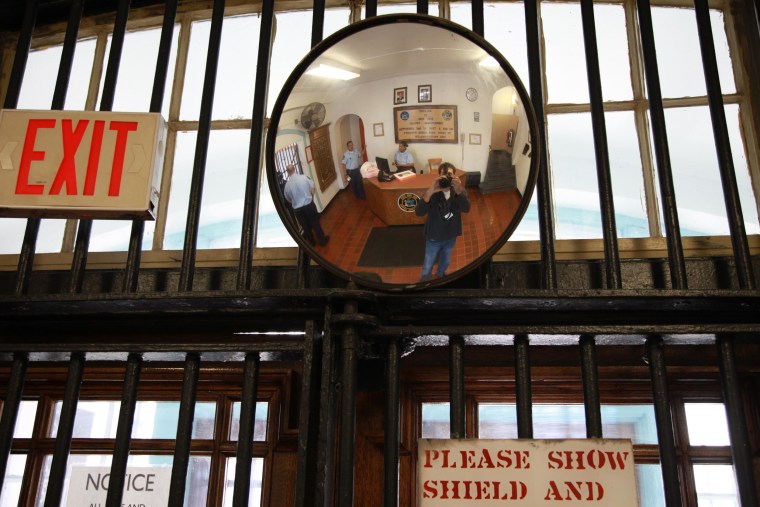 Chan called the only lawyer she knew, Peter Cross. Skeptical at first, Cross became convinced there was more to the story than the case as told by police and prosecutors.
He visited the crime scene and determined Tavares, the witness against Glisson, could not have possibly seen and heard the murder from her bathroom window 100 yards away, as she told police — but the detectives never checked out her story.
"There's no doubt this woman was lying," Cross said. "She said from her bathroom window she heard these conversations going on inside the car. I mean, it's just incredible testimony."
Tavares died of a drug overdose in 2002.
But it wasn't enough to cast doubt on a witness used in a more than decade-old murder. Cross and Glisson had to find out who actually gunned down the cab driver. And after years of trying, Glisson had a lead.
Documents he obtained in 2012 through the Freedom of Information Act showed the slain cab driver's cell phone had been used just minutes after the murder, and the calls went to relatives of two members of the notorious Bronx Sex, Money, Murder gang, Jose Rodriguez and Gilbert Vega.
"It turns out that the police and the District Attorney had all the evidence at their disposal to solve this crime from the beginning," Glisson told Dateline.
Glisson penned a desperate letter to the U.S. Attorney's Office in New York, arguing he had the evidence that someone else killed the cab driver.
In an amazing stroke of luck, that letter ended up on the desk of Investigator John O'Malley.
It turns out O'Malley was assigned with breaking up the Sex, Money, Murder gang 10 years before, and Rodriguez and Vega had confessed to killing the cab driver.
What O'Malley didn't know then was that someone else was doing time for that crime, and police in the Bronx, perhaps only examining open homicides, twice told the investigators they didn't have a case like that in Soundview, and the investigators moved on.
"I'm free now. I'm no longer the victim, I'm the victor. I won."
After getting the letter, O'Malley went to Sing Sing and told Glisson he knew who really killed the Diop.
"Immediately John O'Malley just stood up and he asked me, 'Did you write this letter?' And I said, 'Yes,'" Glisson told Dateline. "He shook my hand. And he said, 'I-- I'm sorry.' And I said, 'Sorry for what?' He says, you know, 'I know you're innocent.'"
"When he said that, I said, 'You — what are you talkin' about, sir?' He said, 'Listen, I know the guys who committed this crime.'"
O'Malley signed an affidavit saying Glisson was innocent. It would take four months, until Oct. 22, 2012, for prosecutors to ask a judge to set Glisson and another woman jailed for Diop's murder, Cathy Watkins, free.
Glisson was 18 when he was sent off to jail; he was now 37. Watkins was 27 when she was imprisoned; she was now 44. By January of 2013, the convictions against the rest of The Bronx Six were overturned.
The New York Police Department and Bronx District Attorney's Office declined to comment to Dateline, citing lawsuits that seek millions in damages. But in court filings, the city points out that several juries heard the witness testimony and believed it.
Glisson has moved on. He's reunited with his daughter Cynthia, who was a week old when he went to prison and was nearly 18 when he was released, finished the college degree he started in prison and opened a juice business, Fresh Take.
"I knew I had a fresh take on life," Glisson told Dateline's Mankiewicz a year after he was released. "I'm free now. I'm no longer the victim, I'm the victor. I won."
"I don't have any animosity toward anybody, except the people who grow strawberries and raise the prices."