It all started in March 2018 — St. Patrick's Day.
It was a Saturday evening and the bars in downtown Longmont, Colorado, were full of people celebrating.
Among the crowd was 34-year-old Rita Gutierrez-Garcia.
The mother of three had just broken up with her boyfriend and needed to let her hair down.
Rita didn't plan to drink much — just have fun with some family members.
Her eldest son would look after the younger ones while she was out. She said she wouldn't be late and headed out.
The children went to bed that night expecting to see their mom in the morning. 
But Rita wasn't there when they woke up.
Later that morning, Rita's mother, Dianne, came over to take the kids to church.
They told her Rita didn't come home, and she grew worried. Where was her daughter?
Dianne immediately started calling Rita but the calls were going straight to voicemail.
She called family and friends, too. But no one had heard from her.
By Monday, there was still no sign of Rita. Worry turned into gut-wrenching fear.
Dianne had to make the phone call she was dreading the most — to the Longmont Police Department.
She reported her daughter missing.
The Longmont Police Department immediately got to work.
Their investigation would reveal a connection between Rita's case and the case of a woman named Kaylene.
Kaylene survived her attack.
It would take four long years to find out what happened to Rita…
To learn what happened, watch the full episode now.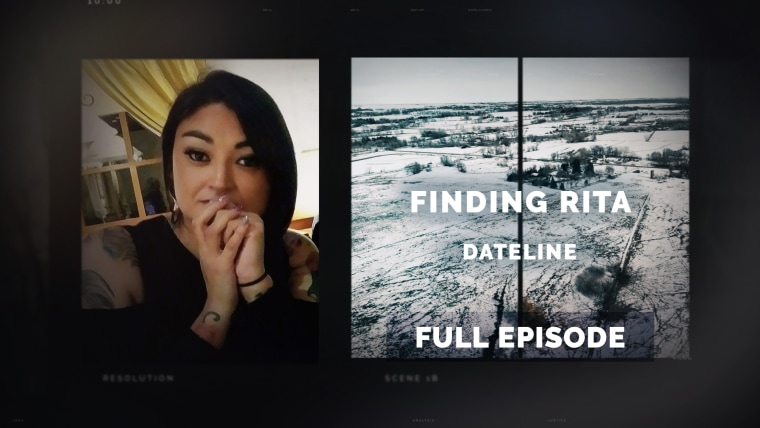 You can also watch on Peacock TV or listen to the podcast.
Plus, Keith Morrison & Josh Mankiewicz go behind the scenes of the episode "Finding Rita" in a new podcast feature "Talking Dateline." 
Loved ones remember Rita as a loving daughter, sister and mother.
After you watch the episode, hear more about how Kaylene has recovered after her attack.
And learn more about the bond Kaylene shares with Rita and her family.
This episode mentions sexual assault, suicide and domestic violence. Here are some resources:
National Sexual Assault Hotline Call 1-800-656-4673 or go to rainn.org
Suicide & Crisis Lifeline Call 988 or visit 988lifeline.org
National Domestic Violence Hotline Call 1-800-799-SAFE (7233) or www.thehotline.org