The Galveston Police Department and the FBI are making a rare request in their search to identify a young boy whose body washed up on a Texas beach in October.
The boy, who investigators have since determined was between the ages of three and four, was found by a woman walking along the sand of Galveston Beach on the evening of October 20, 2017.
"When officers arrived on scene, they located the body of an unclothed young boy located in the water near the shoreline," Galveston Police Department Detective Jeff Banks told Dateline. "The child's body appeared to have been in the water between 12 to 48 hours. The child's body did show signs of neglect and injuries consistent with abuse. However, none of the injuries appeared to be fatal."
Investigators don't have many answers to the boy's heartbreaking story, but they have given him a name: Little Jacob.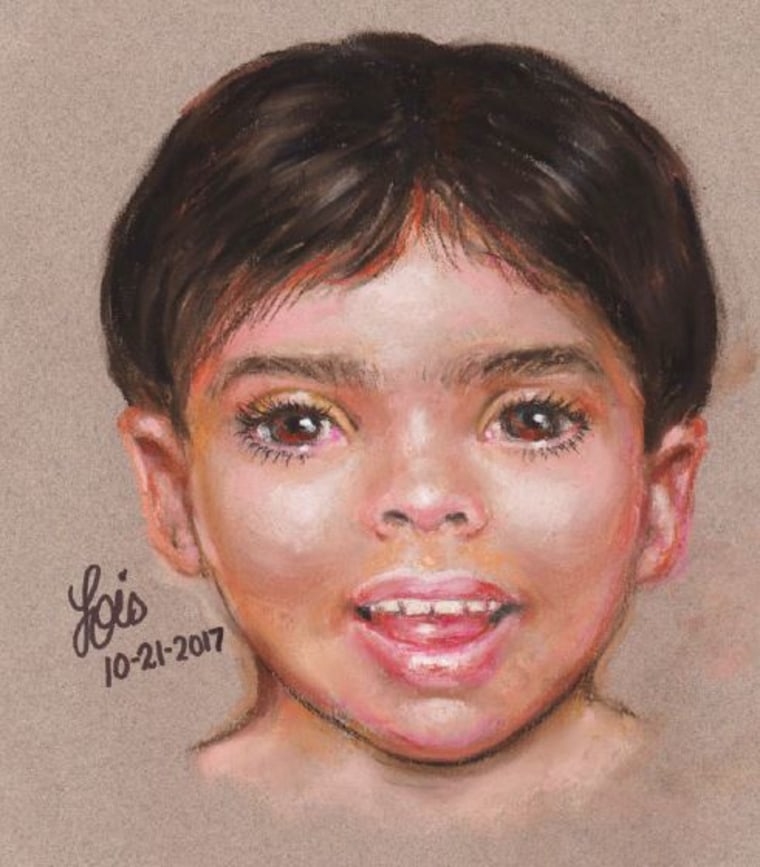 "'Little Jacob' was actually a name I had chosen for the case," FBI Special Agent Mary Beth Wright told Dateline. "Just that past weekend, on Sunday at church, a little boy was being baptized. His name was Jacob. [So] it just seemed appropriate to name him Little Jacob in hopes that [our] prayers can be answered and we can figure out who this child is and who his caregivers are."
Detective Banks told Dateline the Galveston Police Department immediately reached out to local law enforcement agencies, as well as the U.S. Coast Guard, to see if there had been any recent reports of missing children.
"Searches were also conducted in local, state, and national databases looking for reports of missing children matching the boy's description," he said. "Those searches did not provide any promising results."
Detective Banks told Dateline that investigators believe Little Jacob died on either October 17 or 18, 2017.
"Based on reverse drift analysis conducted by the U.S. Coast Guard and National Weather Service, it is believed that Little Jacob's body was put into the water locally in the Galveston County area," he told Dateline.
While the boy's DNA was salvageable due to the relatively short time he was adrift, Detective Banks told Dateline that is where their initial leads ended. Aside from Little Jacob's body, itself, few pieces of evidence were able to be recovered from the scene.
"[Children] do not usually have fingerprints or DNA on file," Detective Banks said. "Evidence collected at the scene and during autopsy is limited. DNA samples were collected and submitted to multiple labs in hopes of identifying the boy or anyone else that came into contact with him."
As the daunting investigation mounted, the FBI offered their resources and assistance to the Galveston Police Department a day after Little Jacob was found.
"As of right now, we have a billboard in Texas as well as Kentucky and Tennessee -- basically the surrounding states of Texas -- which has been helpful, because we have been getting leads from around the country," Special Agent Wright told Dateline. "This [case] has been very frustrating [because] we don't have a lot of evidence to go off of."
Not all lab tests have yet been processed and sent back to the investigators, but Little Jacob's autopsy did provide one answer.
"Information obtained at autopsy shows that Little Jacob was deceased prior to going into the water and did not die as a result of drowning," Detective Banks said. "At this time, a cause of death has yet to be determined, but homicide has not been ruled out."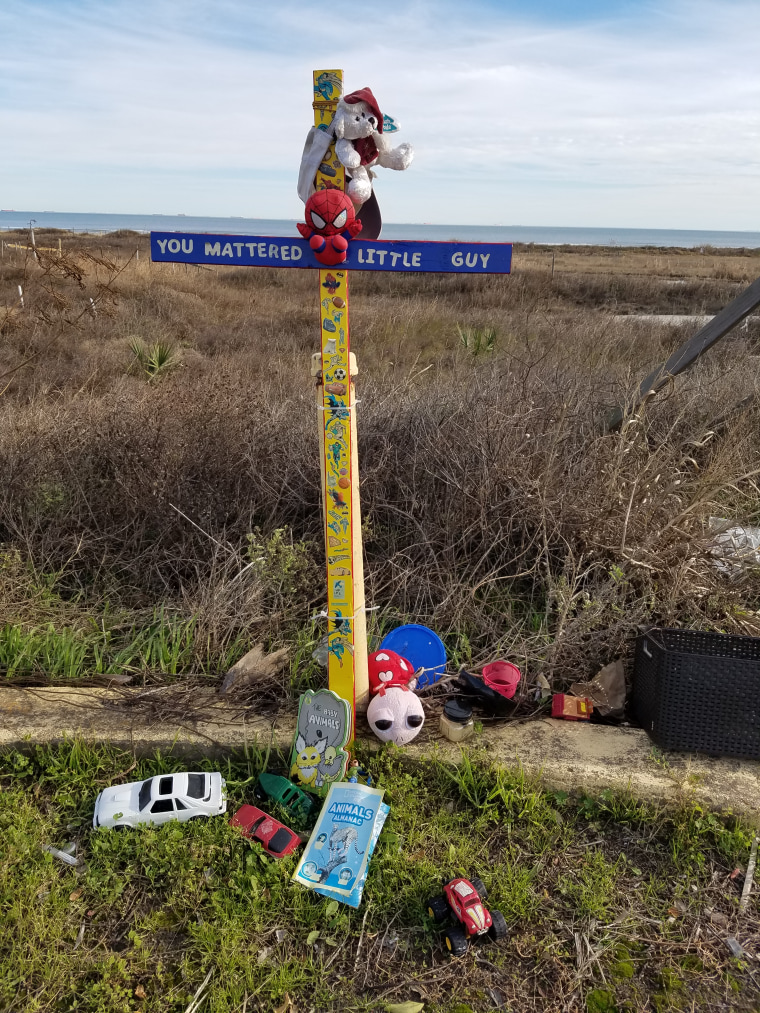 According to Detective Banks, "several hundred tips have been investigated, yet Little Jacob has yet to be identified." Identifying the boy, he says, is the first step in determining how he ended up on the beach that day.
"Out-of-state lead coverage in this case is crucial, in my opinion, to getting something solved," FBI Special Agent Richard Rennison told Dateline. "We don't know if the parents are from here or somewhere else or the caregivers. But we know that somebody out there has to know this child exists and we just need to find the right person to get the information so they can call in."
"Someone out there knows this child. Someone has seen him," Detective Banks said. "This child deserves to be identified and properly laid to rest. For this to happen, input from the public is crucial."
In a December joint press release by the FBI and the Galveston Police Department, Assistant Special Agent in Charge of the FBI Houston field office, Ed Michel, said, "It's heartbreaking that no one has come forward to identify this boy or offer any clues as to what happened to him."
As the investigation goes on, that heartbreak is only fueling search efforts. The Galveston Police Department initially released a sketch of the child in the hope that someone would recognize him. That did not happen. So today, together with the FBI, they have taken the unusual step of releasing a digitally-altered photograph of the child from the day he was found.
WARNING: The image at this link contains graphic content released by the FBI and the Galveston Police Department for the purpose of identifying Little Jacob.
"[We're] to a point where, we think that -- as difficult as this is -- it's time to release the real photo of him," Special Agent Wright told Dateline. "It's not something the FBI does every day, but it's just to a point in this investigation [where] no one has come forward claiming this child as their own. And so now we are ready to take that step forward, and to release that actual photo of him the day he was found on the beach."
According to Detective Banks, "the photo was cleaned up to hide some minor decomposition and skin damage caused by the water" in order "to make the picture more appropriate for release to the public."
Along with trying to match the boy's physical features, Special Agent Rennison says it's also important to pay attention to the actions of adults who may be have been his caregivers.
"Some of the things that the public could be looking for is a situation where there was a family that had a child who is no longer in the family, but they have a plausible explanation as to why the child is missing," Special Agent Rennison told Dateline. "'He went to live with relatives' or was '[he] taken custody by [Child Protective Services].' Something along those lines that sounds like a plausible explanation -- people wouldn't give it much thought. But that is one indication that we would like people to look for.
"These cases are very rare," Special Agent Rennison continued. "We had a similar case about 10 years ago in Galveston Bay [where] a little girl was found floating."
Investigators named that then-unidentified child as Baby Grace. Special Agent Rennison says, though, there was a key factor in Baby Grace's case that significantly differentiates it from Little Jacob's.
"She had certain items of clothing that were very identifiable. [That] was one of the major reasons the case got solved: because a relative of the little girl noticed the clothes," he told Dateline. "She had actually bought that set of clothes for the girl and called in from somewhere up north."
"I'm a parent -- most people I work with are parents -- and I can't imagine someone leaving a child and not coming back to claim them. It's very frustrating and it's just a tough case," Special Agent Rennison continued.
The FBI is offering a $10,000 reward for the successful identification and location of the family members caring for this boy at the time of his disappearance. Special Agent Rennison says this reward differs from normal rewards soliciting information.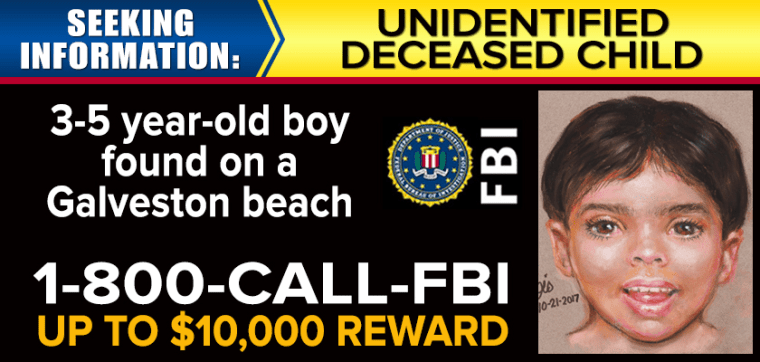 "Unlike most traditional rewards, this not reward for information that leads to a conviction. This is a reward for information that leads to the identity of the little boy or his parents or caregivers," he told Dateline. "So it's a lower burden, if you will, on the reward money. We feel it's that important if you have any information to bring forward to help find the identity of him, or his parents, or his caregivers."
Little Jacob was approximately 3' tall and weighed about 26 lbs. He had black hair, brown eyes and has excessive hair growth on his forehead and back. He had not yet lost any of his baby teeth. He had also been circumcised.
For the latest updates on this case, please follow @FBIHouston on Twitter and visit www.fbi.gov/Houston. If you have any information on Little Jacob's identity or the circumstances surrounding his death, please call 1-800-CALL-FBI.