Sara Berg never went more than a few days without talking to her daughter, Duffy. They were close, more like sisters than mother and daughter.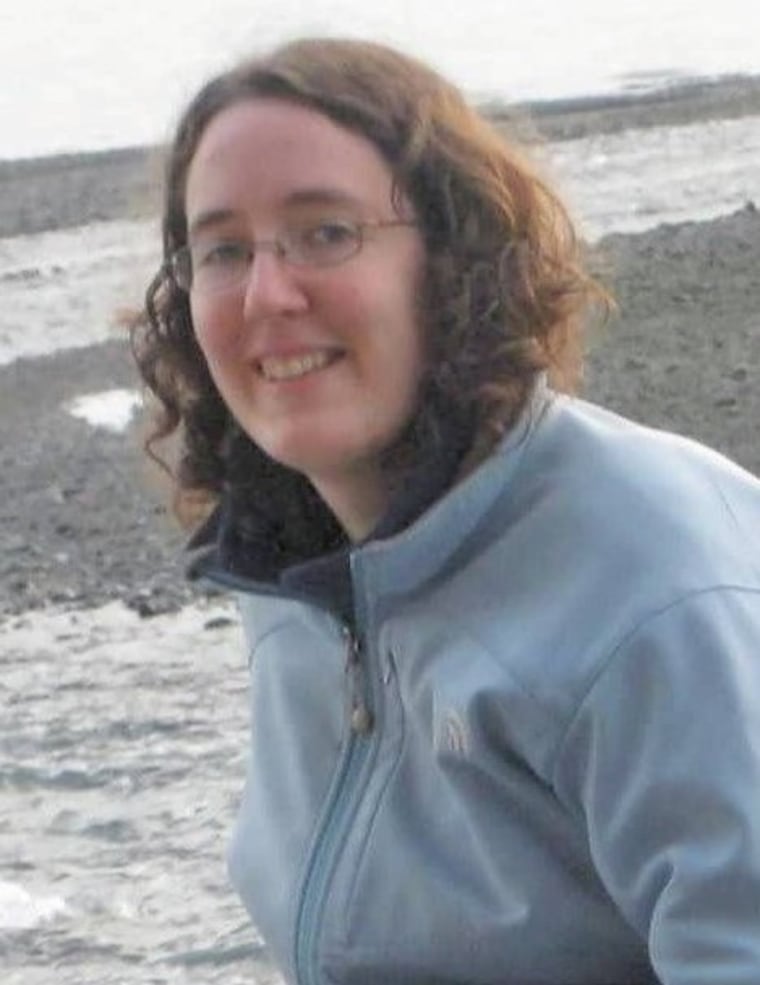 "I was her best friend. And she was mine," Sara told Dateline. "We talked all the time."
Sara and her husband, Ed, who is Duffy's stepfather, were away at their vacation home in Mexico in October. That is when Sara last spoke to her daughter.
"She was excited about coming down to join us for a little bit," Sara said. "But suddenly she was gone. And now we're here. Here in this nightmare. And we don't know where she is."
Anesha "Duffy" Murnane, 38, was last seen on October 17, 2019, walking away from her Main Street apartment, according to Homer Police Department Lieutenant Ryan Browning.
Police said surveillance footage from security cameras at the apartment complex captured Duffy leaving the Maintree Apartments on foot around 12:15 p.m. In the video, Duffy is wearing a blue jacket, light blue shirt and blue jeans.
Duffy's mother told Dateline that Duffy had a 1 p.m. appointment that day at the SVT Health & Wellness clinic on East End Road, so that's where she would have been headed at that time. The clinic is about a mile walk from Duffy's apartment. She never made it to the appointment.
"A mile. Only a mile. In the middle of the day," Sara said. "I don't understand how someone just took her in the middle of the day without somebody seeing something. It's a small town where everyone knows everyone. It's a safe town. But not anymore."
According to the most recent United States Census Bureau numbers, Homer, Alaska's estimated population is 5,810.
For weeks, law enforcement, assisted by K-9 units, searched the area where Duffy was known to frequently travel by foot. Duffy's family told Dateline that she does not own a car and she usually walked everywhere she went.
According to Lt. Browning, search dogs tracked Duffy's scent into downtown Homer, but got to the point where they could no longer get a scent, reaching a point search-dog handlers call a "car pick up."
"We don't know exactly what happened. We don't know that she got into a vehicle for sure," Lt. Browning said. "But it's definitely a strong possibility."
Duffy's mother says the family believes someone picked her up in a vehicle and that she has been abducted. Sara told Dateline there has been no activity on Duffy's bank cards and her phone battery was dead at the time of her disappearance.
"Someone took my daughter," Sara spoke to Dateline through tears. "And I'm afraid she's dead."
Sara said her daughter would never just walk off and disappear without telling anyone. She described Duffy as kind, shy, quiet and very responsible.
"She kept to herself. Didn't have a lot of friends, because she was so shy," Sara said. "But she was so kind. She was kind to everyone."
Duffy had just recently moved back home to Homer, Alaska after various teaching positions in Honduras, Australia and most recently at a Montessori school in Seattle, Washington.
"She did have some medical issues," Sara added. "She was diagnosed as bipolar. But she was on her medication. She was doing well. We were all doing well. Life was perfect. Until this happened. And now our world has just crumbled."
Duffy's stepfather, Ed, told Dateline he's concerned because he believes Duffy knew her alleged abductor and said he thinks the person could still be out there.
"She knew a small number of people, but I think she knew who took her," Ed said. "Whoever did this is getting away with it. And what if it happens again? It hasn't been good for us. But this is not good for our town either. This used to be a safe place."
The anguish over Duffy's disappearance has taken a toll on both her mother and stepfather. Ed suffered an aneurysm last Friday and had to undergo open heart surgery over the weekend.
"It's been horrible. Just months of hell," Sara told Dateline. "The community has been amazing, though. They've done everything for us. Bringing us meals for months. Giving us gift cards for places in town. Driving us wherever we need to go. We'd be lost without them. But I still just want my daughter back."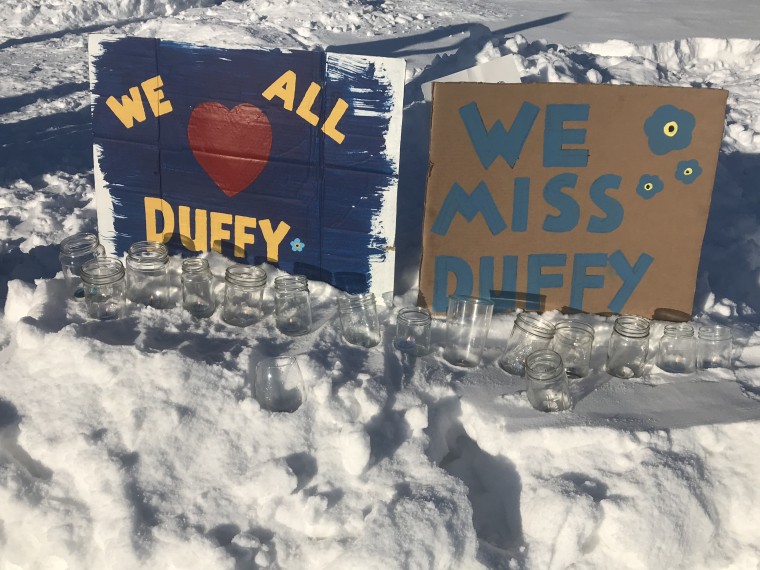 On Saturday, the community came together at WKFL Park in Homer to remind everyone that Duffy is still missing and that they won't give up until she's found. Thirty-eight candles burned bright -- one for each year of her life.
"Duffy is missing, but she has not been forgotten," Christina Whiting, a friend of the family, told Dateline. "We're doing everything we can for the family and everything we can to find Duffy."
The Facebook group Bring Duffy Home, with more than 1,000 members was created for a place to discuss the case and share stories of Duffy.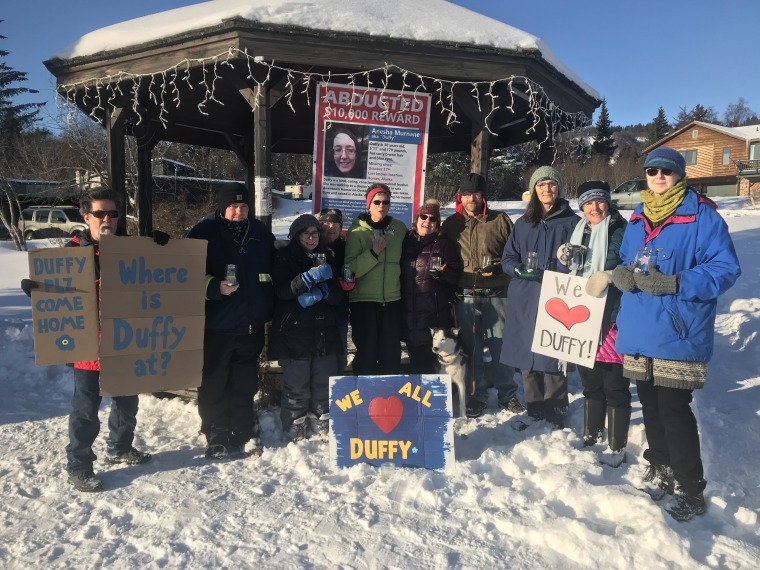 Local police have now expanded their search efforts to cover the entire state and Lt. Browning said they are exploring all tips and leads that they receive.
"This is an open, active investigation," Lt. Browning said. "Although things have slowed down some, we're still actively searching and investigating."
Duffy is described as 5 feet 11 inches tall and weighs around 170 pounds. She has blue eyes and brown hair and wears glasses.
A $10,000 reward for information leading to the location of Duffy is being offered by the family and Crimestoppers.
Anyone with information about Duffy's whereabouts should contact the Homer Police Department at 907-235-3150 or Crimestoppers at 907-283-8477.