Thanksgiving Day 2018 was the last holiday Stephanie Rivera remembers her family spending all together. Now, her sister is missing.
The family of Jennifer Gonzalez, 36, told Dateline that Jennifer had been living in Hinesville, Georgia, but the last thing they knew was that she had been staying in the area of Newnan, outside of Atlanta, with a friend and his grandparents. She told her family the friend was an extra in "The Walking Dead" and they were staying near his filming location.
But Jennifer's family assumed that her living situation wasn't working out when she started reaching out to people in August 2019 to ask for a place to stay. Stephanie said when people responded to her sister's requests, offering her housing, they were met with silence.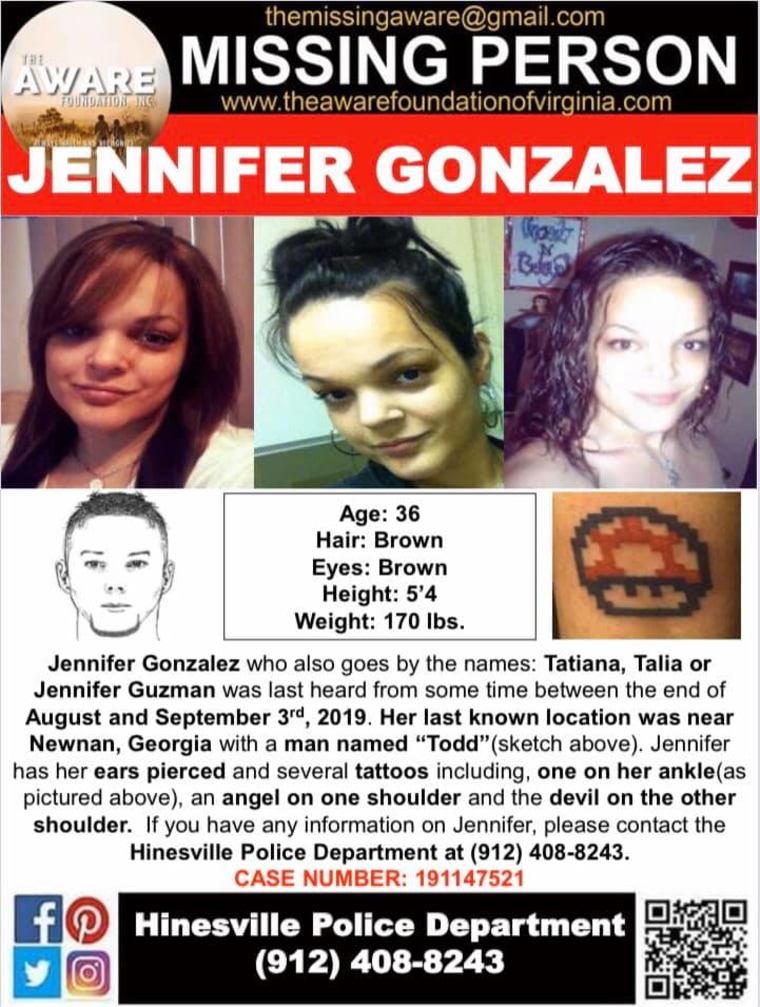 Jennifer's last known text was a selfie she sent to her ex-boyfriend, who lives in Florida. Stephanie told Dateline no one has heard from Jennifer since that day -- September 3, 2019.
"That was it. Radio silence," Stephanie said. "At first we gave her distance, but then we realized something was wrong. She had just fallen off the face of the earth."
Stephanie, who lives in Tampa, Florida, and her mother, Minerva Zambrana, who lives in Kissimmee, Florida, both told Dateline it wasn't unusual for Jennifer to run off to different places whenever she felt like it, but agree this time seemed different because usually someone would be in communication with her. They reported her missing on November 15, 2019.
"I know she's 36. She's an adult. But she always checks in with me, or someone," Minerva said. "But she hasn't talked to anyone since September 3. Something is wrong. I can feel it, my stomach is all in knots."
Jennifer's family said her phone has been disconnected and there hasn't been any activity on her social pages, which they said is extremely unusual for her.
"I remember when she spilled water on her laptop and she freaked out, started having a panic attack," Minerva said. "She will not go a long time without social media."
Minerva told Dateline she is worried something terrible happened to her daughter because she had recently had gone through a rough patch. She had issues with alcohol and had lost custody of her three children.
"She's meek, quiet, I'm just afraid someone took advantage of her," Minerva said. She added that Jennifer is the opposite of her other daughter, Stephanie, who would have been more likely to put up a fight if someone tried to hurt her.
Stephanie said when they were younger, Jennifer was timid, insecure and introverted.
"She looked up to me and I was that mean big sister who didn't want her to hang around," Stephanie said. "But she had gone through a lot. We all had. She's such a sweet spirit and I just want her to be OK."
Stephanie said she hopes people in both Georgia and Florida will keep an eye out for Jennifer and contact authorities if they see her or have any information. According to family, Jennifer has also been known to go by her daughters' names, Tatiana and Talia.
Detective Carlos Colon with the Hinesville Police Department told Dateline they are doing everything they can to locate Jennifer.
"We're checking all tips and leads that come in and following up on any information in an effort to make sure Jennifer is found safe," Det. Colon said.
Minerva told Dateline family members have traveled up to Georgia to post missing person fliers in Hinesville and other nearby towns.
"It's heartbreaking. To see my baby's picture plastered to the trees," Minerva said. "I just need her to know to just call your mom, just please call your mom. Let me know that you're OK. And if you don't want to talk to me, call someone. Anyone. We need to know you are OK."
Minerva and Stephanie said they know this is serious, because it's been so long since anyone has heard from Jennifer.
"We're just all so worried," Stephanie said. "She's my baby sister. I need her to be safe."
Jennifer has pierced ears and several tattoos including one on her ankle, an angel on one shoulder and a devil on the other.
She is 5'4", 170 pounds, with brown hair and brown eyes.
Anyone with information about Jennifer's case is asked to call the Hinesville Police Department at (912) 408-8243. Her case number is 191147521.