UPDATE: According to a Facebook post by the Lackawanna County District Attorney's office, on Tuesday, March 28, 2023, "investigators discovered human remains in the Connell's Patch section of Old Forge." Officials are hopeful that the remains belong to Robert Baron Sr., but are awaiting DNA testing to confirm the identity.
=======================
Three years ago, the iconic Ghigiarelli's was a bustling pizza restaurant in the heart of Old Forge, Pennsylvania, locally known as the "Pizza Capital of the World."
Today, the pizza ovens are off and the doors remain closed at the business on Main Street. On January 25, 2017 the owner, 58-year-old Robert Baron, disappeared.
"Everything is different now," Robert's daughter, Brittany Baron, told Dateline. "But we keep searching for answers and we keep searching for my father."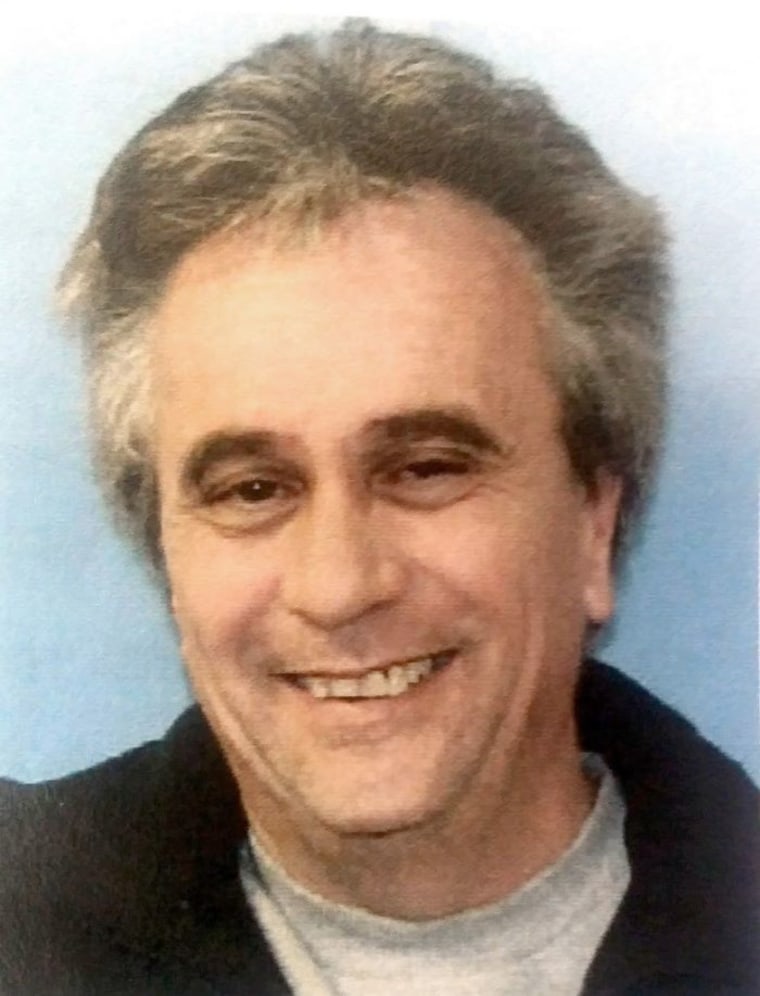 Although the beloved restaurant is dark, on the outside there's still a sign asking for answers about Robert's whereabouts, and a plea to bring him home.
"I do have hope that my dad will be found, but I do not have hope that my dad will be found alive," Robert's other daughter, Nicole Baron, told NBC affiliate WBRE earlier this month.
The restaurant was a second home to Robert's daughters, Brittany and Nicole, as well his son, Bobby, all of whom grew up part of the family business.
Robert's family bought Ghigiarelli's in 1961. Robert, who grew up in Old Forge, eventually took over the business. His family told Dateline he poured his heart and soul into the restaurant, often sleeping in the apartment above to be there to meet the delivery person who arrived at 7 a.m. each day with the pizza dough.
Robert's son, Bobby, who was also his partner in the business, was the last family member to see Robert.
On January 25, 2017, after working a long day at the restaurant, Robert drove Bobby home to his apartment nearby in Old Forge around 10 p.m.
According to his sisters, Bobby was expecting his father to pick him up for work the next morning. Robert never showed up. Bobby told Old Forge Police that he texted his father that morning saying he was ready to go, but never got a response. Robert's wife, Marie, said her husband hadn't come home the night before, so the family assumed he had slept in the apartment above the restaurant as he often did.
So, Bobby walked to the restaurant and discovered the dough delivery sitting outside, which family members told Dateline was "extremely unusual."
The apartment above the restaurant where Robert often slept to wait for the dough delivery was empty.
Family members told Dateline they called the Old Forge Police Department when they noticed signs of a struggle inside the building and their father was nowhere to be found.
Blood was found at the scene, along with a human tooth that was found in the utility sink, the Lackawanna District Attorney's Office told Dateline.
At the time, former District Attorney Shane Scanlon quantified the amount of blood found at the scene in the restaurant as "significant." according to WBRE.
In March 2017, DNA test results revealed both the blood and the tooth belonged to Robert Baron, prosecutors confirmed.
Robert's daughter, Nicole Baron, said her father's cell phone was found in the kitchen of the restaurant on top of the dishwasher.
"That was odd to me," Nicole said. "He would have never left his phone there. Several things just don't add up."
Nicole and Brittany, who were both living away from home at the time, told Dateline they heard the news when their mother and brother called them asking if they knew the passcode to their father's phone so they could access it. Neither knew the passcode.
Brittany Baron, who was attending La Salle University in Philadelphia, Pennsylvania, told Dateline she talked to her father every day.
"We were very close. We talked all the time," Brittany said. "Not a day went by that we didn't call or text each other."
Brittany told Dateline she talked to her dad on the phone earlier in the day on January 25, 2017, for about an hour. She said he was looking to buy a new car in Philadelphia. They talked until his phone died and then continued their conversation later that night by text until about 10 p.m.
"I wanted to call him again later, but I had a job interview the next morning and just needed to get some sleep," Brittany said. "I wish I would have. That was the last time I talked to my dad."
Brittany said she figured she'd hear from her dad right before her interview to wish her good luck or right after. But he never called.
"It was odd that I didn't hear from him," Brittany said. "He knew I had an interview. He would have wished me luck beforehand and would have nagged me after to see how it went."
When she tried to call him, there was no answer.
"I was a little surprised he didn't answer," Brittany said. "But then figured he must just be busy at work, you know, stretching the dough for pizza or something."
It wasn't until a little later in the day when Brittany got the call from her mother that her father was missing.
"I was at the gym and I just started screaming. Just crying and screaming," Brittany said. "How does a 58-year-man just go missing? It just doesn't make any sense."
Robert's other daughter Nicole, who lived in New York City, told Dateline she also spoke to her father on January 25, 2017.
"I remember I was actually going to buy a vacuum cleaner that day," Nicole said. "We had just normal conversation, but I can't believe that was the last time I spoke to my dad."
Nicole said she was working at her office in Midtown, Manhattan when her family called her with the news the next day.
"I just dropped to the floor," Nicole said. "I couldn't believe it."
The sisters returned home and for weeks, family members, friends and the community held vigils and organized searches throughout town and nearby wooded areas.
A few days after Robert Baron was reported missing, the 2006 silver Hyundai Elantra he had been using was found abandoned on Howard Street, about a mile from the restaurant. According to the Lackawanna County District Attorney's Office, blood stains were found inside the car. The blood was later positively identified as Robert's, the D.A.'s office confirmed.
"I truly thought someone was holding him hostage somewhere and we'd see him soon," Nicole said. "I never thought it would be three years later and no clue where our dad is."
Robert's daughter told Dateline the family believes this was a botched robbery and involved someone or several people who knew their father.
"This wasn't just someone random," Nicole said. "This was someone who knew his routine, knows us, was watching. I don't think it was a stranger off the street who would pinpoint him in the dead of winter."
Ghigiarelli's was a cash business, but Brittany, who used to work at the restaurant, said that since Wednesdays were usually slow nights, the most cash her dad would have had on him was a few hundred dollars.
"I think my dad walked in on someone trying to rob the place. And my dad fought back," Brittany said. "He wasn't going down without a fight. And I think that cost him his life."
The Baron family told Dateline they are frustrated with how the investigation is going and believe Robert could have been found three years ago.
"We would know something by now if they had handled it correctly," Brittany said. "The evidence is there, yet nothing is being done."
Linda Tomlinson, who owns a flower shop right next to Baron's restaurant, wondered how Robert Baron vanished without anyone noticing.
"I would think to myself 'why didn't I hear anything?' If I sat at the computer, perhaps I would have heard something or saw lights on -- a yell or anything," Linda told WBRE.
Investigators with the Old Forge Police Department and the Lackawanna County District Attorney's Office confirmed they are continuing to investigate, but have no new updates in the case.
The family turned to social media, hoping to receive credible tips that would lead them to Robert. The Finding Robert Baron Facebook page has been a platform for conversations and theories about Robert's disappearance.
"It's worse now to me than the day it happened," Robert's wife Maria told WBRE. "It just keeps getting worse as time goes on. As far as I'm concerned all our lives are ruined. I mean, just him not being present. Nobody, nobody deserves this."
The family is offering a $10,000 reward to anyone with information leading to Robert's whereabouts.
Robert is described as 5'9", approximately 185 pounds with brown hair. He was last seen wearing a black North Face jacket, blue/black sweatpants, a dark t-shirt, and a Penn State hoodie.
Anyone with information on Robert's whereabouts should call the tip line at 1-800-4PA-TIPS, the Lackawanna County District Attorney's Office or submit tips through the Finding Robert Baron Facebook page.