BILI, Democratic Republic of Congo — Great discoveries often spring from the tiniest of clues: a footnote in a dusty manuscript, a gap between stars or an odd-shaped mound in the desert. The journey to solve the mystery of the Bili apes started when Karl Ammann read a scientific article about some old skulls that were gathering dust at a museum.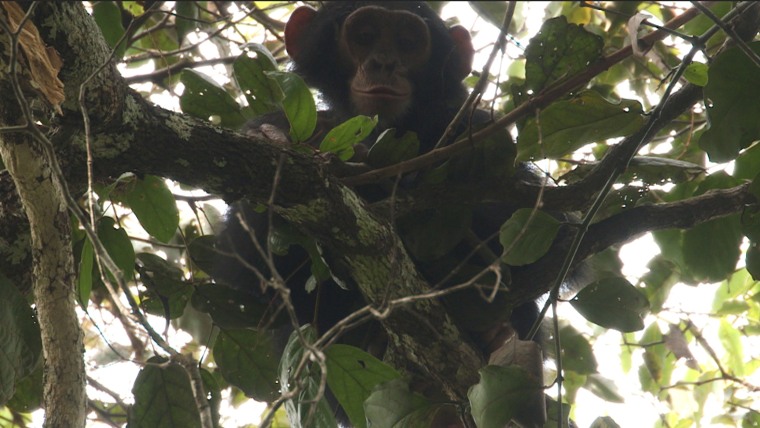 This was in the mid-'90s and Ammann, a Swiss-born photographer and conservationist, learned that the skulls at the Royal Museum for Central Africa in Tervuren, Belgium, had come from a remote part of northern Congo. The skulls had been discovered by Belgian colonizers who gained international infamy a century ago for brutalizing the native population as they extracted ivory and rubber.
NBC News joined rangers, trainers and primatologists as they ventured deep into the wild and lawless Bili forest in search of the elusive chimpanzees. "Mystery Apes" airs on "Dateline: On Assignment" at 7 p.m. ET/6 p.m. CT Sunday on NBC.
To Ammann, the skulls were a puzzle. They were classified as gorilla skulls, but were said to have been collected from an area that had no known gorilla populations. Were there gorillas there? Could this be new species of apes altogether?
Determined to find out, he set off for the northern tip of the Congo. "This was the ultimate adventure," Ammann said. "It was in a part of Africa that nobody really knew anything about, even in colonial times."
There were also the legends. When Ammann first reached the Bili forest in 1996, local hunters told tales of giant apes who howled at the moon, killed lions and were immune to poisonous darts. Ammann uncovered an ape skull of his own during that first trip to the area, a discovery that only made his explorer's itch grow stronger.
"This was the ultimate adventure. It was in a part of Africa that nobody really knew anything about, even in colonial times."
"This was a once in a lifetime opportunity," he says about the decade he spent traveling in and out of the Bili-Uele forest complex, a 12,000-square-mile expanse of tropical forest, its dense green canopy interrupted by vast islands of savannah.
"We had to ferry equipment through rivers on boats," Ammann recalls. "We even built an airstrip."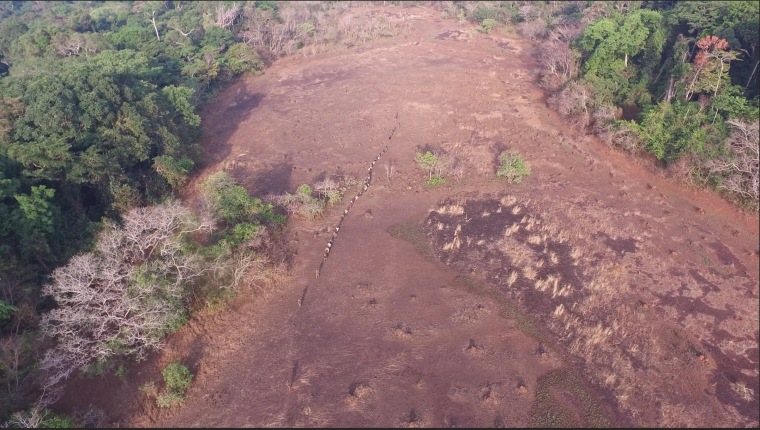 He found traces of the so called "mystery apes," but the apes themselves remained elusive. It's virtually impossible for a human to keep up with an ape as it moves through the vines, thorns and underbrush. It didn't help that the forest is also home to armies of aggressive ants and swarms of bees that are attracted, in the dry season, to the moisture from humans' sweat and eyes.
Ammann's obsession with the mystery apes attracted attention in conservation circles. He raised money and recruited scientists and volunteers who travelled to the Bili forest to join the effort. American primatologist Cleve Hicks arrived in 2004.
"It was fascinating," Hicks says of the mystery. "There was even speculation that maybe these apes were a hybrid between chimpanzees and gorillas, a new species of great ape, or something else."
Hicks set out to solve the mystery once and for all. With a team of local trackers, he hiked through the Bili forest for weeks at a time. Traveling with few provisions and often sleeping under a fruit tree in order to spot the apes when they came to feed in the morning, he says he contracted malaria 25 times.
Four years ago, Hicks and a team of scientists set up motion detecting cameras and finally managed to capture clear images of the Bili apes. DNA tests, meanwhile, confirmed that the apes were in fact chimpanzees, not a new species. The mystery had finally been solved, but Hicks' first-hand observations showed that these chimps displayed some very unique behavior.
"They have a different diet, different culture," Hicks says. "They often nest on the ground, like gorillas do and they use the longest tools we have seen in Africa to dip for ants or honey."
"They seem like the boss when you get there. They are like 'who are you to come into my kingdom?'"
Hicks also found that there are many more chimps in Bili than he thought. He claims they are part of the biggest population of wild chimps in the world. Some of the chimps were in areas so remote that Hicks believes they have never encountered humans or been hunted during their lifetime.
"That's why they have no fear of humans, just curiosity," he says. "In fact, they seem like the boss when you get there. They are like 'who are you to come into my kingdom?'"
But the world is now closing in on these chimps' hidden kingdom.
For two decades the Democratic Republic of Congo had been one of the most lawless and bloody warzones in the world. The International Rescue Committee calculated that more than 5 million people have died in the country's civil war. Officially that war, which spilled across national borders, ended over a decade ago but violence continues to plague the Congo. Neighboring countries, including South Sudan, the Central African Republic and some rebel-held areas in northern Uganda still see regular and vicious eruptions of war and violence.
The depths of the forest, which protected the Bili apes for so long, also makes for a great hiding place for humans on the run. Poachers and rebels from the Ugandan rebel group the Lord's Resistance Army (LRA) have infiltrated the Bili forest, where they hunt the protected wildlife and prey on local villagers, whom they often kidnap.
The Lord's Resistance Army gained considerable international attention in 2012 when a group of American activists posted an online video about the war crimes of the group's leader, Joseph Kony. The video, which focused on Kony's enslavement of child soldiers, has been viewed more than 100 million times on YouTube.
In 2011, President Barack Obama sent 100 Special Operations troops to advise and assist the region's armies fighting the LRA. The deployment is part of the U.S. military's general expansion across Africa.
The LRA rebels presence in the Bili forest is part of the reason that the International Division of the U.S. Fish and Wildlife Service has decided to spend $341,464 to support conservation programs there since 2010. Last year the service, which is part of the Department of the Interior, teamed up with the African Wildlife Foundation (AWF), a nongovernmental conservation organization, to sponsor park ranger patrols through the forest. The rangers, part of the national Congolese force, are expected to protect the wildlife while helping to secure the area from rebels.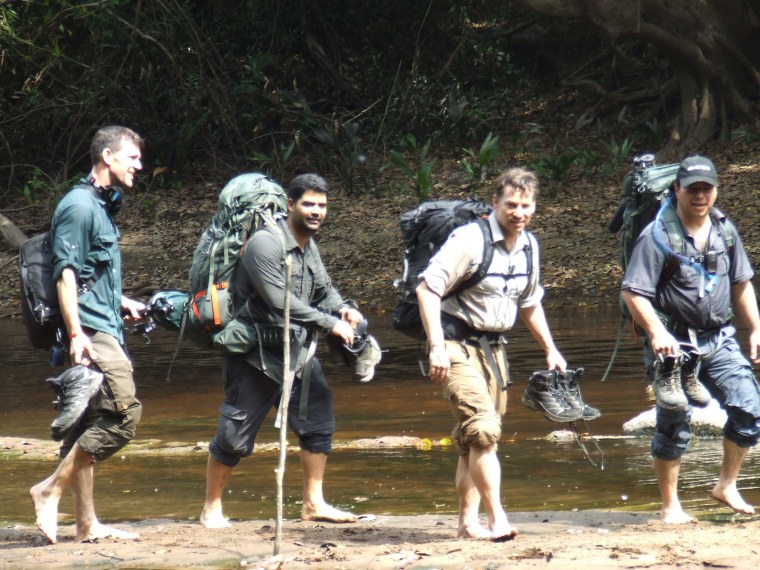 "Before the rangers, this was a lawless area," says AWF Primatologist Jef Dupain who leads the current efforts. "Nobody was doing any kind of protection, nor implementation of security."
To help train the rangers, AWF hired a team of highly trained graduates of Israel's special forces community from a company called Maisha Consulting. Nir Kalron, a former elite commando who heads the company, was in Bili recently teaching Congolese rangers everything from how to safely detain poachers to surviving a firefight.
"This is Wild West," Kalron says of the Bili forest. "They are doing much more than preserving the forest. In essence, they are national security (forces)."