Julie Braswell Seay was a toddler living in South Korea when she was adopted by an American family and moved to Florida in the early 1960s.
The young Korean girl was shy at first to many, but quickly grew into a vivacious woman with a sassy sense of humor that charmed everyone. She met a man named Tim Seay at church and quickly fell in love. They married in 1983 and within a few years, Julie had given birth to two sons.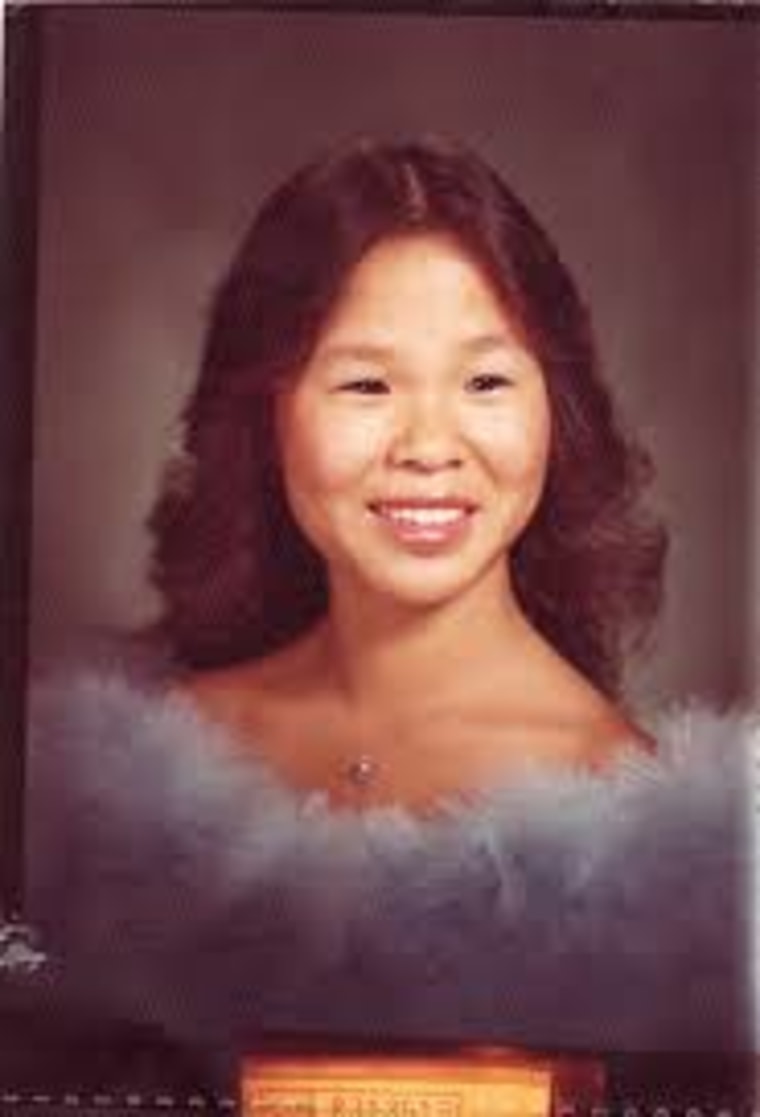 Leslie Seay-Martin, Tim's sister, was elated. She told Dateline she had always been the only girl in the family so when her brother married Julie, she was excited to finally have a sister.
"She was more than my sister-in-law," Leslie said. "She was an actual sister. She was like my best friend."
Over the years, the women bonded over raising their children, shopping trips and even exercising to Gilad Janklowicz videos together.
But the good times in the family didn't last. Julie and Tim's marriage soon began to crumble.
"Honestly, I don't know what happened," Leslie told Dateline. She added that Julie was a private person and didn't talk much about her relationship.
Julie and Tim divorced in 1988, but Leslie told Dateline things started to look up when the couple thought about reconciling months later and decided to try dating each other again.
Later that year, Tim and the children traveled to Alabama to visit his side of the family for Christmas. Julie was initially planning to join them, but at the last minute told family members that her boss needed her to stay to work and she would not make it. Julie had been working as a telephone magazine salesperson at a telemarketing company.
Tim's sister, Leslie, who was living in Birmingham, Alabama at the time, was nine months pregnant and due to have a baby the day after Christmas, and told Dateline that Julie was very excited to be there for the birth.
"But she never made it. Her boss wouldn't let her take off work," Leslie said. It was the last day Leslie spoke to Julie.
"Julie was upset. Upset that she had to stay at work. Upset that she wouldn't get to see the new baby."
Julie was last seen by co-workers leaving her office in Ormond Beach, Florida on December 23, 1988. Leslie said her sister-in-law was planning on doing some last minute Christmas shopping after work that day. She hasn't been seen or heard from since.
"My brother tried to call her multiple times," Leslie said. "On Christmas Eve and Christmas Day. He wanted the kids to be able to talk to their mother on Christmas. But she never answered. And no one, not her friends or family, or co-workers, had seen her or heard from her."
After Daytona Beach Police were notified on Christmas Day of Julie's disappearance, her blue 1988 Chevrolet Sprint was located backed into a parking space in a city lot behind a gym in the 200 block of Magnolia Avenue, near Beach Street. It was unlocked and her purse was still inside. Family members told Dateline the driver's seat was adjusted for someone taller than Julie, whose petite frame wasn't even five feet tall.
"That wasn't even her gym," Leslie said. "There's no reason why her car would be parked there."
Family members told Dateline they believe they know who's responsible for Julie's disappearance, but said they were told by police there has not been enough evidence to arrest him.
"It's just so frustrating," Leslie said. "Basically, we won't know anything until we find her body. It's heartbreaking."
According to the Orlando Sentinel, investigators have searched a house in Port Orange three different times over the years, but the searches turned up nothing. The house once belonged to the last person known to have seen Julie. No one has been charged in her case, but investigators say foul play is suspected.
Detective David Dinardi with the Daytona Beach Police Department Cold Case Unit confirmed to Dateline that Julie's case is still being investigated. He was not able to comment further on the case.
Leslie described her sister-in-law as a sweet, shy person who was a good mother and loved her children.
"With our family, you couldn't be shy for very long," Leslie said. "She opened up quickly and then she fit right in. I miss her so much."
Leslie said the search for Julie consumed their families' lives for years.
"We loved Julie. My parents loved Julie. We always will," Leslie said. "We spent days and weeks and years trying to find out what happened to her."
But eventually many of them moved on. Julie's husband, Tim, remarried and moved to Alabama. Her children, who were only ages two and four at the time, are now adults and have children of their own.
But Leslie said she'll never stop searching. She created a Facebook page called FindJulieBraswellSeay, hoping to find answers in Julie's disappearance.
"It just doesn't make sense. She was here. She existed. She was a person and a mom," Leslie said. "Yet, no one has ever had the chance to say goodbye."
Julie was 24 years old when she disappeared in 1988. She would have turned 25 January 27, 1989. Today, she would be 55. At the time of her disappearance, she was 4'11", 103 pounds, with black hair and brown eyes. She has a cesarean scar on her abdomen.
Anyone with information about Julie's disappearance is asked to call the Daytona Beach Police Department at (904) 254-1596 or the Tip Line at 1-888-277-TIPS.