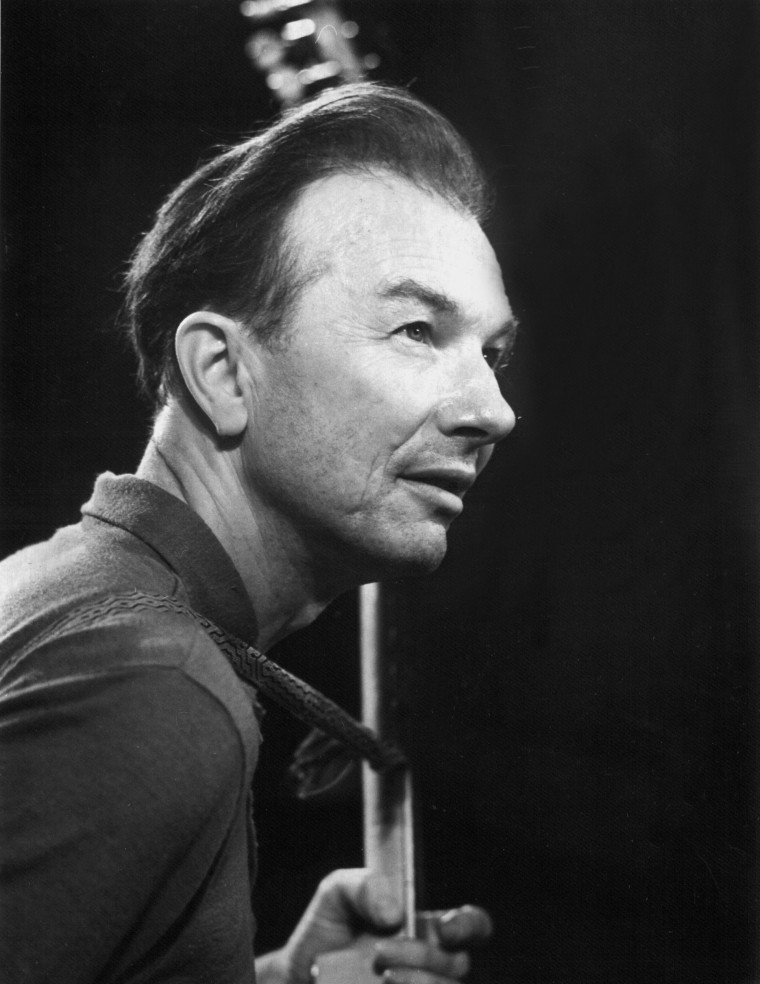 Pete Seeger, the iconic banjo-strumming folk singer and activist who performed for migrant workers and presidents, died on Monday. He was 94.
Seeger, whose songwriting credits included "If I Had a Hammer," "Turn, Turn, Turn," and "Where Have All the Flowers Gone," died of natural causes in a New York City hospital, his grandson Kitama Cahill-Jackson confirmed to NBC News early Tuesday.  
"He thought everyone could be heroic," Seeger's grandson said. "He got the world to sing. I think he was a role model to his family, to the whole world."
As a member of the Communist Party in the 1940s, Seeger's skepticism of those in power carried through his career. He was a longtime supporter of the labor movement, and supported the civil rights and anti-Vietnam War movements. Seeger was also convicted of contempt of Congress after refusing to answer questions at the House Un-American Activities Committee.
"Be wary of great leaders," he told The Associated Press after a 2011 Manhattan Occupy march. "Hope that there are many, many small leaders."
Nevertheless, he performed for presidents as well, including at a concert marking President Barack Obama's inauguration in 2009.
President Bill Clinton hailed him as "an inconvenient artist who dared to sing things as he saw them."
Seeger was born on May 3, 1919, to an artistic family in New York City. He dropped out of Harvard and took to the road in 1938.
"The sociology professor said, 'Don't think that you can change the world. The only thing you can do is study it,'" Seeger said in October 2011, according to the AP.
Seeger was credited with popularizing what became the anthem for the civil rights movement, "We Shall Overcome," although he said his contribution to the actual song was minimal. 
In 1996, he was inducted into the Rock and Roll Hall of Fame. Ten years later, Bruce Springsteen honored him with "We Shall Overcome: The Seeger Sessions," a rollicking reinterpretation of songs sung by Seeger.
"Every kid who ever sat around a campfire singing an old song is indebted in some way to Pete Seeger," fellow folk singer Arlo Guthrie, son of Woody Guthrie, told the AP.

The Associated Press contributed to this report.