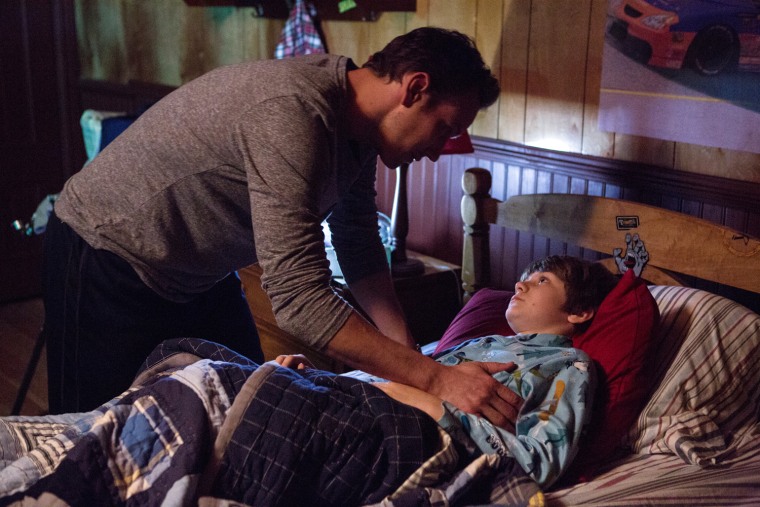 James Wan's "Insidious: Chapter 2" frightened awake the sleepy fall box office with $41 million in ticket sales — the No. 2 September opening of all time, as well as one of the top debuts ever for a supernatural horror title. The sequel, fueled by younger moviegoers and released Friday the 13th, cost a scant $5 million to produce.
The FilmDistrict release, proving another resounding victory for the horror genre, as well as for producer Jason Blum, nearly matched the $41.9 million opening of New Line's 2013 summer hit "The Conjuring" and did more than three times the business of the first "Insidious," which debuted to $13.3 million in April 2011.

"Insidious 2" couldn't topple September record-holder "Hotel Transylvania," which opened to $42.5 million last year, but wasn't far behind. The horror sequel, written by Leigh Whannell, returns Patrick Wilson and Rose Byrne in the title roles and picks up immediately where "Insidious" left off. It drew a B+ CinemaScore, a top grade for a horror title.
Consumers under the age of 25 made up 62 percent of ticket holders — one of the best showings in recent memory (19 percent were under the age of 18) — thanks to FilmDistrict's aggressive marketing campaign targeting young horror fans. FilmDistrict also went after Hispanic moviegoers.
"It obviously pays to be in business with Jason Blum's Blumhouse. They created the microbudgeted horror business and they absolutely dominate," FilmDistrict president of distribution Jim Orr said.
"The original 'Insidious' generated a lot of goodwill and people wanted to see the next chapter. James Wan is an amazing director. Combine that with a Friday the 13th release date and you get this great result," he continued.
"Insidious 2" follows the Lambert family as they seek to understand the mysterious childhood secret that has left them dangerously connected to the spirit world. Barbara Hershey, Lin Shaye, Ty Simpkins also star.
Oren Peli produced "Insidious 2" alongside Blum. Executive producers are Steven Schneider, Brian Kavanaugh-Jones, Charles Layton, Peter Schlessel, Lia Buman and Xavier Marchand.
Q&A: James Wan, Leigh Whannell on trust, terror and "Insidious: Chapter 2" 
The weekend's other new nationwide release was director Luc Besson's star-studded "The Family," starring Tommy Lee Jones, Robert De Niro and Michelle Pfeiffer. The dark mob comedy opened to a so-so $14.5 million.
Produced for $30 million by Relativity Media and Besson's EuropaCorp, "The Family" likely was dampened by poor reviews and a C CinemaScore. The movie skewed notably older, with 83 percent of the ticket buyers over the age of 25. It marked one of De Niro's best openings in recent years outside of the "Meet the Fockers" franchise.
"We're very happy," said Kyle Davies, Relativity's distribution president. "This is a great example of successful counter- programming. We went for the older audience, while Insidious was very successful with younger moviegoers. It worked out."
"The Family" revolves around Mafia boss Fred Blake (De Niro), who enters the witness protection program with his family after snitching on the mob. The family, however, can't help but get into trouble after being relocated to a sleepy town in France, despite the best efforts of a government agent (Jones) to keep them in line. Dianna Argon and John D'Leo also star.
Universal and Vin Diesel's Riddick tumbled 63 percent it its second weekend, grossing $7 million for a North American total of $31.3 million and coming in No. 3.
"Lee Daniels' The Butler" continued to make headlines in its fifth weekend, grossing $5.6 million to hit the $100 million mark at the North American box office. The historical drama, from The Weinstein Co., headlines Forest Whitaker and Oprah Winfrey.
Sony's apocalyptic comedy "This Is The End" also hit $100 million over the weekend (the studio re-released the summer film in select theaters for the express purpose of reaching this goal). Sony also is trying to boost the profile of Morgan Spurlock's concert documentary "One Direction: This Is Us" by adding 20 minutes of footage. The extended version placed No. 8 over the weekend, falling 41 percent to $2.4 million for a domestic cume of $26.7 million.
New Line and Warner Bros.' R-rated comedy "We're the Millers" crossed $130 million in its sixth weekend, grossing $5.4 million to come in No. 5. The Jason Sudeikis-Jennifer Aniston film has earned $131.6 million domestically.