When Netflix bought "House of Cards," the company's chief content officer Ted Sardanos thought the biggest distinction an Internet streaming show could score was a Webby. He was so wrong. Netflix is going into the Sept. 22 Emmy awards with 14 nominations for its original series, including best drama for the David Fincher-directed "House of Cards" and lead actor nominations for both its stars, Kevin Spacey and Robin Wright.
As the coolest kid on the block, Netflix stole the spotlight from stalwart broadcast and cable competitors, launching a renaissance that has enlivened the creative community and forever changed the conversation in Hollywood about how television can and should be made. Netflix is winning at original programming by not playing by old rules — it doesn't bother with traditional development, it won't release viewership data, and it posts the entire season of a show the day it premieres.
"What they have seen here is an initiative that started not very long ago, and that has had pop culture success and critical success," Sarandos said. "The next shoe to drop was the credibility that came from the Emmy nominations. People know this is not a one-off now. It attracts people who are attracted to forward momentum."
Among them was comedian Ricky Gervais, whose new comedy "Derek" premieres Thursday on Netflix. (The show launched in the U.K. on television earlier this year). In an interview with NBC News, Gervais said he had heard about Fincher's remake of the BBC's mini-series before it premiered and decided he wanted to be part of the "future of television." He emailed Sarandos, whom he did not know. Soon, they were shaking hands.
"TV habits have been changing drastically over the last 10 years and it's been exponential in the last five years," Gervais said. "There's a new generation of 12-to-15-year-olds who don't even know what we mean when we say we used to sit down at 9 o'clock as a family to watch a show. 'Why would you sit down at nine? I'll watch it on my way to school.' It sounds like the past. I want to be on the cusp. I am enjoying being part of this new wave. I always want to take a little bit of a risk."
'House of Cards' started buzz
Although "Lilyhammer" was Netflix's first show in 2012 (it had already been shot when Netflix bought the rights), the real buzz started with "House of Cards," which premiered on Feb. 1. Critical raves compared the quality of the political thriller to the elegant dramas typically found on premium cable. But Sarandos says he's not interested in becoming the next HBO; he thinks HBO and its brethren need to become more like Netflix.

He may have a point. With 38 million members in 40 countries, no advertisers to answer to, and no Nielsen ratings to report, Netflix has quickly become the world's "leading Internet television network." "Hemlock Grove" followed "Cards" in April, the "Arrested Development" reboot launched in May and the female-centric drama, "Orange is the new Black" in July.
Sarandos won't disclose audience sizes or reveal which series has the largest viewership. But he will say that each original series outperformed its predecessor during its premiere week. According to the company's site, members watch more than one billion hours of television and movies on the site per month.
It's not that executives are adverse to numbers at Netflix. On the contrary, they "mix art and science" to develop programming that has, in their thinking, a better shot at success. To that end, Sarandos relies on Netflix's most precious collection — more than five billion customer ratings its subscribers have issued since the company launched in 1998. Using top-secret algorithms built by mathematicians and designers to assess how a given title or potential project will fare, Netflix can produce risk profiles that give its executives insight on whether to move forward with a creative venture. By punching in actor, director, and producer and filmographies and show genres, the data reveals the likely size of an audience.
"What we can do better than anybody else is determine the potential audience size for these different projects," Sarandos said. "We look at our database of users, both from DVD and the streaming side. We look at how users rate shows and movies. But other feedback is more implicit because they may not issue a rating and tell us how they felt but we're able to surmise that if they watched the whole series in a 24-hour period, they probably liked it. For original programming, what we're most interested in is the overlaps [in taste] — that's how we best analyze potential audience."
In this way, Netflix has become the envy of its competitors who not only buy TV shows on little more than a creative hunch, but then also have to face the music when ratings are reported the next morning. It was a hot topic at the TV press tour in Los Angeles this summer when executives, such as Fox's chairman of entertainment Kevin Reilly, admitted the Netflix model "is my definition of heaven, that I get to make television and not have to ever look at or talk about ratings anymore." But HBO's co-president Richard Pepler took a stronger stance: "The rationale appears to be, 'We're not in the advertising business.' But ... all three of the premium services tell you who's watching what."
The science behind what you like to watch
Sarandos is not willing to say how many people stream each show but he does offer insight into how the research informs his decisions. When the conventional wisdom indicated that American viewers aren't interested in shows about Washington, D.C., anymore, Netflix's data trove told Sarandos that "House of Cards" was worth a $100-million gamble. According to Netflix's customers, there are people who will watch any movie that Spacey stars in, and there are those who flock to any flick that Fincher directs. Another group loves political thrillers no matter who stars in them or is behind them. Where all those people meet is what Netflix considers its sweet spot.

"It's not enough to say that based on someone's last project, the outcome will be this," Sarandos said. "What we were able to do is look at our database of users and look at how many people are really David Fincher fans. Which is different than how many people are 'Fight Club' fans or 'Social Network' fans. And the same thing for Kevin Spacey. It's a purely subconscious thing. I don't know that people will be able to articulate that stuff, so you have to see it in the data."
In the end, Sarandos was so confident in what he gleaned about "House of Cards" that he offered Fincher and creator Beau Willimon ("The Ides of March") two full seasons without forcing them to make a pilot episode.
"For us, the risk of the experiment was a pro," Willimon told NBC News. "Netflix is a company that has proven itself successful over the course of 10 years and it had the resources to launch into something like this in a meaningful way. Because it was an experiment for us, we liked the idea of it being new for the people we were in business with as well. We knew this was a paradigm shifter that people would be talking about."
But the audience did yield some surprises, Sarandos said. It was younger, more international, and more female than expected, and it tended to enjoy "The Walking Dead" and "Gossip Girl" more than "Mad Men."
With "Hemlock Grove," a horror drama about a werewolf directed by Eli Roth, Sarandos spent less time deliberating because of the data that suggested that horror fans would flock to it.
"Eli Roth has not gotten great reviews in his life but he's very successful with his audience," Sarandos said. "And 'Hemlock Grove' definitely delivered to its audience. Now, hardly anybody who loves 'House of Cards' also loved 'Hemlock Grove' but both shows attracted very large audiences and it prompted us to pick up a second season for 'Hemlock.'"
The summer's pop culture moment
Reviving cult classic "Arrested Development" was a no-brainer, Sarandos said. After Fox famously canceled it, the comedy's first three seasons became very popular on DVD and later on Netflix, where viewers binged on it before marathon viewing became trendy.

"The best way to watch 'Arrested Development' is on demand and over and over again," Sarandos said. "The tools for that didn't exist when they were on the air. We knew there was a large and growing audience for this show."
The new iteration, with its cast intact and executive producer Mitch Hurwitz at its helm, created its own pop culture moment this summer. Its viewers crossed over many demographics "but it's closer to 'House of Cards' in that it appeals to a pretty sophisticated audience," Sarandos said.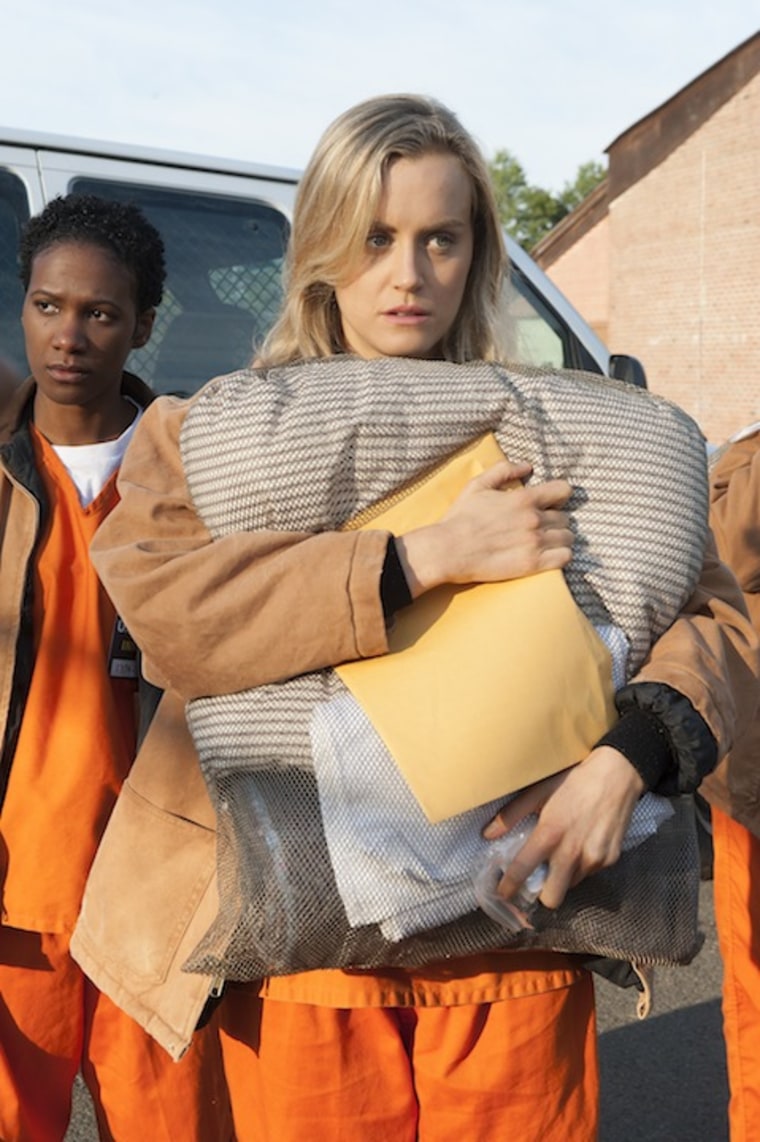 Of its five programs, "Orange is the new Black," based on Piper Kerman's memoir of the same name, is the only series Sarandos ordered based only on an idea. "Weeds" creator Jenji Kohan wanted to adapt the book, incorporating the background stories of all the main characters as a way of being able to spend time outside the prison. Because of Netflix's substantial "Weeds" audience and data that revealed what else they enjoyed, Sarandos knew it was a winning proposition.
"What's been great about 'Orange is the new Black' is that it's one that men and women are watching together," he said. "And that's been a really good surprise because nothing about it fits television models. This concentration of women in the cast, the diversity both in size and age and race, nobody would have dared put that on television because everyone would have been sure that no one would watch it. The kind of cultural phenomenon that's building up around it says a lot about who audiences really are if you give them a chance."
'Netflix is a game-changer'
When he received Gervais' email, Sarandos already knew how popular he and "The Office" were on Netflix. In "Derek," the comic known for his Atheist views and edge shows off a kinder, gentler side portraying a middle-aged man who works in a home for the elderly.

"I'll never pitch and hope to get into their thing," Gervais said. "If I fit in that's fine. If I'm a square peg, I'm not going to shave my edges off to fit in a round hole. I'm going to find a square hole. I suppose I've gotten lost or confused along the way but you know what I mean. I don't want what I do to fit into someone else's arbitrary brand wishful statement. Netflix is a game-changer. As inflexible as I sound, I'm glad somebody is flexible to accommodate me!"
Willimon was also attracted to the notion of working for a brand-less network that would not require him to adjust his imagination to fit a particular mold. "House of Cards" is the Oscar-nominated writer's first foray into television, so he's never experienced the stress of dragging story arcs out over 22 episodes or designing cliff-hangers to maintain interest or writing expository dialogue to refresh viewer recollection.
"The reason people want brands is because it helps them target demographics," Willimon said. "But those networks and content providers that are limited by their own brands will be left in the dust. A company like Netflix says, rather than try to create a four-quadrant show that will hit the broadest audience, what if we create a number of shows that will hit different niches and cumulatively everyone?"
Next year, Sarandos plans to double Netflix's original line-up, beginning with the first television series by the Wachowski brothers ("Cloud Atlas") and J. Michael Straczynski ("Thor"). "Sense8" is a sci-fi adventure about a group of people around the world who are linked mentally.
Gervais, who said his peers in the industry are buzzing with excitement over what Netflix can offer, is proud to be among its pioneers.
"I like the excitement of a new idea and the surprise," he said. "As a comedian, that's our ace in the hole. A joke is a surprise. So you want to keep surprising people. Some people don't like surprises; some people like the other thing you did. But I don't care if they're pleasantly surprised or unpleasantly surprised. And I don't care who watches it, when they watch it, where they watch it. I just want people to watch it."