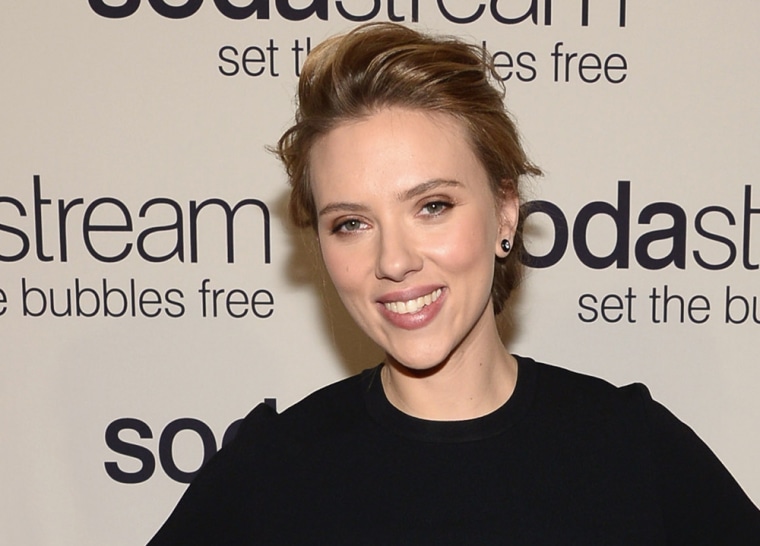 LONDON — Actress Scarlett Johansson has quit her role with the charity Oxfam after it criticized her promotion of drinks company SodaStream, which has a factory in an Israeli settlement in the West Bank.
The star is due to appear in a commercial for SodaStream during the Super Bowl on Sunday. Oxfam said the actress' role global ambassador was incompatible with her promotion of SodaStream. 

In a statement released on Wednesday, Johansson's spokesman wrote, "She and Oxfam have a fundamental difference of opinion in regards to the boycott, divestment and sanctions movement."
Oxfam on Thursday noted in a statement on its website that it has accepted the "Her" star's resignation, and said it is "grateful for her many contributions" during her eight years working with them.
Fox, which is airing the Super Bowl, has banned her uncensored ad because the commercial for the at-home soda maker takes a swipe at Coke and Pepsi. Pepsi is sponsoring the halftime show. SodaStream's CEO has said the line, "Sorry, Coke and Pepsi," will be removed from the ad.
Israel-based drinks company SodaStream has its largest factory in Maale Adumim, a Jewish settlement in the West Bank. Israeli settlements are considered illegal under international law, and Oxfam has a policy of opposing trade with those areas. 
The West Bank factory employs both Palestinians and Israelis. SodaStream cites it as an example of the two peoples working side-by-side. "Approximately 500 Palestinians work at our Mishor Adumim facility, supporting several thousand people and their families," Yonah Lloyd, chief corporate development and communications officer for SodaStream, said in a statement to NBC News.
The issues of Jewish settlements in the West Bank is central to U.S.-brokered peace talks that have been ongoing since July. Around 350,000 Jews live in settlements which the Palestinians claim as part of a future state.