It was 10 years ago that Justin Timberlake sang to Janet Jackson, "I'm going to have you naked by the end of this song," and then did his best to prove it. During the Super Bowl halftime show on Feb. 1, 2004, Timberlake famously ripped off a piece of Jackson's costume, forever cementing the words "wardrobe malfunction" and "nipple shield" into America's lexicon.
The shot was less than a second in duration, but the resulting controversy was enormous. YouTube co-founder Jawed Karim has said the incident helped inspire the founding of the online video site, since Jackson's exposure quickly broke online records for most-searched-for video clip. 

And blame flew everywhere. The Federal Communications Commission fined the network that aired the game, CBS, a record $550,000, though the fine was eventually voided. The NFL banned MTV, which had produced the halftime show, from ever doing another one. And many felt that criticism fell unfairly on Jackson, ignoring Timberlake's role in the incident.
It's unlikely that similar controversy will roil this year's halftime show. Riding high off his week-old Grammy win for best pop vocal album, singer-songwriter Bruno Mars will headline the entertainment portion of the big game between the Denver Broncos and Seattle Seahawks Sunday at MetLife Stadium in East Rutherford, N.J. The Red Hot Chili Peppers will also play.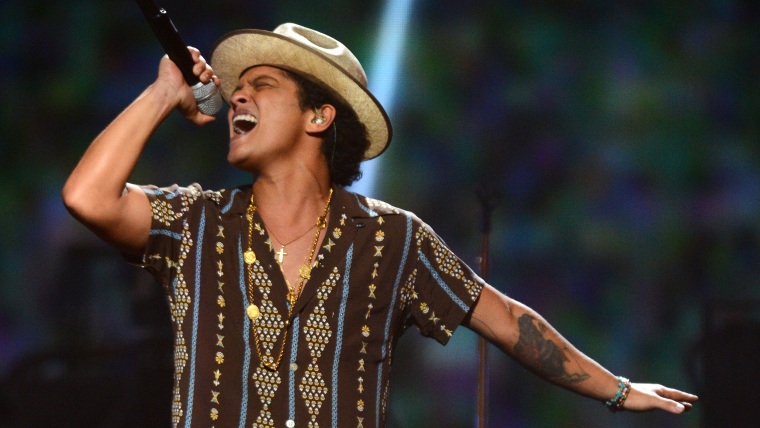 "The thing is, I want to raise the stakes," Mars said when his performance was announced. "I want to give MetLife Stadium and the viewers at home a real musical experience, do something fun, do something exciting, maybe even a little unexpected."
Some have surmised that "unexpected" means Mars and the Chili Peppers will team up on a song, bringing together two varied fan bases. Chili Peppers drummer Chad Smith merrily threw fuel on the rumor fire by joking about playing Led Zeppelin's 45-minute-long live version of "Dazed and Confused" at the big game. He later admitted that wouldn't happen, but then joked about playing "side one of Rush's 2112" before saying, "Obviously I can't tell you what we're going to do, it would ruin the surprise."
Wardrobe malfunctions notwithstanding, Mars, 28, has a lot to live up to. Last year's Super Bowl halftime show was hyped starting four months in advance, when it was revealed that Beyonce would be the musical headliner. The hype was justified. Sasha Fierce rocked the Superdome crowd while clones of herself were projected behind her, and then Kelly Rowland and Michelle Williams joined in for a Destiny's Child reunion. Previous halftime performers have included Madonna, The Who, Bruce Springsteen, Paul McCartney, the Rolling Stones and even Prince. (Go way back in time, however, and the show had a more innocent vibe — college marching bands and high-school drill teams used to provide the entertainment.)
Mars has both the fan base and critical acclaim to do the job — he was named Billboard's Artist of the Year in December, and has sold more than 10 million albums.
And he's been preparing for stardom for decades. Part of the halftime show announcement featured video of a 4-year-old Mars in full Elvis Presley getup commanding the stage like a boss, and being introduced as "tomorrow's king of rock and roll." His reign commences at halftime.