When the draft Supreme Court opinion leaked last month suggesting that Roe v. Wade will be overturned, one name crystallized in the gallerist Daniel Cooney's mind: Donna Ferrato.
A renowned photojournalist, Ferrato has dedicated her career to documenting the lives of women — the violence they've faced, their resilience, their love and their spirit. She has photographed survivors of domestic violence, protest movements, families, mothers, childbirth, incarcerated women, sex clubs and sex workers, among others.
In 2021, Ferrato published "Holy," a photography book that brings together her 50 years of work focused on women. On Thursday, an exhibition based on that book that includes never-before-seen collages opens at Daniel Cooney Fine Art in New York.
Cooney timed the exhibition to coincide with the anticipated publication of the Supreme Court's official opinion on Roe v. Wade. Many expect the decision to open the door for states to significantly curtail access to abortion care, if not outright ban it.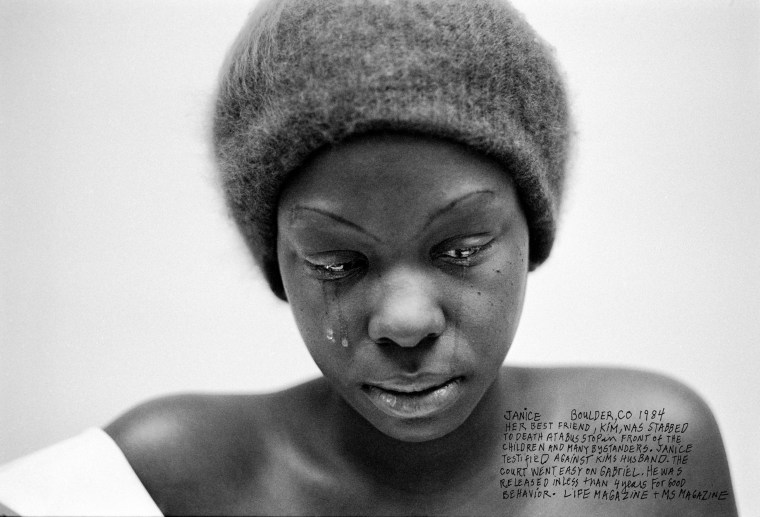 "I am heartbroken," Ferrato told NBC News of the expected overturn of Roe. "It's going to change the world for women for as long as we'll be alive. The repercussions from this are going to be so, so heavy."
It is not the coda Ferrato wanted for the decades spent photographing the progress women have made, however incremental. Yet, both Ferrato and Cooney see the exhibition as a chance to bring people together to engage with the full range of women's experiences.
"Women are extraordinary, and women have a great capacity for loving and for being loved," Ferrato said. "I want people to love the holy spirit in every woman."
Both the exhibition and the book subvert expectations and preconceived notions. The book is divided into three parts — "Mother," "Daughter" and "Other" — that are direct responses to the Christian doctrine of the Holy Trinity: the Father, the Son and the Holy Spirit. It is emblematic of Ferrato's belief in the inherent sacredness of women from all backgrounds, sexualities and gender identities. While the exhibition doesn't share the same three-act structure, it does include images that deal with religious references, like a collage showing a domestic violence call painted with the words "hell gate," "sin" and "limbo."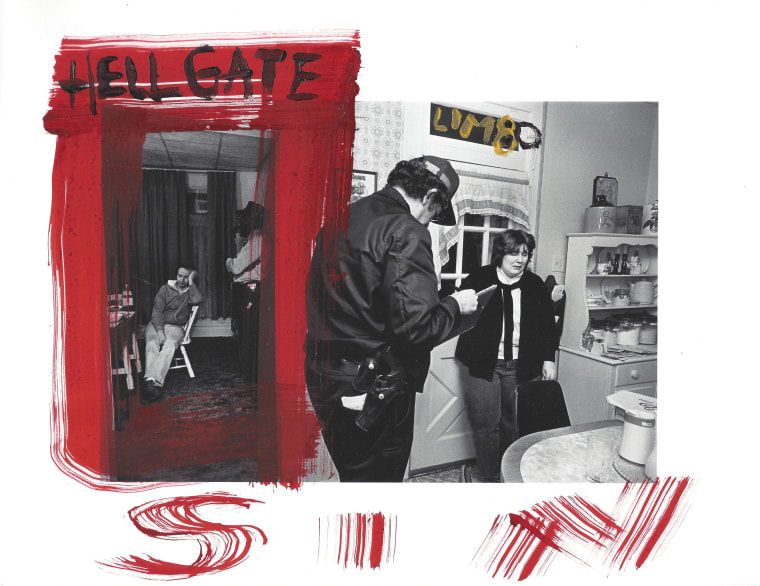 That photograph is drawn from Ferrato's landmark book "Living With the Enemy," which was published in 1991. It made national headlines at the time because it was the first real look at domestic violence in the United States.
The book spans a decade and grew out of an unlikely place. Ferrato had been commissioned by Playboy Japan to photograph a swinger couple — Elisabeth and Bengt — in their home life. Ferrato moved in with them and photographed everything, but what started as one kind of assignment became something drastically different, she said.
One night in 1982, Elisabeth stood up to her husband after getting rid of the drugs in their home in a bid to save their marriage, and Bengt "went berserk on her," Ferrato recounts. What unfolded in the bathroom was horrific, she said, and Ferrato documented it all with her camera. One of her most well-known photographs shows Bengt striking Elisabeth. That night galvanized Ferrato to shine a light on the scourge of domestic abuse, she said.
"I learned everything I know about domestic violence from being with Elisabeth," said Ferrato, who has stayed in touch with her in the 40 years since that night. "Elisabeth changed my life far more than I changed hers."
Both that image and the contact sheet from that night are in the exhibition. That experience also further helped define how Ferrato sees herself as a photographer. Under a self-portrait in the book version of "Holy," Ferrato wrote, "I became a conflict photographer documenting the war on women."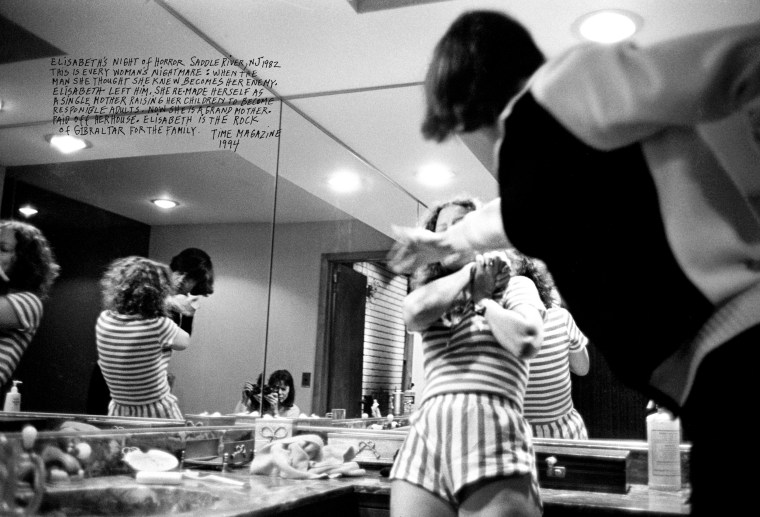 "Being in that bathroom was just as dangerous as Eddie Adams photographing people in Saigon," Cooney said, referencing the acclaimed war photographer.
What viewers will find in that photograph and others is something that subverts the idea of what a photograph can be: Ferrato's writing directly on the image. Usually, a photograph will stand alone, and accompanying information will be displayed on a placard next to it. That is not the case in "Holy."
"It wasn't about making beautiful pictures anymore," Ferrato said. "It was about expressing my rage and shock at what was happening in front of my eyes."
If people are offended by the form of the photographs or their content, that is the point.
"I want to shake people," Ferrato said. "I really want to disturb them."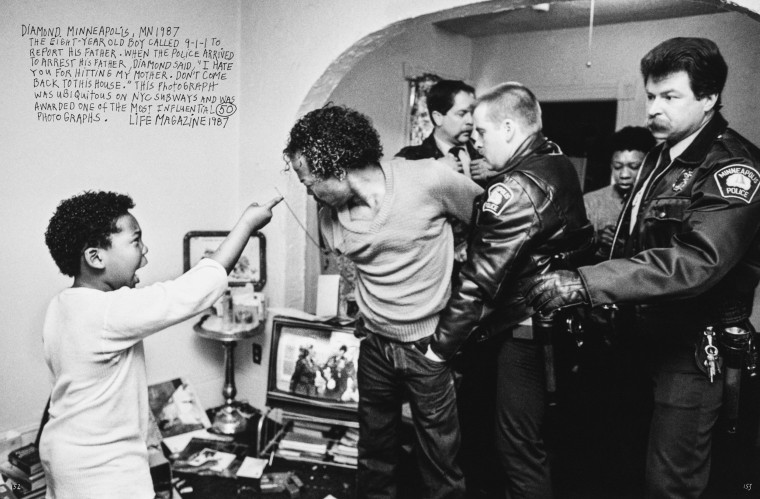 The women she's met have moved her to action, Ferrato said, and she has worked tirelessly to raise awareness of domestic violence, as well as a host of other issues. Whereas other photographers might leave room for the viewer to ponder and arrive at their own conclusions, Ferrato said she doesn't feel that there's time for that. The exhibition is her way of engaging directly with people. Ferrato feels she can't leave anything to chance, she said, especially considering the seismic implications of the Supreme Court's likely decision on Roe.
"If women don't have reproductive rights, then there is no chance that there will be a democracy in the United States anymore," Ferrato said.
In the days leading up to the exhibition, Ferrato was on a cross-country road trip from Denver to New York to transport her debut sculpture, a 1,500-pound piece called the "Wall of Silence" designed to raise awareness of gender-based violence. She found her resolve hardening as she looked ahead to a post-Roe America. The fight, as she sees it, is not over.
"We don't obey authoritarians," Ferrato said. "We destroy them."
CORRECTION (June 30, 4:51 p.m. ET): A previous version of this article misstated in a quote where war photographer Eddie Adams worked. Cooney meant to say Adams photographed people in Saigon, not Ghana.