Every year the Tour de France inspires fans to take to their bikes, but not everyone has the stamina of professional riders, who this year will cover more than 2,275 miles in 21 days for the 101st race, scheduled to start in England on July 5.
For enthusiasts who seek a little of the camaraderie, adventure, exercise and a chance to take in the French countryside, there are a growing number of tours infused with the spirit of the famous race.
Sign up for top Travel news direct to your inbox.
Cycling vacations "offer a way to experience a new destination that you can't enjoy by bus," said Mark Thomsen, marketing manager for Trek Travel, founded by Trek Bicycle, which offers five French biking vacations. He attributes the surge of interest to the trend for a more active lifestyle; technology developments that make cycling easier, like GPS, computer touch screens preloaded with maps and electronic shifting; the desire "to be taken care of" (important for those with limited vacation time); and the fact that biking holidays cater to couples or groups with different fitness levels and interests.
Guests can smell lavender in Provence, tour castles, taste wine, soak up local biking culture, and tackle challenging terrain, like Alpe d'Huez in the Alps with its 21 switchbacks, said Thomsen, who guided Trek Travel tours for seven years. "We provide the opportunity to experience what the pros experience, to ride the roads the pros ride," he said, but "it's a fully supported vacation."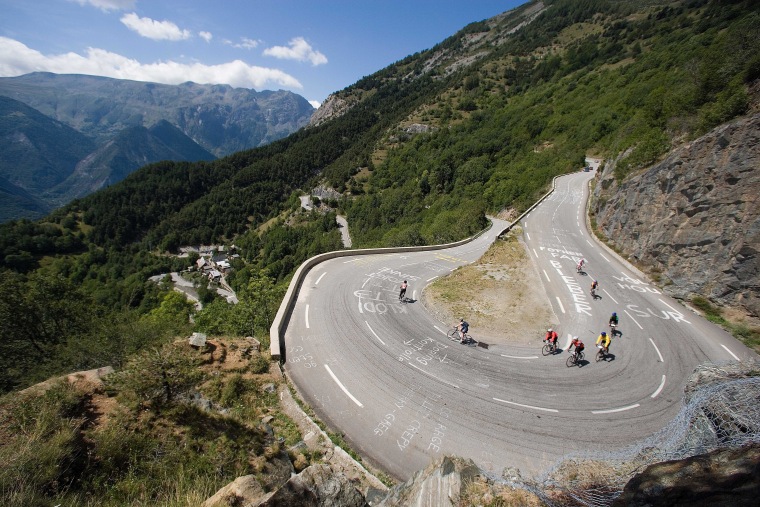 One highlight is Mont Ventoux, referred to as "The Giant of the South," which is the site of a memorial to Tom Simpson, a British cyclist who collapsed and died there while competing in the 1967 Tour. "It's an incredible climb through the forest then into the moonscape and up to the top," he said. "From a cycling fan's perspective, it's kind of like going to Mecca."
"French towns and villages take great pride in the race visiting them and go to great lengths to decorate in readiness," said Hannah Reynolds, co-author of "France en Velo," an illustrated guide to traveling across France by bike published earlier this year. The book details a new 1,000-mile cycle-touring route that winds its way from Saint-Malo on the coast of Brittany. "The food is fantastic and the scenery stunning," and the intimacy of bike travel allows for unexpected discoveries, she said. "You can often slip down a side street and find a perfectly preserved medieval church."
"Our book has been designed to make it accessible for every type of cyclist, from families to the super fit racing cyclist," said Reynolds, whose co-author, John Walsh, has guided cycling holidays in France for many years for UK-based tour operator Saddle Skedaddle. The book features illustrated maps, detailed directions, itineraries, and suggestions of where to eat and sleep. For travelers who can't take the time for the entire route all at once, the book presents itineraries for 32 smaller stages of between 17 and 48 miles that can be experienced individually on a long weekend or combined for longer, more challenging getaways.
"It's the World Cup of cycling. The buzz it generates in North America about the sport is unparalleled."
The popularity of cycling vacations is not tracked, according to Atout France, the French Tourism Development Agency, but interest in the race from Americans has grown over the past years and France has experienced "an undoubtedly positive impact on biking tourism." A recent government study found that from 2011 to 2012 there was a 19 percent uptick in the number of tour operators offering bike tours in France, and several companies that specialize in biking tours reported strong growth. VBT, a tour operator of biking and walking tours, told the agency overall sales for France this year were up 46 percent compared to the same period in 2013. (The figure also includes its walking tours.)
DuVine Cycling and Adventure Company experienced a more than 20 percent increase in traffic to its website during last year's Tour de France, said Andy Levine, president and founder. "It's the World Cup of cycling," he said, so many people watch the event on television. "The buzz it generates in North America about the sport is unparalleled."
Discover France, which offers self-guided bicycle tours in France, said since becoming the official operator of the Tour de France in 2011, it experienced a 120 percent increase in clients taking its Tour-related trips, including packages for spectators only and for various levels of fitness, ability and challenge. The company attributed much of the growth to its packages offering VIP access. Clients, for example, can ride the final kilometers of the Tour route and cross the finish line, just before the pros. They also can access the podium for photos, meet "some legends of cycling," and garner a spot on the finish line. From January to July this year, total sales were greater than for all of 2013.
"We are expecting this trend to continue since more people are interested in sustainable, slow travel that offers authentic and immersive experiences," said Thomas Boutin, the chief executive. "There is nothing more satisfying than reaching a destination on bike, after having pedaled through back roads of the loveliest landscapes, filled with vineyards and tony villages, and sites of serious historical and cultural value."