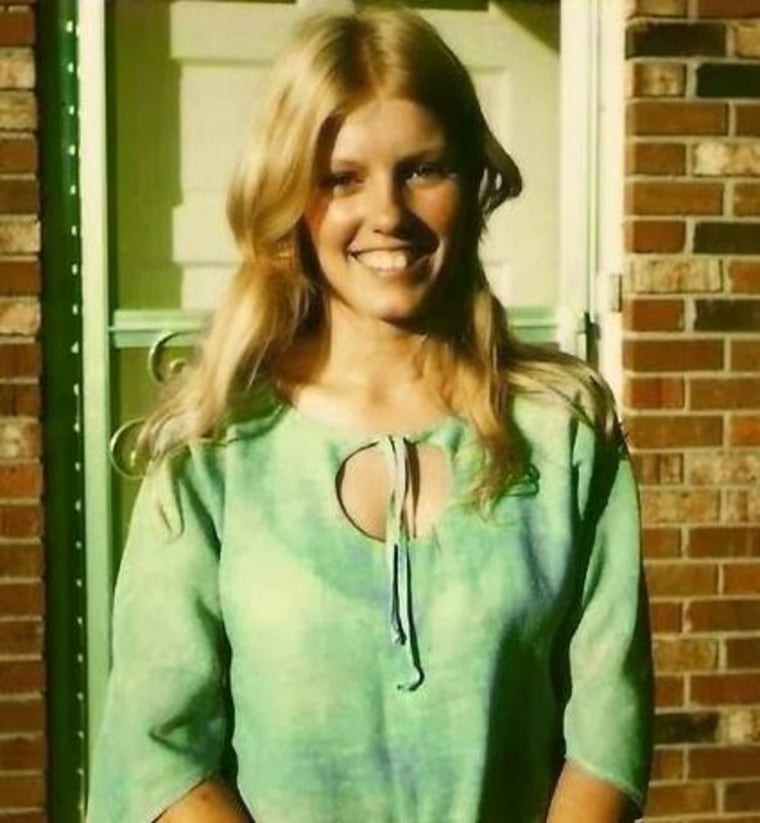 When people talk about Janette Roberson, two things come to mind.
There is her beauty, easily seen on the outside and easily apparent on the inside once you met the 27-year-old.
Then, there is the talk about her horrific murder.
It's a crime that now, more than 33 years later, remains unsolved.
A brutal killing
Janette's sister, Lana Lockhart, seven months pregnant at the time, was in the shower when she heard a knock on her door.
"There were these two officers standing there," Lana told Dateline. "They wouldn't tell me why they were there, but kept saying I needed to call my mother. So I called and my brother answered. He said, "Janette is dead." I thought it was a joke, and I told him it wasn't funny. But he wasn't joking."
Lana and Janette weren't close. There were some painful events in their childhood. Lana describes their family dynamic as complicated and strained, but being told her sister had been killed was numbing.
"I didn't understand," she said. "Why Janette?"
Janette, her husband and their two children had moved to the small town of Reed City, Michigan about eight months prior her death. She had a job working in the pet department in the basement of a local store called Gambles, right off the main road in town.
It was in that basement where another employee found Janette's bruised and battered body on the afternoon of January 19, 1983. Police believe she had to have been killed sometime between 1 and 4 p.m. that afternoon.
Although there had been other employees and customers walking around upstairs, no one reportedly heard anything.
Janette, severely beaten with several different blunt objects, had also been sexually assaulted. "This was a brutal -- very brutal --killing," Janette's sister Lana said. "I don't know how someone can do that to another person."
At the time, Reed City was home to offices for three law enforcement agencies: the Reed City Police Department, the Michigan State Police, and the Osceola County Sheriff's Department. Each department participated in the investigation, according to local newspaper reports at the time.
Police questioned a man who left town on a bus that afternoon, but later released him. Several weeks after the murder, police released three sketches of men they wanted to talk to in relation to the case. Nearly $7,000 was raised to offer as a reward for information that could solve the case. None of the tips reported led to anything substantial.
A crime like that just didn't happen there
The murder had sent a shiver through the tiny Michigan town. Things like that didn't happen there, especially not to a woman as kind and friendly as Janette.
"I remember just thinking, "Why?" Even at, like, 11, 12, it made a big impact," remembers Carrie Hudson. "This teeny-tiny, kind, religious, sweet woman had been beaten to death. It was unheard of."
Carrie was friends with Janette's daughter Jennifer. Her family lived in the same apartment complex as the Roberson family.
She can recall countless memories of afternoons spent with Janette and her children. But one memory in particular stands out, one she said that exemplifies the type of person she remembers Janette being.
"She had actually taken in this baby bird who, I think, had fallen out of its nest. She raised that bird. She just loved animals and took a lot of care with it. I remember getting in with her, her daughter Jennifer and her son, to drive to a fish hatchery so she could set the bird free," Carrie told Dateline.
"And we just sat there, for what seemed like an eternity, waiting for this bird to fly away. But it had been raised by Janette, so it just stayed with us for so long. She so wanted that bird to be OK."
Eyes quickly looked to Janette's husband Alvin shortly after his wife was found dead. He'd reportedly been having an affair at the time, and it's been rumored he and Janette may have been talking about divorce.
Children would taunt the couple's kids at school, Carrie remembers.
Shortly after Janette's murder, Alvin packed up his family and moved them back to Georgia. He would later marry the woman with whom he had been rumored to be having the affair. "I don't really blame them for leaving, really. I try to put myself in their shoes and that town is so small. People were talking," Carrie told Dateline.
The idea Alvin had something to do with Janette's murder? The theory holds "no water," says Janette's sister, Lana. While her husband did not, Janette had adopted the Jehovah Witness faith. Her religious beliefs encouraged her to be devoted entirely to him.
An affair wouldn't have affected Janette, Lana said, although she never discussed the matter specifically with her sister.
But from her limited view into the couple's relationship, Lana doubts Alvin would be able to do anything that brutal to his wife. "When I saw him after, he just stared ahead. I tried to talk with him, but he just stared forward," Lana told Dateline. "He was devastated. He couldn't have had anything to do with it."
Alvin and the woman he was having the affair with, were later ruled out as suspects, according to authorities.
A crime of opportunity?
Days turned to months and months to years in the investigation, and still no official suspect has ever been named in Janette's murder.
One theory of the crime has stuck, mostly with those who knew Janette. They believe whoever killed her, did so in a moment of rage. From what they know about the crime scene and from Janette's autopsy, they believe the killer used objects available to him in that basement. It wasn't a carefully thought out crime, they say.
"I believe someone was infatuated with her -- had a crush on her. My sister was very friendly and naïve, really," said Lana. "Whoever did this could have gone there to make a move and she rejected this person, and boom. That was all it took."
Janette's daughter's friend, Carrie, echoed the same idea. "It's not like this person brought a weapon with them. I don't think it was a fully planned thing," she said.
A fresh hope for answers
For most of Elena Cavender's life, she didn't hear much about the death of her aunt Janette.
"My grandmother told me when I was younger, my aunt had been killed and had been hit in the head with a brick," remembers Elena. "She wasn't mentioned much. I guess now it was because of how horrible her death was."
But eight or so years ago, Elena decided to do some digging. She read about the terrifying crime, and eventually decided to talk to her mom about it. "I was like, 'Mom, we need to talk to someone about this. It's still not solved.' I was determined to get some answers," Elena told Dateline.
The crime was especially terrifying as Elena, now with children of her own, lives in Reed City. "To think that this person could still be here and be someone's neighbor, I don't understand how people aren't more scared by it," she said.
People in the area do still remember the crime, but Elena doesn't believe people understand the brutality of it. Her hope is that with more exposure, people will take it more seriously.
Elena's conversation with her mother sparked action. The two, along with Carrie, have since launched a website, a Facebook page under Janette's name. And each year, near the anniversary of Janette's death, they've organized walks to the building where Janette was killed, all in an effort to push for tips in the case.
Their efforts, they said, have been somewhat successful. "We talk with police and they told us to not stop the walks," Elena told Dateline. "They get so many tips when we do them, we're going to keep doing them as long as it remains an unsolved case."
The group, though, is frustrated with how the case has been handled by authorities, going back to that very first day.
"The crime scene was a chaotic disaster," Carrie told Dateline. "Things weren't done in an organized way. Her case files are in three different boxes. Sometimes we feel like we're banging our heads against the wall here looking for answers, but we have to keep going."
A few years ago, an author began making calls about Janette's case. She was interested in writing a book, later released under the title 'Redacted: A Search for Truth About the Murder of Janette Roberson.' The hope was that it would prompt answers in the case, but they still have not come.
It's been frustrating for Janette's sister, Lana.
"Someone out there knows something. They need to finally come forward," she told Dateline. "The scary thing is the person who did this is out there somewhere. That's terrifying, because Janette was killed in a horrible way. What's stopping this person from doing it again? We need to get them off the streets."
With the emergence of new crime-scene technologies in the decades since the 80s, the idea is perhaps DNA left at the scene could be linked to someone who committed another crime. It's an idea Carrie believes is a possibility.
"If they did this once, they probably did it again. Or did something else," Carrie said. "I don't know how much it costs to run those tests or check the data bases, but it could solve this."
The opportunity for a new investigation could be close. A cold case unit, looking into cases in the county, has Janette's case on their list, according to Carrie.
Detectives in the unit did not respond to Dateline's request for comment, but Carrie said they are looking into one case at a time. Janette's, she hopes, will be looked at soon.
Pushing forward
October 25, 2016 would have been Janette's 61st birthday.
"The really sad thing is that she's been dead now longer than she was alive," her sister Lana told Dateline. "What would her life have been like? We won't ever know."
Lana has not spoken with Janette's children in years. She thinks her probe into their mother's murder has been painful for them.
Carrie, who was close friends with Janette's daughter, Jennifer, continued to speak frequently to her childhood friend as they grew up. Until Carrie became heavily involved in the search for answers in Janette's murder. As with Lana, Carrie believes it isn't something Janette's children want brought up in their lives.
"I don't know what they've been through. Having your mother taken away from you at that young an age cannot be an easy thing," said Carrie. "It's not my place to question them about it."
Despite whatever challenges have come their way, the group pushes forward. They are planning the walk for the 34th anniversary of Janette's death in January. They're going to keep pushing forward in whatever way they can to find justice for Janette.
"She's my sister. She's a human being. You shouldn't be able to do that to someone and not face justice," Lana told Dateline. "Justice is long awaited for Janette."
If you have any information regarding Janette's case, you are urged to call the Michigan State Police at (989) 773-5951.