Donna Michele Barnhill was just 13 years old when she disappeared. No one has seen her in nearly 35 years.
On the evening of March 18th, 1981, Barnhill left her home in Lexington, North Carolina to walk to a friend's home nearby. Since then, no answers as to what could have happened to the young teen have been uncovered.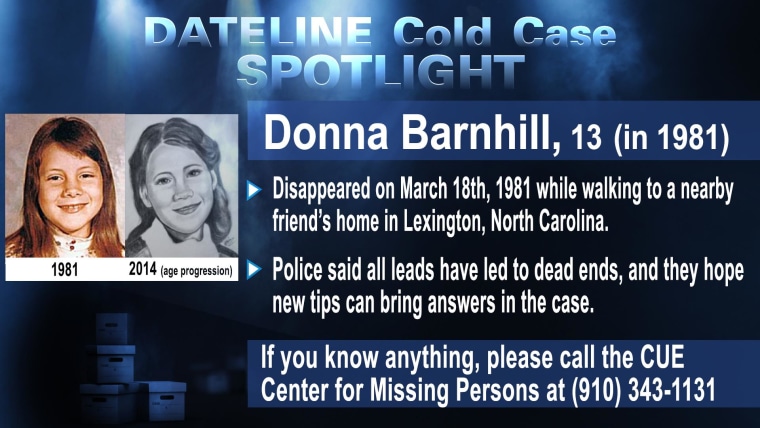 North Carolina-based Community United Effort Center for Missing Persons released a new sketch in October 2014 of what Barnhill might look like today, hoping that she might be alive somewhere. A CUE news release about the new sketch stated the organization wanted to leave no stone un-turned.
"After so many years, these cases fade from the public's radar, but for the families and friends of a missing person, the nightmare continues — every minute of every day their loved one is absent," CUE founder Monica Caison told The Dispatch at a vigil event geared towards Barnhill in November 2014.
Captain Billy Scarboro of the Lexington Police Department told The Dispatch Barnhill's case remains over, but that all leads have been followed. "All the leads we have had before have been dead ends. We would love to take the case that is this old and bring closure to it."
If you have any information that can help crack this cold case, please contact the Lexington Police Department at (336) 243-3302 or the CUE Center for Missing Persons at (910) 343-1131.