Five months after cousins Lyric Cook and Elizabeth Collins vanished while taking a bike ride near their grandmother's house in Evansdale, Iowa on July 13th, 2012, hunters discovered the bodies of the two young girls.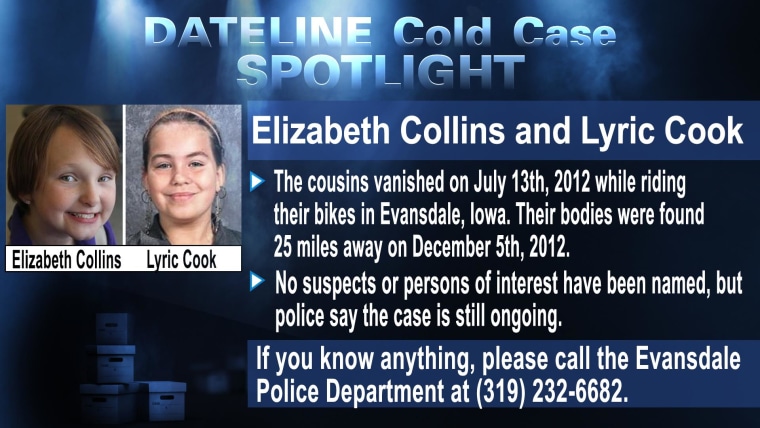 The mysterious abduction of 10-year-old Lyric and 8-year-old Elizabeth baffled Evansdale police for months. The girls' abandoned bikes were found near Lake Meyer shortly after they vanished, prompting investigators to send divers with sonar to search the waters. However, no clues turned up.
Then on December 5th, 2012, hunters made the gruesome discovery of the cousin's bodes about 25 miles away from where they went missing.
No suspects or persons of interest have been named.
"The case is definitely not cold. We are continuing to investigate leads and develop new leads and follow up on information," Evansdale Police Chief Kent Smock told NBC affiliate WHO.
Investigators with the Evansdale Police Department say that although it's been two years since the girls' bodies were found, the case is ongoing and they receive between five and 10 new tips each month. In August of this year, local police with help from the FBI's Behavioral Analysis Unit launched a new website to provide updates on the case and provide a character profile of any possible suspects.
According to the website, police believe "the offender blends in with and may be part of the Evansdale, Bremer and surrounding communities. It is unlikely that the offender is a transient or someone who was merely traveling or 'passing through' the area."
A $150,000 reward has been offered by the girls' families and from the FBI for information leading to an arrest and a conviction in the case. A second reward of $20,500 offered by the Cedar Valley Crime Stoppers is for any information that leads to an arrest.
If you have any information that could help in the case, please call the Evansdale Police Department at (319) 232-6682.