In November 2002, Josh Guimond, then 20, and a student at Saint John's University in Collegeville, Minnesota, vanished while walking back to his dorm room after an off-campus party. According to friends and family, the trip back to his residence should have taken no more than three-minutes.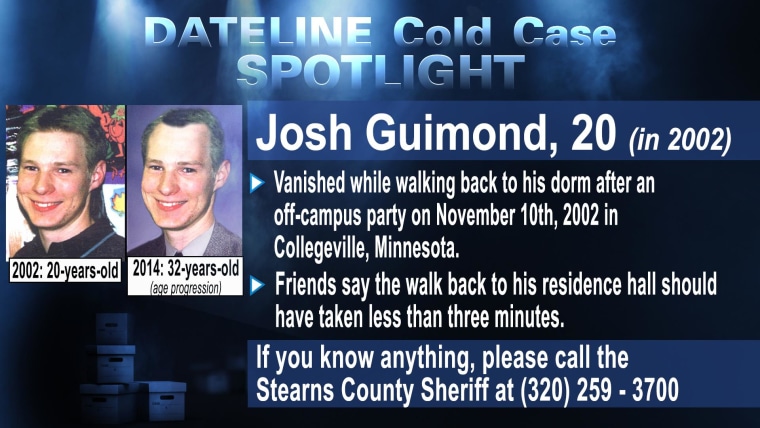 Although November 2014 will make the 12th anniversary of Josh's disappearance, his loved ones are no closer to understanding what happened to him on the night he went missing. Shortly after he vanished, his roommate Nick Hydukovich told local NBC affiliate KARE that this was very out of character for his friend: "Josh was one of the most responsible people I know. He would never disappear randomly, unless something happened."
Josh's father, Brian Guimond agreed with that assessment. But, he holds out hope, even after all of these years, that his son may still return home safely. On the eve of the 10th anniversary of Josh's disappearance he told KARE reporters, "I've got no reason to believe he's not alive."
Both Cold Case Spotlight and KARE covered the case of Jacob Wetterling, an 11-year-old who vanished near his St. Joseph home in 1989, less than 7 miles away from the Collegeville area. After her son's disappearance, Patty Wetterling became a staunch advocate for the missing. She spoke with KARE again in 2013 when Michelle Knight, Amanda Berry, and Gina DeJesus escaped from Ariel Castro's home in Cleveland, Ohio, where they were held against their will for years. She explained that news of the women being found alive fueled her hope that her son, along with Josh Guimond, and countless others who are still missing, could also brought home safely.
Josh lives on in the hearts and minds of friends and family. On the 10th anniversary of his disappearance, his mother, Lisa Cheney explained the heartache they've endured over the last decade: "He's missing weddings, he's missing his cousins having their babies, he's missing funerals."
If you have any information that may lead to a break in the case, please contact the Stearns County Sheriff's Department at (320) 259-3700.