It's been more than six years since Linda Raulerson was shot and killed during a grocery store robbery in Lake City, Florida, but her killer has still not been found.
"This murder is especially heinous as Mrs. Raulerson did nothing but comply with the suspect and she was shot in a cold-blooded manner," Columbia County Sheriff Bill Gootee told WJXT in 2008.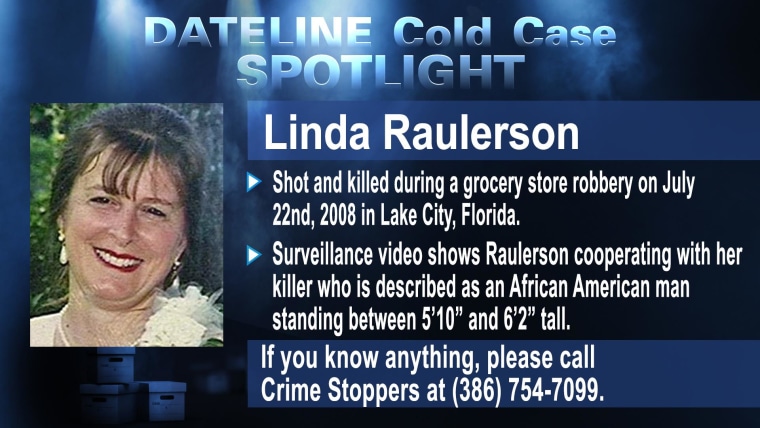 Raulerson was working at the Joy America Grocery around 9:00pm on July 22nd, 2008 when a man walked into the store, shot her in the arm and demanded money. Surveillance video released by the Columbia County Sheriff's Office showed Raulerson following orders as she empties the register while the man yells. The next shot he fired killed her.
"She loved the job, the people," Raulerson's husband of 38 years, John, told WJXT in 2008. "Everyone who came in the store was like her family."
Officials looked closely at a man charged in a similar shooting death of another store clerk in Georgia several days after Raulerson was murdered. In a statement released several weeks after the murders, the Columbia County Sheriff's Office said they no longer considered the man a suspect in Raulerson's murder.
"Our detectives have spent countless hours interviewing family and friends to determine if he might be our suspect, but the pieces are simply not fitting together to complete this puzzle," Sheriff Gootee told WJXT in August of 2008.
Investigators describe the man who shot and killed Raulerson as an African American male between 5'10" and 6'2" tall, wearing a dark hooded sweatshirt, long jean shorts, and white sneakers, who may have fled the scene in a white, four-door 1993-1995 Buick Regal.
If you have any information that can help in the case, please call Crime Stoppers at (386) 754-7099.