It was at the height of the holiday shopping season in December of 1979 when high school senior Michelle Martinko was stabbed to death in the parking lot of Westdale Mall. The 18-year-old had not been robbed or sexually assaulted, but had been stabbed several times to her face.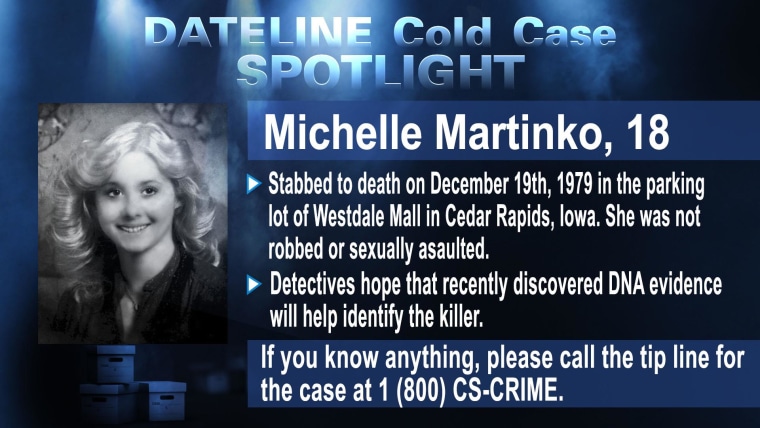 "I think more of the season than the exact date," Janelle Stonebraker, Martinko's sister, told the Gazette. "But it's always with us."
Martinko was last seen driving to the mall after a school choir banquet on December 19th, 1979 to shop for a new winter coat. Police found her body in her family's Buick early the next morning. No weapon, fingerprints, or any other clues identifying any possible suspects were found.
Nearly 27 years later in 2006, a new cold case detective with the Cedar Rapids Police Department discovered what he believes to be the killers blood. Although Doug Larison hasn't released where he found it or how he knows it belongs to Martinko's killer, he told the Gazette he is certain the blood came from a cut on the killer's hands. Police said Martinko had several wounds that showed she had tried to fight off her attacker.
"It's not hopeless," Larison told the Gazette. "Having the killer's DNA, having the killer's blood, is like having the killer himself."
Officials had the state crime lab extract DNA from the blood found and file it in the national computer database, according to the Gazette. It has already been used to clear more than 70 people that Martinko knew. Detectives hope that one day, there will be a match between the blood and someone who is arrested in the future.
If you have any information that could help crack this cold case, please contact the tip line for Marie's case at 1 (800) CS-CRIME.