Even after investigators told her they thought her sister had died in a car accident, Penny Lane Stephens said she knew it was murder.
"I knew she was murdered. Don't ask me why, I just felt that way," Stephens told NBC affiliate WBIR. "It kills me every day. A little bit of me dies because I feel like I'm letting my sister down for not having justice."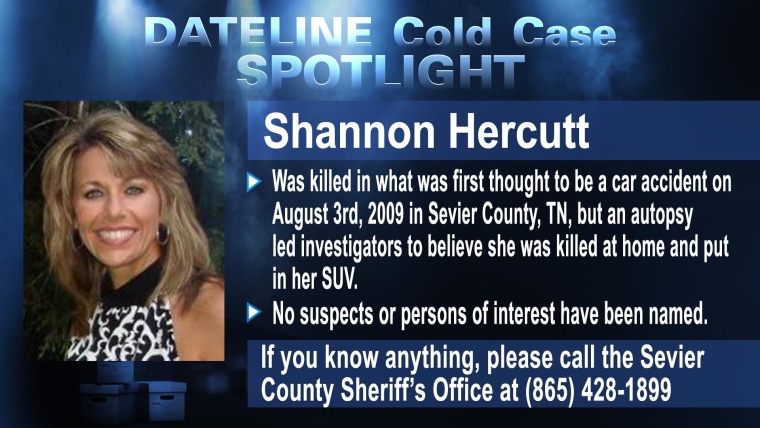 On August 3rd, 2009, police responded to an OnStar alert of a car crash in Sevier County, Tennessee. Inside the SUV at the bottom of a steep slope, they found the body of Shannon Hercutt. Investigators first believed Hercutt died in the accident. Then, on August 14th, 2009, investigators announced they were now investigating Hercutt's death as a homicide after an autopsy was performed. Although little information has been released, officials said they believe she had actually been killed in her home, placed in her vehicle which was then sent down the slope.
Both Stephens and Shannon's step-mother appeared on the Dr. Phil show in early February, where they confronted Shannon's father Tedd Hercutt about Shannon's death. In the emotionally heated episode, Stephens said her father and sister had been fighting at the time of her death and she accused him of playing a role in Shannon's murder.
"I know you have paid someone to kill Shannon. Don't sit there and act like you're so innocent," Stephens said to her father on the show.
During the broadcast, Tedd Hercutt denied any involvement in his daughter's death. Hercutt admitted to being a suspect in his daughter's death, but said investigators have cleared him of any involvement.
Investigators said the case is still under investigation, but they had no further comment. If you have any information that could help crack this case, please call Sevier County Sheriff's Office at (865) 428-1899. According to the Hercutt family, there is a $45,000 reward, offered by the family and the state of Tennessee, for information leading to an arrest and conviction of the person or persons responsible for Shannon's death.