One Friday night in the middle of September of 1992, Tammy Haas, 19, was just another teen, heading to a homecoming party with her boyfriend in Yankton, South Dakota.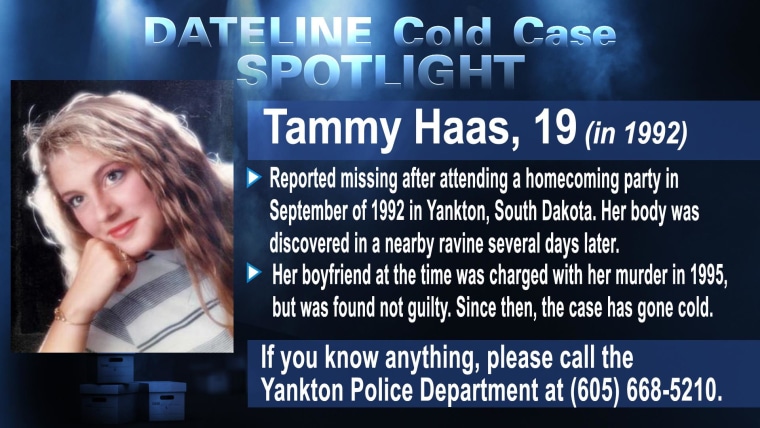 Less than a week had passed when a golfer, looking for lost balls, discovered Tammy's body in a ravine not too far from where the party had occurred; just across the South Dakota border into Nebraska.
Although the years have worn on, the mystery of Tammy's death remains raw in the minds around little Yankton.
"It truly haunts this town, it haunts me and every person who knew Tammy," Sally Smith, one of Tammy's childhood friends, told Dateline. "She deserved so much more than what has happened."
An autopsy showed Tammy had died of a broken neck. Authorities believed the injury to be a result of foul play and said at the time evidence showed she had been in the trunk of a car and dumped in that ravine.
"What really happened? We don't know. We don't know," Nancy Haas, Tammy's mother, told NBC affiliate KTIV in 2012 on what would have been her daughter's 40th birthday.
A three-year investigation through the haze of that September evening ensued. Then in 1995, one of the last people to see Tammy alive was charged with manslaughter in connection with her death. Erick Stukel was Tammy's boyfriend at the time.
A jury would find Stukel not guilty.
Since then, Tammy's case has gone cold. No new leads, no fresh evidence to point investigators down a path to answers, according to authorities. No resolution found in the decades that have followed.
"We believe there was a big cover up," said Smith. "There is a huge sadness that just sits over the town."
Many residents still hold their own theories about what may or may not have happened, with a majority dead set on their opinions of the events that punctuated the teenage parties that evening.
The only prevailing certainty is someone out there holds the key to justice in the case, and Tammy's family and friends are desperately asking for just that.
In a recent social media storm, family and friends have taken every avenue to bring the 23-year mystery into the spotlight across the country. Likes have ticked past 4,500 on the 'Justice for Tammy' Facebook page. A @Justice4Tammy twitter account was also launched.
"The answers are out there," Tammy's childhood friend Sally Smith emphasized. "Someone has to swallow whatever is stopping them from revealing them and release the truth. Justice hasn't been served."
As for Tammy's mother Nancy, faith continues to be what helps her stay patient and strong as she waits for the answers that she hopes one day will come. "Knowing that she's in heaven -- because there's no greater thing -- and that she got to go there. To us she will always be 19."
If you have any information that can help bring Justice for Tammy and closure for her family and friends, please call the Yankton Police Department at (605) 668-5210.