COLD CASE SPOTLIGHT: Tammy Mahoney
The last time anyone saw then 19-year-old Tammy Mahoney was when she was spotted getting into a vehicle on the evening on May 8th, 1981 on state Route 46 in central New York.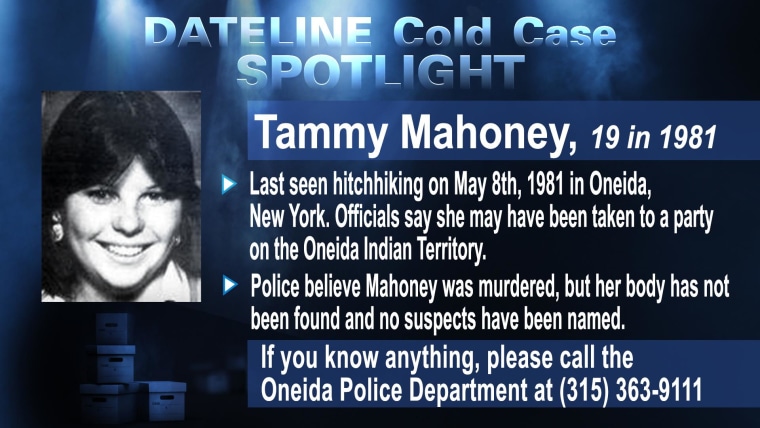 Tammy was attending Morrisville State College where friends say she wanted to become a veterinarian during the time of her disappearance. Officials believe she was on her way to a friend's house in Hamilton, New York when she hitchhiked a ride between 5:00pm and 7:00pm 33 years ago. Officials said whoever picked up Mahoney may have instead taken her to a party on the Oneida Indian Territory.
Three days later, her boyfriend filed a missing person's report.
Oneida City Police have said they are confident Mahoney was kidnapped, raped and murdered, although her body has never been found and no suspects have been named in relation to the case.
"We grew up in a town in which we felt safe and people took pride in their youth and kept an eye out for each other," Theresa Harman, Mahoney's childhood friend, told the Oneida Daily Dispatch last month. "I will never give up searching for the justice this friend deserves."
There has been much speculation regarding the events the night Mahoney vanished. According to the Oneida Daily Dispatch, some people have told police she is buried on the Oneida Nation Territory, while others say she was last seen on the Onondaga Nation Territory near Syracuse. Still, others have claimed her body was hidden just off state Route 46.
Back in 2010, police thought skeletal remains found in a shallow grave in Oneida may be those of Mahoney, but they were later ruled to be those of a Caucasian male, according to local NBC affiliate WKTV.
The Facebook page "Justice for Tammy Mahoney" was launched this September to help bring more awareness about the cold case. According to the page, there is a $10,000 reward to information that helps lead to an arrest.
If you have any information that could help crack Tammy's case, please contact the Oneida Police Department at (315) 363-9111.