Weekends are meant for relaxing and having fun – not for missing children and frantic searches.
One Friday in August 2015, the Tosic family looked forward to a weekend of the former.
Unfortunately, what they got was the latter.
Friday, August 28, 2015
Skylar Peterson-Tosic's car wasn't working properly, so he took his very first Uber ride to hang out with friends around 6 p.m. on that Friday, according to his mother, Olivia Tosic. "He barely ever hung out with anyone, so I knew his friends," Olivia told Dateline.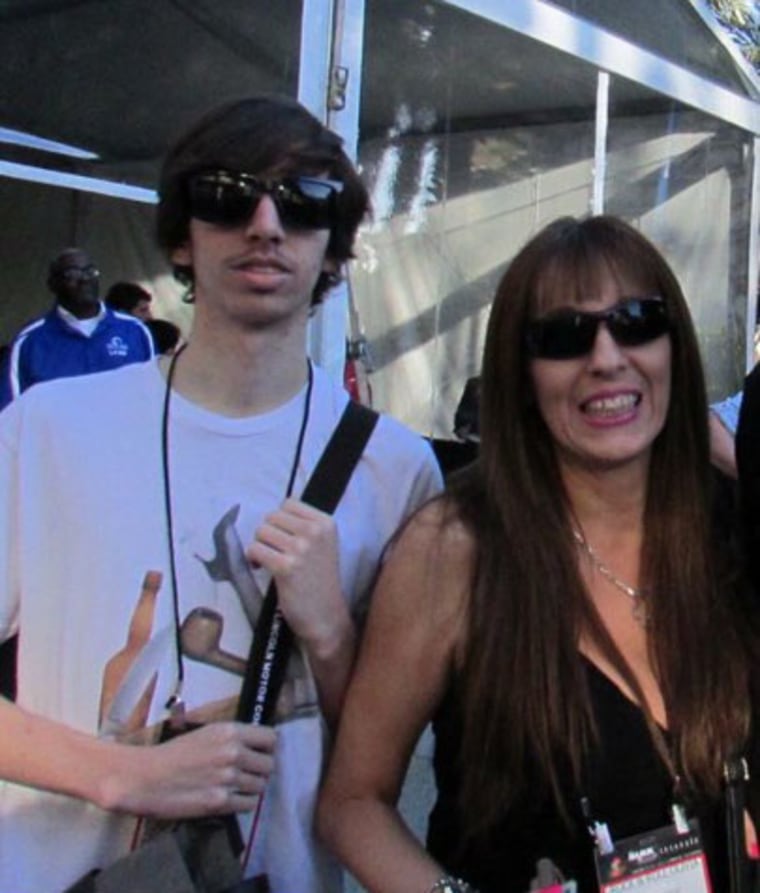 Later that night, Olivia said she checked in with Skylar, who was 20 at the time, to see if he was coming home that night.
"He said 'I don't know, Mom.' So I just said 'OK'," she said.
Saturday, August 29, 2015
That next morning, Skylar reached out to his mom and apologized for not texting her earlier with more details of his plans.
"He told me 'I'm at Thaddeus and Eli's house'," Olivia said. She told Dateline she had never heard of those friends before, but figured Skylar must have met them at Palomar College, where he was majoring in business. Even though she now had the names of who her son was with, Olivia didn't feel confident he was safe.
"In my stomach I had a gut feeling – a weird feeling. But I brushed it off," she said. "Go with your instincts, always, is what I have learned."
Sunday, August 30, 2015
The next morning, Sunday, Olivia said her son arrived home "dirty and dusty." Skylar told his grandmother and Olivia's boyfriend, who were both at the home, that he had gone climbing the hills with his new friends during the day on Saturday.
"That's out of character for my son -- he doesn't climb mountains," Olivia told Dateline.
Skylar had gotten thirsty, though, and had spent Saturday night at the San Pasqual Academy, a local residential facility for foster teens.
"It was hot that weekend – about 100 degrees," Escondido Police Department Investigator Molly Milliken told Dateline. "I think [the San Pasqual Academy] employees took a little pity for him, so they gave him a ride back into town [on Sunday morning]."
Relieved now that her son was home, Olivia went into her room to do something on her computer.
"But when I came back out, my son was gone," Olivia said. "I was freaking out, obviously. I didn't know what to do."
Through the investigation that would follow, the Escondido Police Department discovered Skylar had called for an Uber right after leaving the house.
"[He took the Uber] to a stop sign by the San Pasqual Academy," Investigator Milliken told Dateline. "[The driver told us] he was a little concerned because Skylar was thin, and the backpack he had was bigger than him and didn't know how he would carry it."
The Uber driver told police that Skylar got out of the car and left on foot, carrying the heavy backpack. That night, Investigator Milliken says Skylar spoke to both his father and a cousin by phone Sunday, telling them he was going to "take off and go camping for a while." He also texted his mom, Olivia, but was more vague.
"He texted me Sunday night and said: 'There are two women here now. They're rich. They're taking me with passports and they are connected. It's a once-in-a-lifetime chance and they want to go to,' and that was the end of it," Olivia told Dateline. "His text never said a destination."
Olivia began frantically searching Skylar's room for clues on what that destination could have been. She found Skylar's iPad, which was open to a page listing his college classes: History 101, Biology lecture and Biology lab.
The fourth class, though, immediately caught her attention.
"To my shocking dismay, all of a sudden I see a religious studies class [on the list]," Olivia said. "I said, 'Oh, my God. I think my son is with a religious cult."
Investigator Milliken says Olivia's suspicion is "not impossible."
"There is a large religious group near here," Investigator Milliken said in response to Olivia's suspicion. "There's lot of speculation that they have people there who want to leave, but a lot of families also report that they go up to the farm to retrieve their loved ones only to find their loved ones don't want to leave."
Olivia says she believes he was "brainwashed" into leaving to go live with the group. Investigator Milliken agreed, telling Dateline she thinks Skylar "was very susceptible to any new and different experience. He might have just seen the window [to leave] and went for it," Investigator Milliken said.
Monday, August 31, 2015
"Olivia filed the report on August 31, 2015, reporting that he was missing," Investigator Milliken told Dateline. "We took the missing persons report -- although California state law says if someone says they are leaving, they aren't missing."
Investigator Milliken added that since Skylar was 20 years old – a legal adult – their efforts have already gone "way above and beyond" what they are legally mandated to do. She said the Escondido Police Department "did not conduct a land search for Skylar based on the fact that he was reported as a 'Voluntary Missing Adult'" but "did create and distribute 'Missing Person Flyers' to the surrounding law enforcement agencies at the time the report was filed."
Authorities told Dateline there have never been any suspects or significant leads in the case.
The Investigation Today
Nearly two years have passed since Skylar was last seen. And there is frustration on all sides.
"Our hands are somewhat tied; an adult has their right to privacy," Investigator Milliken said. "That's what has made this one hard -- is how far we can go to invading someone's privacy without their permission."
Skylar's mother Olivia, though, isn't satisfied with that stance.
"It's the joke of the town, the police," Olivia told Dateline. "They're not very helpful. There is nothing they can do."
To deal with her frustration, Olivia has actively investigated her son's disappearance with the help of private investigators.
"I feel like he might be in a different state – a different state of mind, for sure – but a different U.S. state too," she said.
"[Olivia] has been accusatory toward the [nearby religious group] and that makes it difficult for our people to follow up with their people, who would generally be more cooperative with us," Investigator Milliken told Dateline. "But I understand it is mom's child and she's not going to give up. I admire her about that."
Skylar is described as 5'11" tall, weighing 110 lbs. with brown hair and hazel eyes. He would be 22 years old today. Anyone with information of Skylar's whereabouts in encouraged to call the Escondido Police Department at (760) 839-4722. Callers may remain anonymous.