It's been nearly nine years since Tamara Martin lost her daughter, also named Tamara. Martin remembers her as a fledgling musician and free spirit. Today, she is simply a memory.
"She just loved music," Martin told Dateline NBC. "She taught herself how to play the guitar and she played so well."
Tamara Holcknecht was a sandy blonde with deep blue eyes. In the small town of Wichita Falls, Texas, Tamara played in a band and her ripe sense of humor could make anyone laugh. Those who knew her best called her by the nickname "Mousey."
On February 25, 2007, Tamara's mom had a brief conversation with her daughter about a movie she'd recently seen and an upcoming visit. That conversation was the last time she ever spoke to Tamara.
"She was supposed to come and see me and my other daughter the very next day, and she never showed up," Martin told Dateline.
Martin said it wasn't unlike her daughter, 22 at the time, to be off the radar for a few days at a time. Sometimes she'd play a gig with a local band or spend time with friends. But this was different.
As the days passed, Martin searched high and low for Tamara. Then on March 28, 2007, she got the call no mother ever wants to receive.
Two local boys were riding their bikes when they noticed what looked like a body floating in a nearby pond. One day later, police called Martin to confirm the remains as Tamara's.
Martin is certain something terrible happened to her daughter, and she believes it was someone else's doing.
"I knew from the very beginning what happened to her and who do it," Martin told Dateline. "I've had numerous messages from different people that I didn't know, that came forward and it was the same people from the very beginning."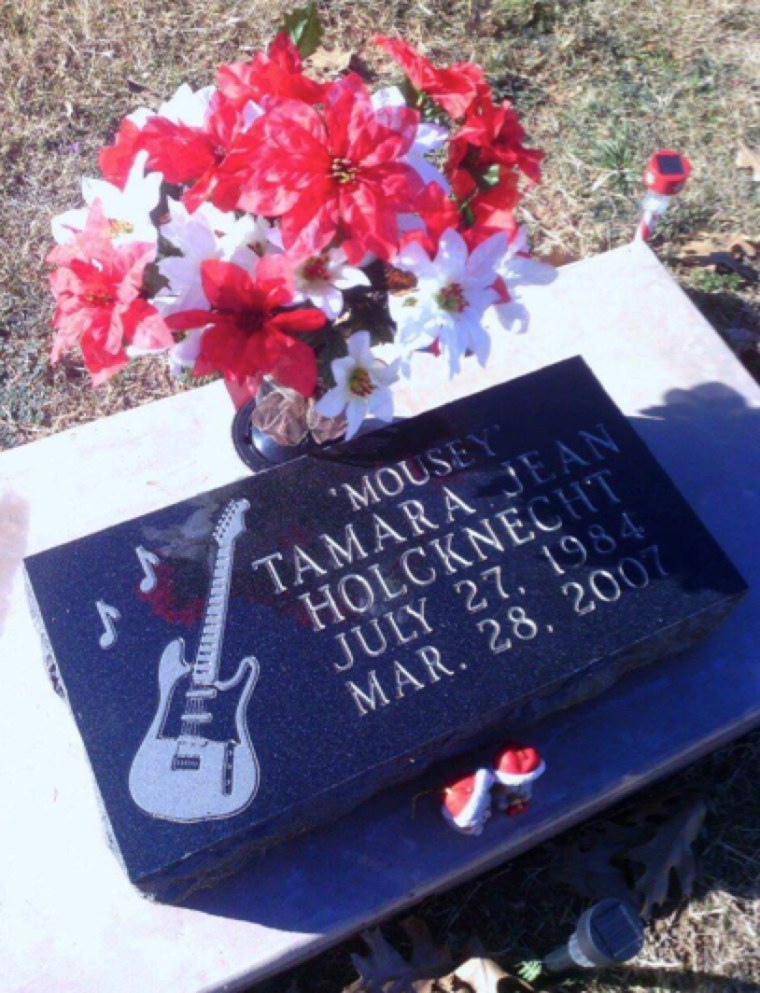 Wichita Falls Police, on the other hand, believe that Tamara's death was accidental.
"The cause of death was drowning," Sergeant Harold McClure, Public Information Officer with the Wichita Texas Police Department, told Dateline. "At this point there was nothing that our detectives have uncovered that would make us believe it was anything but a tragic accident."
Despite the passing of nearly a decade, Martin continues to press for answers about what happened to her beloved 'Mousey.'
"She was a people-pleaser and always wanted to make everyone happy," Martin told Dateline. "She never wanted anyone to be angry with her. She was too trusting, and that always scared me."
According to police, the investigation into Tamara's death is "active and open."
"We want to make sure we don't close this prematurely. If we have evidence or new leads, our detectives follow up on every single one," Sergeant McClure told Dateline.
As the ninth anniversary of Tamara's passing approaches this month, Martin remembers her Tamara, her "Mousey" the musician, by one of her favorite songs.
"I think of her every single day," Martine told Dateline. "She used to play 'I wish you were here' by Pink Floyd to me. It was also played at the memorial service."
If you have any information about this case please contact the Wichita Falls Police Department at (940) 720-5000 or CrimeStoppers at (800) 322-9888.